The ocean has had a very significant role in poetry since the dawn of poetry itself. It's easy to see why. The ocean — both wild and calm, dangerous and beautiful — is a made up of contradictions and mystery. Ocean poems can not only be dedicated to capturing the heart of sea, but to metaphors for love and trauma, among many other things. More than that, the ocean has played a role in the history of many cultures, making it a setting that is both intimately personal, and vastly universal.
Unsurprisingly then, poetry about the ocean takes many shapes. From a simple contemplation of the sea to a reflection of our own lives. Here's a list of some of these brilliant ocean poems starring the sea.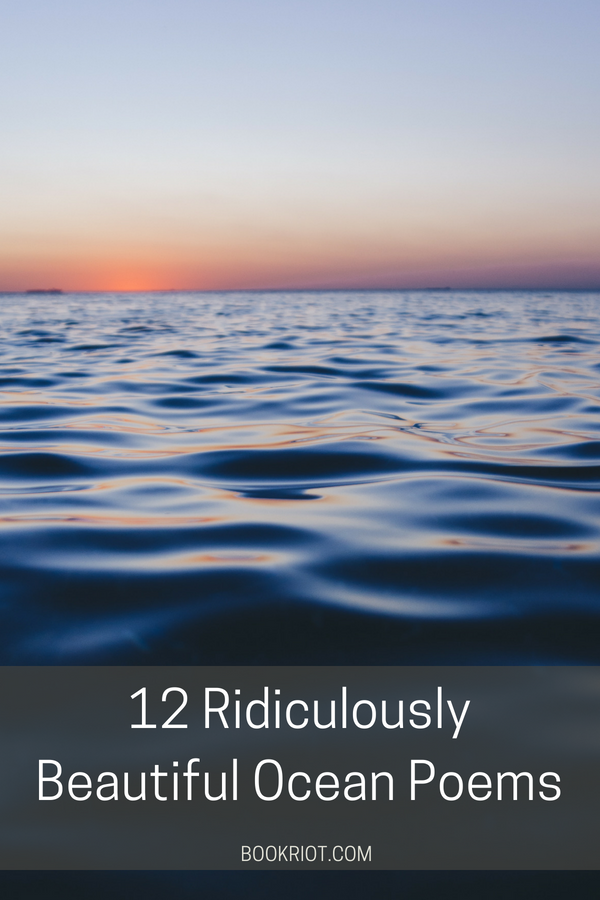 1. The Rime of the Ancient Mariner by Samuel Taylor Coleridge
2. Dover Beach by Matthew Arnold
Excerpt:
The sea is calm tonight.
The tide is full, the moon lies fair
Upon the straits; on the French coast the light
Gleams and is gone; the cliffs of England stand,
Glimmering and vast, out in the tranquil bay.
Come to the window, sweet is the night-air!
Only, from the long line of spray
Where the sea meets the moon-blanched land,
Listen! you hear the grating roar
Of pebbles which the waves draw back, and fling,
At their return, up the high strand,
Begin, and cease, and then again begin,
With tremulous cadence slow, and bring
The eternal note of sadness in.
3. Secrets of the Sea by Mohamed Hassan
4. Sail Away by Rabindranath Tagore
Excerpt:
Early in the day it was whispered that we should sail in a boat,
only thou and I, and never a soul in the world would know of this our
pilgrimage to no country and to no end.
5. Waters by Brave New Voices
6. By the Sea by Emily Dickinson
Excerpt:
I started early, took my dog,
And visited the sea;
The mermaids in the basement
Came out to look at me.
7. Sea of Strangers by Lang Leav
8. Song of the Sea by Rainer Maria Rilke
Excerpt:
Timeless sea breezes,
sea-wind of the night:
you come for no one;
if someone should wake,
he must be prepared
how to survive you.
9. We Face This Land by Sarah Maria Griffin
https://www.youtube.com/watch?v=571vnkdrWC0
10. The Sea is History by Derek Walcott
Excerpt:
Where are your monuments, your battles, martyrs?
Where is your tribal memory? Sirs,
in that gray vault. The sea. The sea
has locked them up. The sea is History.
11. The Ocean by Nathaniel Hawthorne
Excerpt:
The Ocean has its silent caves,
Deep, quiet, and alone;
Though there be fury on the waves,
Beneath them there is none.
12. Oral Traditions by William Nu'utupu Giles and Travis T.
---
What are your favorite ocean poems? Leave the best ones in the comments! Want even more poetry? We got you.