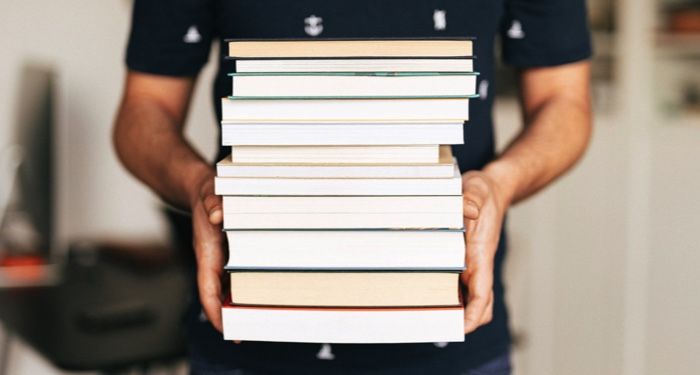 Lists
24 Must-Read New Books of Spring And Summer 2021
This content contains affiliate links. When you buy through these links, we may earn an affiliate commission.
Think about late summer evenings, humid and misty, a glass of wine in your hand, or cool summer mornings, drinking tea and looking out on the new day. Think about lying on the beach, the ocean waves crashing onto shore, or sunning out beside a pool. Think about a thunderstorm raging outside, about flowers blooming in the parks, about the cool rush of the AC or the sweeping gusts of the ceiling fan. There's only one thing that will make every single one of these summer scenes a hundred times better, and it's picturing yourself with a glossy, new hardcover in your hands.
Every year, it's the same struggle. You wonder how you could have possibly missed that one exciting new romance release, or why you're the last to read the best new thing in science fiction. Or you just go to your local bookstore or library and wander the shelves, and instead of it being a joyful experience of stacking books into your arms, you just feel kind of lost. What should you read next, you ask yourself? What new book of the piles of new books should I be reading at the beach this weekend?
Best New Books: 2021 Spring and Summer
Don't worry — I am here to help. I've assembled a list of the best new books of Spring and Summer 2021 for your delight. Here are the best and the buzziest, from new books in translation to powerful contemporaries to twisting thrillers and romances to some incredible fantasy and sci fi. Get your wallets ready and your library holds list on standby: here are 24 books you'll want to be first in line to read this summer.
Please note that while I took care to list content warnings when I knew of them, the content warnings listed are not comprehensive. Please do additional research on the recommended titles if needed.
---
To find more great new releases and stay up-to-date with the newest buzziest books, sign up for Book Riot Insiders and gain access to the New Release Index, a regularly updated database of our favorite upcoming releases across genres.