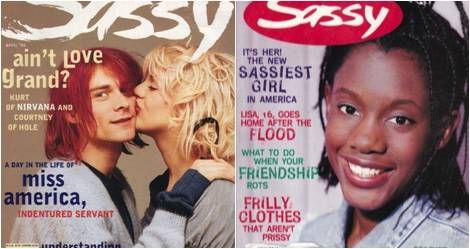 Feminism
100 Books for People who Loved (and Miss) Sassy Magazine
This content contains affiliate links. When you buy through these links, we may earn an affiliate commission.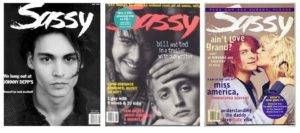 If you're a woman (or man, but mostly women) over a certain age, you likely remember Sassy magazine. It was sort of like the "anti-Seventeen." Headed by Jane Pratt (who later created xojane), it was the alternative teen magazine in the late '80s-mid '90s. It featured girls of diverse ethnicities and body types in its photo shoots, ran articles about incest, suicide, armpit hair, smashing the patriarchy, bands like Nirvana (before they were a household name), and zines. They had an annual "Sassiest Girl in America" contest, and an annual reader-produced issue. They were sex-positive, body-positive, and whether you were a geek, misfit, jock, differently-abled – anything; you could feel at home with Sassy.
Here's a round-up of books that reminded me of Sassy mag, or books I imagine a fellow Sassy-reader would love. Obviously, this is far from all-inclusive, and if you have your favorites, I'd love to hear about them. These are in no particular order, and I've notated fiction with an asterisk (*), and books that are forthcoming with two asterisks (**).
* Zipper Mouth by Laurie Weeks: "In this extraordinary debut novel, Laurie Weeks captures the freedom and longing of life on the edge in New York City. Ranting letters to Judy Davis and Sylvia Plath, an unrequited fixation on a straight best friend, exalted nightclub epiphanies, devastating morning-after hangovers—Zipper Mouth chronicles the exuberance and mortification of a junkie, and transcends the chaos of everyday life."
* How to Build a Girl by Caitlin Moran: "It's 1990. Johanna Morrigan, fourteen, has shamed herself so badly on local TV that she decides that there's no point in being Johanna anymore and reinvents herself as Dolly Wilde—fast-talking, hard-drinking Gothic hero and full-time Lady Sex Adventurer. She will save her poverty-stricken Bohemian family by becoming a writer—like Jo in Little Women, or the Bröntes—but without the dying young bit."
Sex Object: A Memoir by Jessica Valenti: "Valenti explores the toll that sexism takes on women's lives, from the everyday to the existential. From subway gropings and imposter syndrome to sexual awakenings and motherhood, Sex Objectreveals the painful, embarrassing, and sometimes illegal moments that shaped Valenti's adolescence and young adulthood in New York City.
The Geek Feminist Revolution: Essays by Kameron Hurley: "The book collects dozens of Hurley's essays on feminism, geek culture, and her experiences and insights as a genre writer, including "We Have Always Fought," which won the 2013 Hugo for Best Related Work."
** When Dimple Met Rishi by Sandhya Menon: "A laugh-out-loud, heartfelt YA romantic comedy, told in alternating perspectives, about two Indian-American teens whose parents have arranged for them to be married."
Milk and Honey by Rupi Kaur: This book of poetry is a small package of brilliance; gorgeous words and writing about femininity, trauma, love, loss, and rebuilding.
Bad Feminist: Essays by Roxane Gay: "In these funny and insightful essays, Roxane Gay takes us through the journey of her evolution as a woman (Sweet Valley High) of color (The Help) while also taking readers on a ride through culture of the last few years (Girls, Django in Chains) and commenting on the state of feminism today (abortion, Chris Brown). The portrait that emerges is not only one of an incredibly insightful woman continually growing to understand herself and our society, but also one of our culture."
* The Hate U Give by Angie Thomas: Some people call this "the Black Lives Matter book." A vivid, much-needed story about unnecessary police violence and the lives it destroys.
* Girl by Blake Nelson: "Meet Andrea Marr, straight-A high school student, thrift-store addict, and princess of the downtown music scene. Andrea is about to experience her first love, first time, and first step outside the comfort zone of high school, with the help of indie rock band The Color Green."
* Girls on Fire by Robin Wasserman: "By turns a shocking story of love and violence and an addictive portrait of the intoxication of female friendship, set against the unsettled backdrop of a town gripped by moral panic, Girls on Fire is an unflinching and unforgettable snapshot of girlhood: girls lost and found, girls strong and weak, girls who burn bright and brighter—and some who flicker away."
Sister Outsider: Essays and Speeches by Audre Lorde: "Presenting the essential writings of black lesbian poet and feminist writer Audre Lorde, SISTER OUTSIDER celebrates an influential voice in twentieth-century literature. In this charged collection of fifteen essays and speeches, Lorde takes on sexism, racism, ageism, homophobia, and class, and propounds social difference as a vehicle for action and change. Her prose is incisive, unflinching, and lyrical, reflecting struggle but ultimately offering messages of hope."
** Geekerella: A Fangirl Fairy Tale by Ashley Poston: "Part romance, part love letter to nerd culture, and all totally adorbs, Geekerella is a fairy tale for anyone who believes in the magic of fandom."
The Feminist Utopia Project: Fifty-Seven Visions of a Wildly Better Future by Alexandra Brodsky and Rachel Kauder Nalebuff: "Combining essays, interviews, poetry, illustrations, and short stories, The Feminist Utopia Project challenges the status quo that accepts inequality and violence as a given—and inspires us to demand a radically better future."
How Sassy Changed My Life: A Love Letter to the Greatest Teen Magazine of All Time by Kara Jesella and Marissa Meltzer: "How Sassy Changed My Life will present for the first time the inside story of the magazine's rise and fall while celebrating its unique vision and lasting impact. Through interviews with the staff, columnists, and favorite personalities we are brought behind the scenes from its launch to its final issue and witness its unique fusion of feminism and femininity, its frank commentary on taboo topics like teen sex and suicide, its battles with advertisers and the religious right, and the ascension of its writers from anonymous staffers to celebrities in their own right."
Girl Power: Young Women Speak Out! by Hillary Carlip: "Carlip illuminates the worries, hopes, dreams and experiences of girls ages 13 to 19, through their stories, poems, letters and notes. Their voices come from a variety of backgrounds and perspectives–cowgals, lesbians, teen mothers, sorority sisters and girls in gangs–and reveal the depth, vulnerability, wisdom and power of the writers."
Hunger Makes Me a Modern Girl by Carrie Brownstein: "With deft, lucid prose Brownstein proves herself as formidable on the page as on the stage. Accessibly raw, honest and heartfelt, this book captures the experience of being a young woman, a born performer and an outsider, and ultimately finding one's true calling through hard work, courage and the intoxicating power of rock and roll."
* Violet & Claire by Francesca Lia Block: "This is the story of two girls, racing through space like shadow and light. A photo negative, together they make the perfect image of a girl. Violet is the dark one, dressed in forever black, dreaming Technicolor dreams of spinning the world into her very own silver screen creation. Claire is like a real-life Tinker Bell, radiating love and light, dressing herself in wings of gauze and glitter, writing poems to keep away the darkness. The setting is L.A., a city as beautiful as it is dangerous, and within this landscape of beauty and pain Violet and Claire vow to make their own movie. Together they will show the world the way they want it to be, and maybe then the world will become that place–a place where people no longer hate or fight or want to hurt. But when desire and ambition threaten to rip a seamless friendship apart, only one thing can make two halves whole again–the power of love."
* Gabi, A Girl in Pieces by Isabel Quintero: "Gabi Hernandez chronicles her last year in high school in her diary: college applications, Cindy's pregnancy, Sebastian's coming out, the cute boys, her father's meth habit, and the food she craves. And best of all, the poetry that helps forge her identity."
Honor Girl: A Graphic Memoir by Maggie Thrash: "Maggie Thrash has spent basically every summer of her fifteen-year-old life at the one-hundred-year-old Camp Bellflower for Girls, set deep in the heart of Appalachia. She's from Atlanta, she's never kissed a guy, she's into Backstreet Boys in a really deep way, and her long summer days are full of a pleasant, peaceful nothing . . . until one confounding moment."
Citizen: An American Lyric by Claudia Rankine: "Claudia Rankine's bold new book recounts mounting racial aggressions in ongoing encounters in twenty-first-century daily life and in the media. Some of these encounters are slights, seeming slips of the tongue, and some are intentional offensives in the classroom, at the supermarket, at home, on the tennis court with Serena Williams and the soccer field with Zinedine Zidane, online, on TV-everywhere, all the time. The accumulative stresses come to bear on a person's ability to speak, perform, and stay alive. Our addressability is tied to the state of our belonging, Rankine argues, as are our assumptions and expectations of citizenship. In essay, image, and poetry, Citizen is a powerful testament to the individual and collective effects of racism in our contemporary, often named "post-race" society."
* Lizard Radio by Pat Schmatz: "Fifteen-year-old bender Kivali has had a rough time in a gender-rigid culture. Abandoned as a baby and raised by Sheila, an ardent nonconformist, Kivali has always been surrounded by uncertainty. Where did she come from? Is it true what Sheila says, that she was deposited on Earth by the mysterious saurians? What are you? people ask, and Kivali isn't sure. Boy/girl? Human/lizard? Both/neither?"
In Her Own Sweet Time: Egg Freezing and the New Frontiers of Family (2nd Ed) by Rachel Lehman-Haupt: "This trailblazing memoir examines the trials―and modern scientific solutions―of balancing career and love with the realities of reproductive timing. Women are making massive strides in gender equality, edging out men as the new majority in the workforce. But, because of their brief window for childbearing, this also means a drastically shifting paradigm for motherhood and family planning. In this 2nd edition, Lehmann-Haupt has updated the inspiring, honest account of her own efforts to reconcile modern love and modern life with the latest medical research."
Cinderella Ate My Daughter: Dispatches from the Front Lines of the New Girlie-Girl Culture by Peggy Orenstein: "The rise of the girlie-girl, warns Peggy Orenstein, is no innocent phenomenon. Following her acclaimed books Flux, Schoolgirls, and the provocative New York Times bestseller Waiting for Daisy, Orenstein's Cinderella Ate My Daughter offers a radical, timely wake-up call for parents, revealing the dark side of a pretty and pink culture confronting girls at every turn as they grow into adults."
* Dumplin' by Julie Murphy: "Dubbed "Dumplin'" by her former beauty queen mom, Willowdean has always been at home in her own skin. Her thoughts on having the ultimate bikini body? Put a bikini on your body. With her all-American beauty best friend, Ellen, by her side, things have always worked…until Will takes a job at Harpy's, the local fast-food joint. There she meets Private School Bo, a hot former jock. Will isn't surprised to find herself attracted to Bo. But she issurprised when he seems to like her back. Instead of finding new heights of self-assurance in her relationship with Bo, Will starts to doubt herself. So she sets out to take back her confidence by doing the most horrifying thing she can imagine: entering the Miss Clover City beauty pageant—along with several other unlikely candidates—to show the world that she deserves to be up there as much as any girl does."
Yes Means Yes!: Visions of Female Sexual Power and A World Without Rape by Jaclyn Friedman and Jessica Valenti: "Yes Means Yes aims to have radical and far-reaching effects: from teaching men to treat women as collaborators and not conquests, encouraging men and women that women can enjoy sex instead of being shamed for it, and ultimately, that our children can inherit a world where rape is rare and swiftly punished."
* Dora: A Headcase by Lidia Yuknavitch: "Dora: A Headcase is a contemporary coming-of-age story based on Freud's famous case study—retold and revamped through Dora's point of view, with shotgun blasts of dark humor and sexual play."
** Moxie by Jennifer Mathieu: "Viv's mom was a tough-as-nails, punk rock Riot Grrrl in the '90s, and now Viv takes a page from her mother's past and creates a feminist zine that she distributes anonymously to her classmates. She's just blowing off steam, but other girls respond. As Viv forges friendships with other young women across the divides of cliques and popularity rankings, she realizes that what she has started is nothing short of a girl revolution."
Shrill: Notes from a Loud Woman by Lindy West: "Coming of age in a culture that demands women be as small, quiet, and compliant as possible–like a porcelain dove that will also have sex with you–writer and humorist Lindy West quickly discovered that she was anything but. From a painfully shy childhood in which she tried, unsuccessfully, to hide her big body and even bigger opinions; to her public war with stand-up comedians over rape jokes; to her struggle to convince herself, and then the world, that fat people have value; to her accidental activism and never-ending battle royale with Internet trolls, Lindy narrates her life with a blend of humor and pathos that manages to make a trip to the abortion clinic funny and wring tears out of a story about diarrhea."
Just Kids by Patti Smith: "An honest and moving story of youth and friendship, Smith brings the same unique, lyrical quality to Just Kids as she has to the rest of her formidable body of work—from her influential 1975 album Horses to her visual art and poetry."
Come As You Are by Emily Nagoski: "Researchers have spent the last decade trying to develop a "pink pill" for women to function like Viagra does for men. So where is it? Well, for reasons this book makes crystal clear, that pill will never be the answer—but as a result of the research that's gone into it, scientists in the last few years have learned more about how women's sexuality works than we ever thought possible, and Come as You Are explains it all."
* The DUFF by Kody Keplinger: "Seventeen-year-old Bianca Piper may not be the prettiest girl in her high school, but she has a loyal group of friends, a biting wit, and a spot-on BS detector. She's also way too smart to fall for the charms of man-slut and slimy school hottie Wesley Rush, who calls Bianca the Duff–the designated ugly fat friend–of her crew. But things aren't so great at home and Bianca, desperate for a distraction, ends up kissing Wesley. Worse, she likes it. Eager for escape, Bianca throws herself into a closeted enemies-with-benefits relationship with him. Until it all goes horribly awry. It turns out Wesley isn't such a bad listener, and his life is pretty screwed up, too. Suddenly Bianca realizes with absolute horror that she's falling for the guy she thought she hated more than anyone."
* Queens of Geek by Jen Wilde: "Charlie likes to stand out. She's a vlogger and actress promoting her first movie at SupaCon, and this is her chance to show fans she's over her public breakup with co-star Reese Ryan. When internetfamous cool-girl actress Alyssa Huntington arrives as a surprise guest, it seems Charlie's long-time crush on her isn't as one-sided as she thought. Taylor likes to blend in. Her brain is wired differently, making her fear change. And there's one thing in her life she knows will never change: her friendship with her best guy friend Jamie―no matter how much she may secretly want it to. But when she hears about a fan contest for her favorite fandom, she starts to rethink her rules on playing it safe.