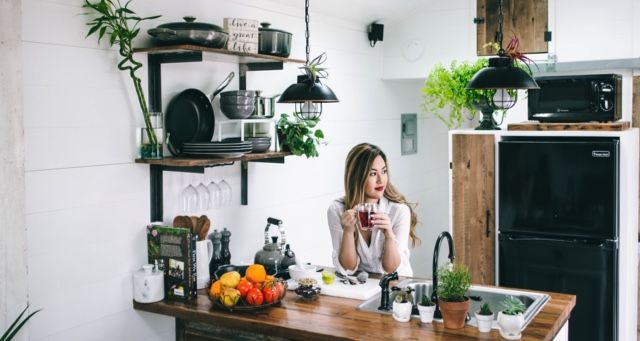 Lists
Booked on HGTV: 15 Interior Design Books for DIY Decorators
This content contains affiliate links. When you buy through these links, we may earn an affiliate commission.
Have you created your perfect dream home on Pinterest? Is your DVR filled with the latest and greatest HGTV has to offer? Then welcome to the list of home decor books that will have book nerds with a knack for interior design saying "I'm going to Love It and (TBR) List It!"
Our list has something for folks who want to save a buck or two during the decorating process, books specifically for creating amazing home libraries, and books for those amateur designers who want their rented pad to shine bright like a diamond. There are even books for people who are into tiny homes and for interior design fans who want to create something beautiful without destroying the planet. Whether your style is boho chic or East meets West, this roundup of interior design books has everything to inspire your next DIY project!
The one thing this list of interior design books lacks is diversity. Yes, there is a sprinkling of books from designers of color, but a few books here and there is never good enough. Hopefully, when we compile our next list of new interior design books, it will include more works by talented designers of color like Wonhee Arndt, whose design studio was the 2017 recipient of the American Design Honors or Nicole Gibbons, the fashion-forward design expert featured on HGTV, TLC, and the Emmy Award-winning TV series Home Made Simple.
Until then, enjoy the following book list and start creating the living spaces of your Pinterest boards dreams!
Interior Design Books for Budgetistas
"Live in luxury—on a budget." That tagline says it all! Affordable Interior Design is the DIY design handbook for designers who have top shelf dreams with bottom shelf money. Betsy Helmuth provides insider tips along with her tried and true methods for decorating without breaking the bank or maxing out those credit cards.
If your idea of creating a beautiful living space is decluttering, working with what you already have first, and, above all else, always sticking to the budget, then professional organizer Nikki Boyd's first book Beautifully Organized is a must-read for you. Here, Boyd shares her best advice with five essential steps for creating a beautiful, organized, and functional home.
If you are ready to go beyond a KonMari way of life and take your minimalism to the next level, then Goodbye, Things is the only interior design book you need. For Fumio Sasaki, life became more satisfying and enriched once he said goodbye to everything he did not absolutely need. Transform your space (and possibly your life) with specific tips from a "regular guy" who used the minimalist movement to gain "true freedom, new focus, and a real sense of gratitude for everything around him."
Interior Design Books for Home Libraries
In her second book, founder of Haus Interior Nina Freudenberger teams with Sadie Stein of The New Yorker and photographer Shade Degges of Architectural Digest to showcase beautiful photographs of the private libraries of book lovers from all over the world. Use the invaluable insight in Bibliostyle from readers who are just as passionate about books as you are to find more design ideas for your home library! (October 22, Clarkson Potter)
Self-proclaimed bibliophile Damian Thompson explores the important role books play not only in function but in home decor. Along with beautiful and inspirational photographs of various book collections, Books Make a Home includes a wealth of knowledge for ways to store and organize books in eye-catching displays, like using creative lighting and personal effects to give your home library some personal pizzazz.
Home Decor Books for Nature Lovers
People who want their living spaces to be both stylish AND eco-friendly should immediately pick up this book from UK-based interior stylist Selina Lake. In Natural Living Style, Lake shares the concepts that influence her designs, including natural decor, mindful consumption, reducing plastic waste, recycling, and upcycling. Readers will find inspiration for greener living along with resources and tips for creating a greener living space both inside and outside of the home.
Joanne Palmisano is passionate about home design centered around reclaimed, repurposed, salvaged, and upcycled items. Styling with Salvage is the essential guide for home stylists who want to be more mindful when decorating. Learn how to bring style, character, and soul to your home with finds from secondhand stores and salvage yards.
If you are looking for ways to style a more beautiful (and healthier) home with all of those plants you started growing, then look no further than Wild at Home! Take a tour of plant lover Hilton Carter's apartment and learn how you can create a (sub)urban jungle of your own as Carter shares the ins and outs for proper plant care, where to place plants in order for them to thrive, and more valuable information to help you fall in love with the potential joy greenery can bring to your abode.
Home Decor Books for Renters
What's an HGTV fanatic to do when you are ready to create the place of your dreams, but the lease agreement is full of don'ts, and you have to make sure to get that expensive deposit back! If you want your style and personality to shine through in your rented pad without breaking budgets or pissing off landlords, then get thee to Home Sweet Rented Home where Medina Grillo shares her favorite tips, tricks, and DIY projects that will turn your place from a nightmare rental to a renter's paradise. (September 3, Mitchell Beazley)
Thanks to the economy, the current housing market, and more people moving to big, expensive cities, it is more likely that people will have to share housing, even after years of being a struggling college student. Shared Living is here to be a trusted resource full of practical advice for living with other adults and merging personal design styles into cohesive and sophisticated domestic harmony for the length of the lease. (September 10, Thames & Hudson)
Interior Design Books for Little Dwellings
Bryce Langston is best known for his YouTube Channel Living Big in A Tiny House where he shares his passion for finding alternative ways of living a more eco-friendly lifestyle. Langston brings that concept in this book where he celebrates the diversity within the tiny house movement while sharing his own tiny house journey and providing invaluable resources and ideas for people wanting to join the movement.
There is no correlation between space and style according to Sara Emslie, who lives in a 646-square-foot home on the outskirts of London, because "Less really can be more if you have around you what you love, and what works for you at whatever time of life you're at." In Small Space Style, Emslie provides the inspirational guide to making the most out of even the tiniest home by embracing the positive aspects of small living and bringing practical solutions for styling of homes with limited space.
Interior Design Books for Specific Aesthetics
If you are looking to create a boho chic abode, then look no further than this room by room guide to creating a living space full of bohemian ecstasy. Bohemian Style at Home is a valuable guide for those who want to embrace flowy fabrics, bright colors, and mixed patterns in your home decor as well as ways to live bohemian each and every day.
For all the city girls (and guys) who are nothing but country at heart, this one's for you. In City Farmhouse Style, legendary "picker" Kim Leggett brings the best design advice for bringing country farmhouse style to your downtown loft or suburban haven.
Baltimore-based interior designer Mona Hajj's style melds European, Mediterranean, and Asian influences with simple American comfort. A Romance of East and West highlights the span of Hajj's work and provides an intimate look at her own collection to help readers better understand how the use of certain colors and patterns can turn a house into a home.