12 Home Library Design Ideas That Showcase Your Books
This content contains affiliate links. When you buy through these links, we may earn an affiliate commission.
I just moved, so naturally I'm trying to figure out the best home library design ideas for my new place. As much as I want to recreate the library from Beauty and the Beast in my living room, my small condo doesn't have room for that many shelves, let alone a library ladder.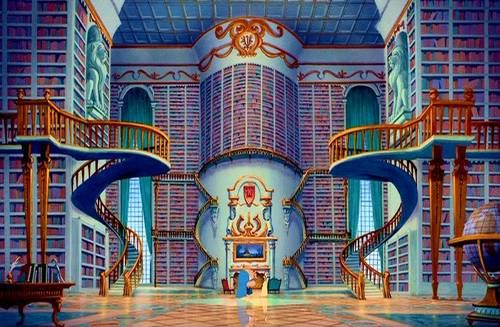 In a bigger place with lots of wall space for shelves, I'd probably alphabetize all my books together on one wall and go for the true Beauty and the Beast. But my current plan is to divide up my home library in three separate sections of the condo, with sections for non-fiction, fiction, and children's books.
In a small space, grouping your books thematically helps you remember where everything is without taking up tons of valuable floor or wall space to keep everything together. Maybe all your non-fiction will all fit on one over-the-door shelf (see image below), and your collection of Harry Potter books can be grouped together on a display rack (image below).
I turned to Pinterest to find the best home library design ideas for a realistic home library. Some of the ideas below work best for larger spaces or those with stairs, but some are about maximizing the space you do have. Whatever you're working with, there are creative and fun home library design ideas to be found!
Dedicate an alcove or other awkward space to your books.
Sometimes old apartments and houses have little nooks and crannies that aren't super functional. Put some bookshelves in there and make it a mini home library. The examples below show really smart uses of small, awkward spaces to store books. Look for unused space at the top of the stairs, on landings, in corners and hallways, and under the stairs.
Repurpose a closet.
I know, no one wants to give up closet space…but if you do happen to have a closet to spare, you can turn it into a mini home library by removing the doors and adding shelves. The one below incorporates some reading space, too, making it a pretty functional home library design.
Go high.
Small space, high ceilings? Stack books on books. You can purchase custom built-ins if your budget allows, or you can create your own by stacking and attaching several similar matching shelves. Note: make sure you anchor everything to the wall appropriately so nothing topples over.
The bonus of a super-tall shelf? It demands a cute ladder.
Go low.
You don't need high ceilings to store a lot of books. Look for space under benches, counters, even at the foot of your bed. Or, as in the image below, built your home library right into a railing at the top of the stairs.
Go above the door.
This is one of my favourite home library design ideas. The narrow strip of real estate above your door is begging to be used for something functional and pretty. Enter a bookshelf!
Use shelves instead of bookcases.
In a narrow hallway, bookcases take up valuable floor space. Instead, go for floating or wall shelves that you can anchor to the wall, freeing up floor space below and on either side. A whole hallway lined in books would look wonderful, or you could use part of the shelf to store items like scarves and umbrellas to grab on your way out the door.
Use display racks.
These racks are incredibly popular in design for babies and children, but why not use them for all kinds of books? If you want to show off some of your most beautiful books while still keeping them secure in a shelf, this is a great option.
Incorporate your books into your furniture.
We've all seen those amazing book chairs, right? You can also purchase or build a bookcase headboard or a kitchen island with built-in bookshelves.
Use your stairs.
I love the look of a staircase lined in books. If I had stairs in my place, this is definitely how I'd organize my home library.
Use a cart.
A kitchen cart like this one is small enough to fit into a corner. When you switch reading spots, the wheels allow you to take your books with you. You can also purchase a library cart and be the envy of your book-loving friends.
Use crates and racks to store a small number of books.
The ideas shown below won't work for your entire library, but if you—like me—need to break up your books in different locations around your home due to space issues, consider adding in some unique storage solutions. They add a little visual interest and show off your books in an unexpected way.
Hide your books.
Not every book lover will get behind this, but when wall space is at a premium, take inspiration from the image below. Build a secret nook to hide your books and cover it up with a piece of artwork.
Once you've found the perfect home library design ideas, you can download plenty of apps to catalogue your books and continue the fun.