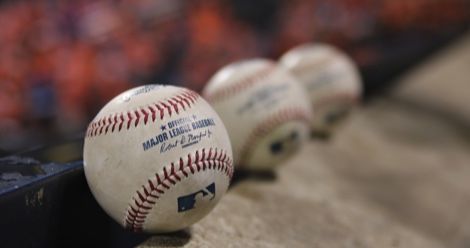 Lists
3 Baseball Romances For Your TBR
This content contains affiliate links. When you buy through these links, we may earn an affiliate commission.
Football romances have gotten some serious love and attention in the past year. With Alexa Martin's Intercepted and this year's follow-up Fumbled, football is continuing its long-lived moment. And it's not over—Suzanne Balstar's romance, Sidelined, about a female football coach, will be out in August. But I want us to shift gears for a moment to a game that I can actually be bothered to learn to understand: baseball. Ah, memories of cul-de-sac baseball outside my house, where the sewer cover in the center of the circle doubled as the pitcher's mound. Ah, the dream of being a Rockford Peach. Ah, hot dogs and beer. Ah, romance. Oh yeah, romance. Because there are (count 'em) three exciting baseball romances coming out in 2019, which means batter's up for your TBR.
Gavin Scott is second baseman for the Nashville Legends, but he's a man with marriage troubles. When he finds out his wife Thea has been faking orgasms, he flies off the handle, which is the last straw for Thea. She asks for a divorce, and Gavin realizes he has blown it in a big way. He needs help being the kind of man Thea needs.
Enter: the Bromance Book Club, a secret book club of Nashville's top alpha males, who read and discuss romance novels. A winning combination of romance novels and bro help teach Gavin the error of his ways, but will that new education be enough to help him win back Thea and her trust?
Release Date: November 5, 2019 from Berkley
Georgie's family runs the most successful home renovation company in town, but Georgie chose a different path: party clown. Making balloon animals and painting faces for kids is where her passion lies, but she's tired of being the butt of everyone's jokes. She's going to renovate her life and her appearance and get herself out on the dating market.
Travis Ford was a promising major league rookie when an accident took him out of baseball and back home, where he now makes a living flipping houses. But he can't walk through town without people commenting on his past career, and he needs to shake out of that rub. When his best friend's sister, Georgie, proposes they fake date each other, he figures there's no harm. It's not real feelings, right? (Riiiiiiight.)
Release Date: June 11, 2019 from Avon
The Perfect Date by Evelyn Lozada with Holly Lorincz
Angel Gomez has one priority: her son. An unwed mother at age 16, she's stopped at nothing to make sure her son is cared for, and she has busted her butt to finish her nursing degree while tending bar at night. She has no time for foolishness, especially from men.
Enter Caleb "The Duke" Lewis, star pitcher for the Bronx Bolts. His dating life has been tabloid fodder for too long, so he's been keeping a low profile. He must be doing well because when he meets Angel—first in her scrubs, next behind the bar—she doesn't recognize him. She even throws a drink in his face. She's the perfect woman—for a fake relationship to make the tabloids think Caleb is settling down. But what starts as a fake relationship turns into a fastball pitch into feelings that neither of them can deny.
Release Date: June 11, 2019 from St. Martin's Press
For more sports-related romance, check out Are You Ready for Some Football… Romance?; 100 Must-Read Sports Romances; 9 Seattle Sports Romance Series