Amidst the global pandemic, it's never been more vital to find a way to escape into great storytelling. And in that category, readers could not ask for a better lineup of epic fantasy books. In the following list of eight epic fantasy debuts, you'll find a mighty mix of stories featuring powerful outcasts, intricate magic systems, mythologically based world-building, royal tensions, and forbidden love. Six of these books are from first-time authors, while two must-read novels are from established writers publishing their debuts in the epic fantasy genre.
Epic Fantasy Novels from Debut Authors
Epic Fantasy Genre Debuts Out Now
Forest of Souls by Lori M. Lee
This electric debut features a kick-ass heroine, Sirscha Ashwyn, whose plans to rise from nothing and train to become the queen's royal spy get derailed when her friend Saengo is murdered. To her shock, Sirscha manages to bring Saengo back to life, setting off a new life path for Sirscha, the first soulguide for ages. Sirscha heads off to train with the Spider King in his realm, the mysterious and dangerous Dead Wood forest. Amidst a growing clamor for war, Sirscha must learn to tame her magical abilities…and her wild heart.
The Kinder Poison by Natalie Mae
Natalie Mae's epic fantasy debut novel The Kinder Poison had me hooked just based on the seductive cover that shouts: "Read me!" And the story inside is even more intriguing. The Kinder Poison stars Zahru, a lowly Whisperer whose power to communicate with animals has left her serving out her days in the royal's stables, not at all the kind of adventure beyond the kingdom of Orkena that she yearns to leave. When the king enacts the Crossing, a dangerous battle in the desert among his heirs, Zahru gets caught up in the action as the human sacrifice. The Kinder Poison tells the riveting, high-stakes story of how Zahru tries to outsmart her shocking fate.
A Song of Wraiths and Ruin by Roseanne A. Brown
Drawing on West African mythology as a basis, A Song of Wraiths and Ruin is the summer escape you need. This first installment in a duology finds Malik desperately trying to find a way to support his sisters. Then Malik's youngest sister is abducted, and the only way he can free her is to swear to her kidnappers that he'll kill Karina, the grieving crown princess who has recently lost her mother. Karina's got a plan of her own: resurrect her mother with the heart of a living king. To find her match, she calls for a Solstasia competition. Among the many suitors is Malik, waiting for his moment to kill Karina…and never expecting to fall in love with her in the process.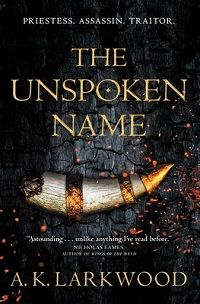 The Unspoken Name by A.K. Larkwood
This highly anticipated debut epic fantasy novel is a marathon read for sure. Csorwe has always known when and how she'd die…until a mage offers her something she never anticipated: a fate to live and train with him to become a spy and assassin. If Csorwe agrees, she'll help this mysterious wizard regain the power that was seized from him. A.K. Larkwood's story will have you flipping pages as Csorwe's journey begins.
Epic Fantasy Debuts Out August 11, 2020
Star Daughter by Shveta Thakrar
This mind-blowing epic fantasy debut from Shveta Tharkrar follows Sheetal, the daughter of a mortal and a star. When Sheetal's starfire injures her father, Sheetal seeks the guidance of the stars who helped her mother. In order to save her father's life, Sheetal must journey deep into the heavens, the very same ones where her mother went and never returned years ago. This one is downright celestial with world-building you can sink into and a fierce, heartfelt character you'll root for.
Epic Fantasy Debuts Out August 18th, 2020
Raybearer by Jordan Ifueko
More than anything else, Tarisai has always yearned for connection, and it's no surprise after her cold upbringing by The Lady, her emotionally remote mother figure. Now the Lady is sending Tarisai packing to the empirical Aristar to compete with other contestants to be on the Crown Prince's Council of 11, a coveted role that would finally give Tarisai the closeness she longs for…until The Lady reveals her true desire for Tarisai to kill the Crown Prince. Under The Lady's magical wish, Tarisai is compelled to carry out the murder, or will she find the strength to resist?
Notable Epic Fantasy Genre Debuts by Established Authors
Hunted by the Sky by Tanaz Bhathena
With a cover this gorgeous, you know the writing will be just as lush…and I'm happy to report that Hunted by the Sky by Tanaz Bhatehena is exactly that! In this debut by the acclaimed author of A Girl Like That, Gul is used to being on the run with a star-shaped birthmark similar to ones that other girls have had, girls who have disappeared under mysterious circumstances. The mark has already cost her the lives of her parents. Just when things couldn't get worse, Gul is welcomed into a secret society of rebellious women who call themselves the Sisters of the Golden Lotus. Under their supervision, Gul develops her magic and plots revenge.
The Mermaid, The Witch, and the Sea by Maggie Tokuda-Hall
In this rollicking and fun tale, Flora assumes a new identity as Florian when she boards the pirate ship Dove. Her new adventure on the high seas as a pirate should be the perfect way to sink into the anonymity she thrives on as a former street urchin wary of friendship and love. But when she falls for a bride-to-be on her way to a doomed marriage, Florian slips outside her comfort zone…just when magical mermaid-like creature throws the adventure in a new direction.
Further Fantasy Reading