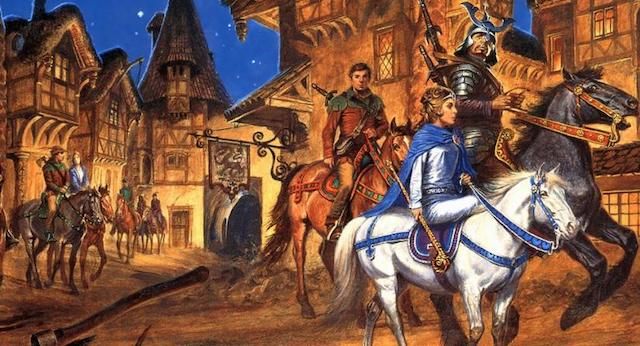 Lists
10 Epic Fantasy Books Like Wheel of Time
This content contains affiliate links. When you buy through these links, we may earn an affiliate commission.
So you've read the entire Wheel of Time series. Now you're eagerly awaiting the television adaptation. What books like Wheel of Time can you read in the interim?
There are many things to appreciate about Robert Jordan's Wheel of Time books. Readers love the epic nature of this story, the intricate world-building, the links to mythology and religion, the well thought out magic system, the large cast of characters, and so much more. Here are ten epic fantasy books like Wheel of Time that you might enjoy for similar reasons.
Author Brandon Sanderson completed the Wheel of Time series after the unfortunate death of original author Robert Jordan. With that in mind, it makes sense that after completing the Wheel of Time series, you would want to turn to Brandon Sanderson's newest series next. The Way of Kings is the first book in the Stormlight Archive series. In the world of Roshar, the landscape is unforgiving and emotions take on a physical form. This epic first novel is over 1,000 pages, featuring many characters and weapons and all that fun stuff. A definite must-read for people who love Wheel of Time.
This is the first book in the Licanius trilogy, and yes, this has been called "the next Wheel of Time." The Augurs are godlike people who are able to use magic called "kan" to read and control minds and see the future. Twenty years ago, they were overthrown and killed. Now, those who once served the Augurs (called "The Gifted") only live by accepting the rebellion's Four Tenets, which great limits their powers. Davian is a Gifted who was born after the war and is only beginning to understand his abilities in this first book. Meanwhile, a young man wakes up in the forest covered in blood with no memory of who he is. The final book in this series came out December 10, 2019.
Here is an epic tale of magic in an interesting historic setting: Regency England. Here, magicians are greatly respected in England's polite society, but the magical stocks in the country are quickly drying up. It will be up to Zacharias Wythe, a freed slave and prominent magician, to journey to the borders of Fairyland to find out what is happening. On his adventure, he comes across a woman extremely gifted in magic with powers Zacharias can hardly believe. If you ever wished Wheel of Time was more like Jane Austen, this is the series for you. The second book in the series was just released in March 2019.
Looking for a thick tome of epic fantasy that will really draw you in with its large cast of characters and brilliant world building? This is the book for you. For the last 1,000 years, The House of Berethnet has ruled Inys. But now the unwed Queen Sabran is without an heir and must soon produce an heir to protect her kingdom. Ead Duryan is Queen Sabran's lady-in-waiting, but more importantly, she's secretly a member of a hidden group of mages. She's also secretly protecting the queen with forbidden magic. Then there's Tané who resides across the dark sea and has trained all her life to be a dragonrider. Yes, there are dragons.
If what you love about Wheel of Time is its connections to mythology, Marlon James's Dark Star Trilogy might just be your next favorite read. Black Leopard, Red Wolf draws from African history and mythology. This first book in the series just came out in February 2019, but Marlon James has already revealed the titles for the next two books. In this first book, a hunter named Tracker must track down a mysterious boy who disappeared three years earlier. While Tracker normally works alone, this time he finds himself part of a group that is all looking for this same boy. This band of characters is unlike anyone Tracker has ever known, including a shape-shifting man-animal known as Leopard.
This first book in the Poppy War series was released in May 2018, and the sequel The Dragon Republic came out a little over a year later in August 2019. My point is this: if you're wanting to get into a new high fantasy series but you're worried about how long you might have to wait for the next book (*cough* A Song of Ice and Fire *cough*), then I don't think you'll have to worry with R.F. Kuang's series. In The Poppy War, we meet Rin, an impoverished orphan who surprises everyone by acing the Keju, an empire-wide test to find young people to study at the prestigious Academies. Leaving behind the life she's known, Rin studies at Sinegard, the most elite military school in Nikan. Here, she will develop her shamanic powers, powers she might just need to save her people as war threatens them.
In the ten-book Malazan Book of the Fallen series, author Steven Erikson draws from his experience as an anthropologist and an archeologist to create an epic fantasy world. Gardens of the Moon is the first book in the series. In it, Erikson introduces us to the Malazan Empire, which Empress Laseen rules with an iron fist. After destroying Pale, the Empress is gunning for Darujhistan, the last Free Cities of Genebackis. But beyond this war between mortals, "sinister, shadowbound forces are gathering as the gods themselves prepare to play their hand."
Age of Myth by Michael J. Sullivan
This is the first book in the Legends of the First Empire series. In this world, humans have worshipped a race called the Fhrey as gods for eternity. But when a human named Raithe kills one of the Fhrey, the power structure between these races is forever changed. The time of rebellion has begun, and three hold the power to save mankind: Raithe (the God Killer), Suri (a young seer), and Persephone, who must overcome personal tragedy to lead her people. Sullivan has already published the first four books in this series, and the fifth and final book is coming in 2020.
In the Crescent Moon Kingdoms series, Saladin Ahmed creates a world full of djenn and ghuls, holy warriors and heretics. Throne of the Crescent Moon is the first book in the series, with the second one coming out on December 31, 2019. Set in the Middle East during the golden age of the Caliphate, this is the story of Doctor Adoulla Makshlood, a ghul hunter on the verge of retiring. But when an old flame's family is murdered, Adoulla must get back to work. This series features a compelling cast of characters and connections to fairy tales/mythology that Wheel of Time readers will love.
N.K. Jemisin's The Broken Earth trilogy is an instant classic and a must-read for lovers of inventive epic fantasy. This first novel in the series starts on a day where three terrible things happen. A woman named Essun comes home to find that the simple life she's known is over: her husband murdered their son and kidnapped their daughter. Elsewhere, the mighty empire Sanze collapses. And across the continent, a great red rift has been been torn into the the earth. A rift that will potentially spread ash across the sky for centuries. This beautifully told epic novel is a mixture of science fiction and fantasy. So if you're looking for an epic fantasy book with some science fiction and dystopian leanings, here is that book!
---
Looking for even more epic fantasy recommendations? Check out this list of epic fantasy series. Or even better, join Tailored Book Recommendations and get customized recommendations just for you based on your tastes and the books you love. Whether you're looking for more books like Wheel of Time or if you're looking to branch out into other genres, TBR has you covered.