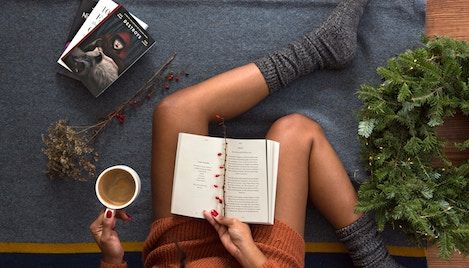 This content contains affiliate links. When you buy through these links, we may earn an affiliate commission.
Winter is coming in the Northern Hemisphere, and with the beginning of winter season comes the slowing down in the publishing world. But just because things slow down doesn't mean they stop. For readers, it means there's an opportunity to not only catch up with the TBR, but also, it means adding (only) a few more titles. Here's a look at the YA paperbacks you'll want to know about that hit shelves in the next quarter.
Paperbacks are great for many reasons. Not only are they easier to carry around and to hold, but they're often easier on the budget than a hardcover book. This benefits both the average reader, as well as those who purchase books for library or classroom collections. We don't celebrate paperback releases quite enough, so I enjoy pooling these titles together on a quarter basis in order to highlight the format and its benefits.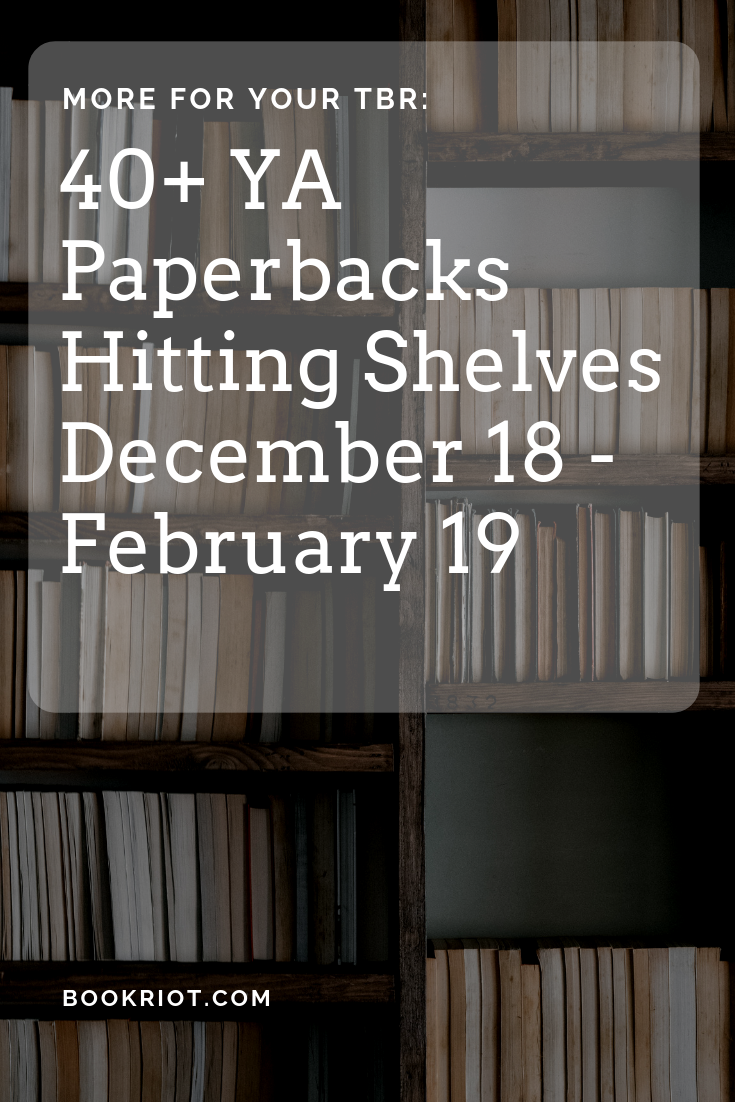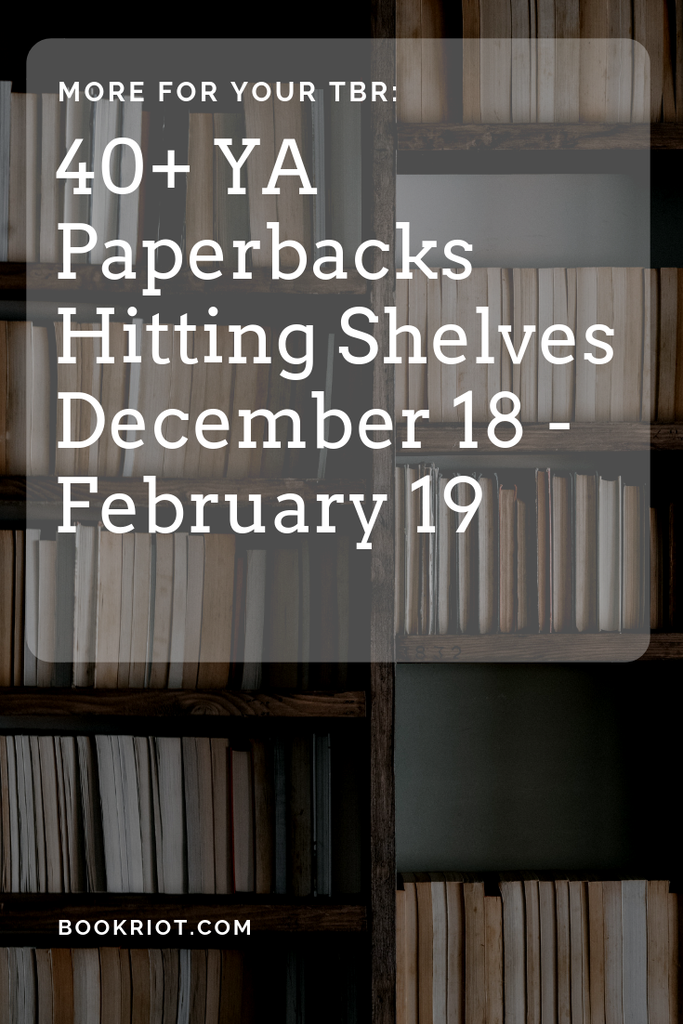 The YA paperbacks in this list include books which are new, as well as some which are new in paperback or paperback originals. Also included are rereleased titles (one is a bind-up of older YA titles) and anniversary paperback editions of beloved YA classics. Titles are fiction and nonfiction, across a wide span of genres.
This isn't a comprehensive list, but one that aims to offer up popular, well-known titles, as well as some of the quieter titles that you may have missed upon initial publication. I've limited series books on this list to those which are first; there are more series books hitting paperback, but they're later installments.
Descriptions come from Goodreads, as I've only read a handful of these. This list is light on books by authors of color, but that's not necessarily representative of anything other than time of year for publishing being slow and the fact that many big titles by authors of color have not yet left their hardcover format. We'll see many, many more in the spring.
Note: if the links don't drop immediately to the paperback edition of the title, toggle over.
YA Paperbacks, Winter 2018-2019
December
Of course I want to be like them. They're beautiful as blades forged in some divine fire. They will live forever.
And Cardan is even more beautiful than the rest. I hate him more than all the others. I hate him so much that sometimes when I look at him, I can hardly breathe.
Jude was seven when her parents were murdered and she and her two sisters were stolen away to live in the treacherous High Court of Faerie. Ten years later, Jude wants nothing more than to belong there, despite her mortality. But many of the fey despise humans. Especially Prince Cardan, the youngest and wickedest son of the High King.
To win a place at the Court, she must defy him–and face the consequences.
As Jude becomes more deeply embroiled in palace intrigues and deceptions, she discovers her own capacity for trickery and bloodshed. But as betrayal threatens to drown the Courts of Faerie in violence, Jude will need to risk her life in a dangerous alliance to save her sisters, and Faerie itself.
Emma is used to things going her way. Her father is headmaster of her prestigious boarding school, her friends take her advice as gospel, and she's convinced that a relationship with her long-time crush is on the horizon.
As it turns out, Emma hasn't seen anything yet. When she finds an old book in an abandoned library, things really start going Emma's way: anything she writes in the book comes true.
But the power of the book is not without consequences, and Emma soon realizes that she isn't the only one who knows about it. Someone is determined to take it from her―and they'll stop at nothing to succeed.
A new boy in school―the arrogant, aloof, and irritatingly handsome Darcy de Winter―becomes Emma's unlikely ally as secrets are revealed and danger creeps ever closer.
Sixteen-year-old Mina is motherless, her magician father is vicious, and her silent heart has never beat with love for anyone–has never beat at all, in fact, but she'd always thought that fact normal. She never guessed that her father cut out her heart and replaced it with one of glass. When she moves to Whitespring Castle and sees its king for the first time, Mina forms a plan: win the king's heart with her beauty, become queen, and finally know love. The only catch is that she'll have to become a stepmother.
Fifteen-year-old Lynet looks just like her late mother, and one day she discovers why: a magician created her out of snow in the dead queen's image, at her father's order. But despite being the dead queen made flesh, Lynet would rather be like her fierce and regal stepmother, Mina. She gets her wish when her father makes Lynet queen of the southern territories, displacing Mina. Now Mina is starting to look at Lynet with something like hatred, and Lynet must decide what to do–and who to be–to win back the only mother she's ever known…or else defeat her once and for all.
Entwining the stories of both Lynet and Mina in the past and present, Girls Made of Snow and Glass traces the relationship of two young women doomed to be rivals from the start. Only one can win all, while the other must lose everything–unless both can find a way to reshape themselves and their story.
Seventeen-year-old Abby Turner's summer isn't going the way she'd planned. She has a not-so-secret but definitely unrequited crush on her best friend, Cooper. She hasn't been able to manage her mother's growing issues with anxiety. And now she's been rejected from an art show because her work "has no heart." So when she gets another opportunity to show her paintings Abby isn't going to take any chances.
Which is where the list comes in.
Abby gives herself one month to do ten things, ranging from face a fear (#3) to learn a stranger's story (#5) to fall in love (#8). She knows that if she can complete the list she'll become the kind of artist she's always dreamed of being. But as the deadline approaches, Abby realizes that getting through the list isn't as straightforward as it seems… and that maybe—just maybe—she can't change her art if she isn't first willing to change herself.
Sasha Stone knows her place—first-chair clarinet, top of her class, and at the side of her oxford-wearing boyfriend. She's worked her entire life to ensure that her path to Oberlin Conservatory as a star musician is perfectly paved.
But suddenly there's a fork in the road, in the shape of Isaac Harver. Her body shifts toward him when he walks by, her skin misses his touch even though she's never known it, and she relishes the smell of him—smoke, beer, and trouble—all the things she's avoided to get where she is. Even worse, every time he's near Sasha, her heart stops, literally. Why does he know her so well—too well—and she doesn't know him at all?
Sasha discovers that her by-the-book life began by ending another's: the twin sister she absorbed in the womb. But that doesn't explain the gaps of missing time in her practice schedule or the memories she has of things she certainly never did with Isaac. As Sasha loses her much-cherished control, her life—and heart—become more entangled with Isaac. Armed with the knowledge that her heart might not be hers alone, Sasha must decide what she's willing to do—and who she's willing to hurt—to take it back.
One week. That's all Jessie said. A one-week break to get some perspective before graduation, before she and her boyfriend, Chris, would have to make all the big, scary decisions about their future–decisions they had been fighting about for weeks.
Then, Chris vanishes. The police think he's run away, but Jessie doesn't believe it. Chris is popular and good-looking, about to head off to college on a full-ride baseball scholarship. And he disappeared while going for a run along the river–the same place where some boys from the rival high school beat him up just three weeks ago. Chris is one of the only black kids in a depressed paper mill town, and Jessie is terrified of what might have happened.
As the police are spurred to reluctant action, Jessie speaks up about the harassment Chris kept quiet about and the danger he could be in. But there are people in Jessie's town who don't like the story she tells, who are infuriated by the idea that a boy like Chris would be a target of violence. They smear Chris's character and Jessie begins receiving frightening threats.
Every Friday since they started dating, Chris has written Jessie a love letter. Now Jessie is writing Chris a letter of her own to tell him everything that's happening while he's gone. As Jessie searches for answers, she must face her fears, her guilt, and a past more complicated than she would like to admit.
Unearthed by Amie Kaufman and Meagan Spooner
When Earth intercepts a message from a long-extinct alien race, it seems like the solution the planet has been waiting for. The Undying's advanced technology has the potential to undo environmental damage and turn lives around, and Gaia, their former home planet, is a treasure trove waiting to be uncovered.
For Jules Addison and his fellow scholars, the discovery of an alien culture offers unprecedented opportunity for study… as long as scavengers like Amelia Radcliffe don't loot everything first. Mia and Jules' different reasons for smuggling themselves onto Gaia put them immediately at odds, but after escaping a dangerous confrontation with other scavvers, they form a fragile alliance.
In order to penetrate the Undying temple and reach the tech and information hidden within, the two must decode the ancient race's secrets and survive their traps. But the more they learn about the Undying, the more their presence in the temple seems to be part of a grand design that could spell the end of the human race…
Rediscover New York Times bestselling, Newbery Honor- and Coretta Scott King Author Award-winning author Renée Watson's heart-rending debut, about one girl's journey to reconnect to joy.
Serenity is good at keeping secrets, and she's got a whole lifetime's worth of them. Her mother is dead, her father is gone, and starting life over at her grandparents' house is strange. Luckily, certain things seem to hold promise: a new friend who makes her feel connected, and a boy who makes her feel seen. But when her brother starts making poor choices, her friend is keeping her own dangerous secret, and her grandparents put all of their trust in a faith that Serenity isn't sure she understands, it is the power of love that will repair her heart and keep her sure of just who she is.
Adam has just been diagnosed with schizophrenia. He sees and hears people who aren't there: Rebecca, a beautiful girl who understands him; the Mob Boss, who harasses him; and Jason, the naked guy who's unfailingly polite. It should be easy to separate the real from the not real, but Adam can't.
Still, there's hope. As Adam starts fresh at a new school, he begins a drug trial that helps him ignore his visions. Suddenly everything seems possible, even love. When he meets Maya, a fiercely intelligent girl, he desperately wants to be the great guy that she thinks he is. But then the miracle drug begins to fail, and Adam will do anything to keep Maya from discovering his secret.
January
A contemporary novel about a girl whose high school production of A Midsummer Night's Dream leads her to new friends—and maybe even new love.
The day of the last party of the summer, Claudia overhears a conversation she wasn't supposed to. Now on the wrong side of one of the meanest girls in school, Claudia doesn't know what to expect when the two are paired up to write a paper—let alone when they're both forced to try out for the school production of A Midsummer Night's Dream.
But mandatory participation has its upsides—namely, an unexpected friendship, a boy band obsession, and a guy with the best dimpled smile Claudia's ever seen. As Claudia's world starts to expand, she finds that maybe there are some things worth sticking her neck out for.
Jessa Whitworth knew she didn't belong in her ex-boyfriend Caleb's room. But she couldn't deny that she was everywhere: in his photos, his neatly folded T-shirts, even the butterfly necklace in his jeans pocket . . . the one she gave him for safe keeping on that day.
His mother asked her to pack up his things, even though she blames Jessa for his accident. How could she say no? And maybe, just maybe, it will help her work through the guilt she feels about their final moments together.
But as Jessa begins to box up the pieces of Caleb's life, they trigger memories that make Jessa realize their past relationship may not be exactly as she remembered. And she starts to question whether she really knew Caleb at all.
Each fragment of his life reveals a new clue that propels Jessa to search for the truth about Caleb's accident. What really happened on the storm-swept bridge?
Petty criminal Zara Cole has a painful past that's made her stronger than most, which is why she chose life in New Detroit instead of moving with her family to Mars. In her eyes, living inside a dome isn't much better than a prison cell.
Still, when Zara commits a crime that has her running scared, jail might be exactly where she's headed. Instead Zara is recruited into the Honors, an elite team of humans selected by the Leviathan—a race of sentient alien ships—to explore the outer reaches of the universe as their passengers.
Zara seizes the chance to flee Earth's dangers, but when she meets Nadim, the alien ship she's assigned, Zara starts to feel at home for the first time. But nothing could have prepared her for the dark, ominous truths that lurk behind the alluring glitter of starlight.
In a country ripped apart by war, Tareq lives with his big and loving family . . . until the bombs strike. His city is in ruins. His life is destroyed. And those who have survived are left to figure out their uncertain future.
In the wake of destruction, he's threatened by Daesh fighters and witnesses a public beheading. Tareq's family knows that to continue to stay alive, they must leave. As they travel as refugees from Syria to Turkey to Greece, facing danger at every turn, Tareq must find the resilience and courage to complete his harrowing journey.
But while this is one family's story, it is also the timeless tale of all wars, of all tragedy, and of all strife. When you are a refugee, success is outliving your loss.
A two-in-one edition of the critically acclaimed Hot Girl and Bad Boy by Dream Jordan.
What's a Brooklyn Girl to do when her best friend is away for the whole summer? Don't ask Kate, because she has no idea. Aimless, and unhappy with her new foster mother, Kate falls into the hands of a stylish, "It Chick" who whips her into fashionable shape. Armed with new confidence, and a game plan to get her man, Kate quickly falls under her new bestie's bad influence. And she becomes reckless in her pursuits. Can Kate get her life back on the right track–or is it already too late?
One year later, Kate's fantasy life of having the perfect family comes to an abrupt end when she is suddenly forced to return to the group home, a place she's fought so hard to avoid. Alone and vulnerable, Kate falls for the ever so gorgeous Percy who treats her well at first, but soon a cycle of controlling and abusive behavior begins. Kate finds herself trapped and unable to be the strong, independent girl she's tried to be her whole life. Will she be able to escape Percy's clutches?
Told through Kate's witty, fearless point of view, Hot Girl and Bad Boy are powerful stories from an important voice in young adult fiction.
Featuring art and writing from the students of the Parkland tragedy, this is an unedited look at the lives of these teens and a poignant representation of grief, healing, and hope.
This raw, reflective diary features poetry, drawings, photos, interviews, and speeches from the rally, walkout, and March for Our Lives event organized by the students at Marjory Stoneman Douglas High School. The intimate collection will inspire readers to reflect on their own lives and the importance of celebrating the people they love every day.
A section on activism and resources for mental health will be featured in the back of the book.
Shalia is a proud daughter of the desert, but after years of devastating war with the adjoining kingdom, her people are desperate for peace. Willing to trade her freedom to ensure the safety of her family, Shalia becomes Queen of the Bonelands.
But she soon learns that her husband, Calix, is motivated only by his desire to exterminate the Elementae—mystical people who can control earth, wind, air, and fire. Even more unsettling are Shalia's feelings for her husband's brother, which unleash a power over the earth she never knew she possessed—a power that could get her killed. As rumors of a rebellion against Calix spread, Shalia must choose between the last chance for peace and her own future as an Elementae.
This intense, richly drawn high-fantasy by the author of Scarletwill hold readers spellbound.
Odessa is one of Karthia's master necromancers, catering to the kingdom's ruling Dead. Whenever a noble dies, it's Odessa's job to raise them by retrieving their souls from a dreamy and dangerous shadow world called the Deadlands. But there is a cost to being raised–the Dead must remain shrouded, or risk transforming into zombie-like monsters known as Shades. If even a hint of flesh is exposed, the grotesque transformation will begin.
A dramatic uptick in Shade attacks raises suspicions and fears among Odessa's necromancer community. Soon a crushing loss of one of their own reveals a disturbing conspiracy: someone is intentionally creating Shades by tearing shrouds from the Dead–and training them to attack. Odessa is faced with a terrifying question: What if her necromancer's magic is the weapon that brings Karthia to its knees?
The first ten lies they tell you in high school.
"Speak up for yourself–we want to know what you have to say."
From the first moment of her freshman year at Merryweather High, Melinda knows this is a big fat lie, part of the nonsense of high school. She is friendless, outcast, because she busted an end-of-summer party by calling the cops, so now nobody will talk to her, let alone listen to her. As time passes, she becomes increasingly isolated and practically stops talking altogether. Only her art class offers any solace, and it is through her work on an art project that she is finally able to face what really happened at that terrible party: she was raped by an upperclassman, a guy who still attends Merryweather and is still a threat to her. Her healing process has just begun when she has another violent encounter with him. But this time Melinda fights back, refuses to be silent, and thereby achieves a measure of vindication.
In Laurie Halse Anderson's powerful novel, an utterly believable heroine with a bitterly ironic voice delivers a blow to the hypocritical world of high school. She speaks for many a disenfranchised teenager while demonstrating the importance of speaking up for oneself.
Rufus Holt is having the worst night of his life. It begins with the reappearance of his ex-boyfriend, Sebastian—the guy who stomped his heart out like a spent cigarette. Just as Rufus is getting ready to move on, Sebastian turns up out of the blue, saying they need to "talk." Things couldn't get much worse, right?
But then Rufus gets a call from his sister April, begging for help. And then he and Sebastian find her, drenched in blood and holding a knife, beside the dead body of her boyfriend, Fox Whitney.
April swears she didn't kill Fox—but Rufus knows her too well to believe she's telling him the whole truth. April has something he needs, though, and her price is his help. Now, with no one to trust but the boy he wants to hate yet can't stop loving, Rufus has one night to prove his sister's innocence…or die trying.
Wild Bird by Wendelin Van Draanen
3:47 a.m. That's when they come for Wren Clemens. She's hustled out of her house and into a waiting car, then a plane, and then taken on a forced march into the desert. This is what happens to kids who've gone so far off the rails, their parents don't know what to do with them any more. This is wilderness therapy camp.
The Wren who arrives in the Utah desert is angry and bitter, and blaming everyone but herself. But angry can't put up a tent. And bitter won't start a fire. Wren's going to have to admit she needs help if she's going to survive.
In her most incisive and insightful book yet, beloved author Wendelin Van Draanen's offers a remarkable portrait of a girl who too a wrong turn and got lost–but who may be able to find her way back again in the vast, harsh desert.
Eighteen-year-old twins Adina and Tovah have little in common besides their ambitious nature. Viola prodigy Adina yearns to become a soloist—and to convince her music teacher he wants her the way she wants him. Overachiever Tovah awaits her acceptance to Johns Hopkins, the first step on her path toward med school and a career as a surgeon.
But one thing could wreck their carefully planned futures: a genetic test for Huntington's, a rare degenerative disease that slowly steals control of the body and mind. It's turned their Israeli mother into a near stranger and fractured the sisters' own bond in ways they'll never admit. While Tovah finds comfort in their Jewish religion, Adina rebels against its rules.
When the results come in, one twin tests negative for Huntington's. The other tests positive.
These opposite outcomes push them farther apart as they wrestle with guilt, betrayal, and the unexpected thrill of first love. How can they repair their relationship, and is it even worth saving?
February
In the hours after a bridge collapse rocks their city, a group of Boston teenagers meet in the waiting room of Massachusetts General Hospital:
Siblings Jason and Alexa have already experienced enough grief for a lifetime, so in this moment of confusion and despair, Alexa hopes that she can look to her brother for support. But a secret Jason has been keeping from his sister threatens to tear the siblings apart…right when they need each other most.
Scott is waiting to hear about his girlfriend, Aimee, who was on a bus with her theater group when the bridge went down. Their relationship has been rocky, but Scott knows that if he can just see Aimee one more time, if she can just make it through this ordeal and he can tell her he loves her, everything will be all right.
And then there's Skyler, whose sister Kate—the sister who is more like a mother, the sister who is basically Skyler's everything—was crossing the bridge when it collapsed. As the minutes tick by without a word from the hospital staff, Skyler is left to wonder how she can possibly move through life without the one person who makes her feel strong when she's at her weakest.
Theodosia was six when her country was invaded and her mother, the Fire Queen, was murdered before her eyes. On that day, the Kaiser took Theodosia's family, her land, and her name. Theo was crowned Ash Princess–a title of shame to bear in her new life as a prisoner.
For ten years Theo has been a captive in her own palace. She's endured the relentless abuse and ridicule of the Kaiser and his court. She is powerless, surviving in her new world only by burying the girl she was deep inside.
Then, one night, the Kaiser forces her to do the unthinkable. With blood on her hands and all hope of reclaiming her throne lost, she realizes that surviving is no longer enough. But she does have a weapon: her mind is sharper than any sword. And power isn't always won on the battlefield.
For ten years, the Ash Princess has seen her land pillaged and her people enslaved. That all ends here.
Her heart has to break before it can open.
When star soccer player Peyton Rios receives an offer from her first-choice college, senior year starts off exactly as planned. But when Peyton uncovers her boyfriend's dark secret, she confronts him—and finds herself falling down a flight of stairs. Peyton's knee—and maybe her dream of going pro—is shattered. Everyone is talking: Was she pushed, or did she fall? Peyton knows the truth, even if no one believes her.
He has to let someone in before it's too late.
With her future on the line, Peyton goes to stay with her uncle in a small Tennessee town to focus on her recovery. Dating is the last thing on her mind—until she meets sweet, sexy Owen Law.
But Peyton doesn't trust her heart, especially when she senses that Owen is hiding something. When their secrets are finally exposed, Peyton has to decide if love is worth fighting for.
This heartbreaking, humorous novel is about three teens whose lives intersect in ways they never expected.
Reggie Mason is all too familiar with "the Three Stages of Depression." She believes she's unlocked the secret to keeping herself safe: Nobody can hurt you if you never let them in.
Reggie encounters an unexpected challenge to her misanthropy: a Twizzler-chomping, indie film-making narcissist named Snake. Snake's presence, while reassuring, is not exactly stable—especially since his ex-girlfriend is seven months pregnant. As Reggie falls for Snake, she must decide whether it's time to rewrite the rules that have defined her.
Morgan Marks is the new girl—and nobody can stop talking about her. She's popular, smart, and beautiful. Everyone wants to be her friend. But her past is veiled in mystery, and no one, not even her boyfriend Ben, knows where exactly she came from. But Shadyside Homecoming is just around the corner. And Morgan's dark secrets are about to be dug up for all the world to see.
Feminism Is. . . by DK
A lively and accessible book for teens on the history, pioneers, theories, questions, arguments, and daily reality of feminism today.
What is feminism? Combining insightful text with graphic illustrations, this engaging book introduces young adult readers to a subject that should matter to everyone. Posed as a series of questions, Feminism Is… tackles the most intriguing and relevant topics, such as "Are all people equal?," "Do boys and girls learn the same things?" and "Why do women earn less than men?" Find out what equality for women really means, get a short history of feminism, and take a look at the issues that affect women at work, in the home, and around sex and identity. Meet, too, some great women, such as Gloria Steinem, Frida Kahlo, and Malala Yousafzi, "rebel girls" who refused to accept the status quo of their day and blazed a trail for others to follow.
With more than 50 questions that address key feminist concerns, Feminism Is… takes on the issues in informative, thought-provoking ways.
Find out about the fast and furious growth and evolution of video games (including how they are quickly taking over the world!) by looking at some of the most popular, innovative, and influential games ever, from Pong, the very first arcade game ever, to modern hits like Uncharted.
Learn about the creators and inspiration (Mario was named after Nintendo's landlord after he barged into a staff meeting demanding rent), discover historical trivia and Easter eggs (The developers of Halo 2 drank over 24,000 gallons of soda while making the game), and explore the innovations that make each game special (The ghosts in Pac-Man are the first example of AI in a video game).
Whether you consider yourself a hard-core gamer or are just curious to see what everyone is talking about, Game On! is the book for you!
A timeless exploration of high-stakes romance, self-discovery, and the lengths we go to love and be loved.
Sixteen-year-old Zarin Wadia is many things: a bright and vivacious student, an orphan, a risk taker. She's also the kind of girl that parents warn their kids to stay away from: a troublemaker whose many romances are the subject of endless gossip at school. You don't want to get involved with a girl like that, they say. So how is it that eighteen-year-old Porus Dumasia has only ever had eyes for her? And how did Zarin and Porus end up dead in a car together, crashed on the side of a highway in Jeddah, Saudi Arabia? When the religious police arrive on the scene, everything everyone thought they knew about Zarin is questioned. And as her story is pieced together, told through multiple perspectives, it becomes clear that she was far more than just a girl like that.
"The hope of a secure and livable world lies with disciplined nonconformists who are dedicated to justice, peace and brotherhood."–Rev. Martin Luther King, Jr.
We all experience moments when we struggle to understand the state of the world, when we feel powerless and–in some cases–even hopeless. The teens of today are the caretakers of tomorrow, and yet it's difficult for many to find joy or comfort in such a turbulent society. But in trying times, words are power.
Some of today's most influential young adult authors come together in this highly personal nonfiction collection of essays, poems, and letters, each a first-hand account that ultimately strives to inspire hope.
Like a modern day Chicken Soup for the Teenage Soul or Don't Sweat the Small Stuff for Teens, Hope Nation acknowledges the pain and shines a light on what comes after.
Can she write a world gone wrong?
A certain pen, a certain book, and a certain person can craft entirely new worlds through a branch of science called scriptology. Elsa comes from one such world that was written into creation, where her mother―a noted scriptologist―constantly alters and expands their reality.
But when her home is attacked and her mother kidnapped, Elsa is forced to cross into the real world and use her own scriptology gifts to find her. In an alternative Victorian Italy, Elsa finds a secret society of young scientists with a gift for mechanics, alchemy, or scriptology―and meets Leo, a gorgeous mechanist with a smart mouth and tragic past. She recruits the help of these fellow geniuses just as an assassin arrives on their doorstep.
In this thrilling debut, worlds collide as Elsa unveils a deep political conspiracy seeking to unlock the most dangerous weapon ever created―and only she can stop it.
Asra is a demigod with a dangerous gift: the ability to dictate the future by writing with her blood. To keep her power secret, she leads a quiet life as a healer on a remote mountain, content to help the people in her care and spend time with Ina, the mortal girl she loves.
But Asra's peaceful life is upended when bandits threaten Ina's village and the king does nothing to help. Desperate to protect her people, Ina begs Asra for assistance in finding her manifest—the animal she'll be able to change into as her rite of passage to adulthood. Asra uses her blood magic to help Ina, but her spell goes horribly wrong and the bandits destroy the village, killing Ina's family.
Unaware that Asra is at fault, Ina swears revenge on the king and takes a savage dragon as her manifest. To stop her, Asra must embark on a journey across the kingdom, becoming a player in lethal games of power among assassins, gods, and even the king himself.
Most frightening of all, she discovers the dark secrets of her own mysterious history—and the terrible, powerful legacy she carries in her blood.
Last summer, Lucy's and Ben's lives changed in an instant. One moment, they were shyly flirting on a lake raft, finally about to admit their feelings to each other after years of yearning. In the next, Trixie—Lucy's best friend and Ben's sister—was gone, her heart giving out during a routine swim. And just like that, the idyllic world they knew turned upside down, and the would-be couple drifted apart, swallowed up by their grief. Now it's a year later in their small lake town, and as the anniversary of Trixie's death looms, Lucy and Ben's undeniable connection pulls them back together. They can't change what happened the day they lost Trixie, but the summer might finally bring them closer to healing—and to each other.
Family secrets cut to the bone in this mesmerizing debut novel about a teen whose drug-addicted brother is the prodigal son one time too many.
There is a pecking order to every family. Seventeen-year-old Clare is the overprotected baby; Peter is the typical, rebellious middle child; and Luke is the can't-do-wrong favorite. In their eyes, they are a normal, happy family. But sometimes it's the people who are closest to us who are the hardest to see.
Clare loves her older brother, Luke—it's not his fault that he's always in the wrong place at the wrong time. Life as Luke's sister hasn't been easy—their community hasn't been nearly as forgiving of his transgressions as she and her parents are—but he's done his time and is on his way home again, and she has to believe this time will be different. But when the truths behind his arrests begin to surface, everything Clare's always known is shaken to its core.
Clare has to decide if sticking up for herself and her future means selfishly turning her back on family…or if it's the only way to keep herself from drowning along with them.
Pacifica by Kristen Simmons
Marin is corsario royalty, a pirate like her father and his father before him. Sailing the ocean to chase adventure is in her blood. But these days no one cares that the island town her people call home is named after her grandfather. They have a new leader, one who promises an end to their hunger – and one who thinks that girls are meant for the kitchen or the brothel. Marin knows she's meant for more than that, and with the sudden influx of weapons on the island, and rumors of a pending deal with the enemy oil nation in her wake, she knows a big score to gain the council's favor is the only way to save her people, and herself.
Ross lives a life of privilege. As the president's son he wants for nothing, but he longs for a life of adventure. On a dare, he convinces his best friend Adam to sneak out to the Docks, the site of local race riots between the poor Shorlings and the upper class. But when Adam is arrested along with the other Shorlings, and not even the president is willing to find him, Ross finds himself taking matters into his own hands. He journeys back into the Docks, ready to make deals with anyone, even a beautiful pirate, if it means Adam's safe return.
When Marin and Ross meet in dangerous Shoreling territory he sees a way to get his friend back and she sees her ticket home. The ransom a president's son would command could feed her people for years and restore her family's legacy. But somewhere in the middle of the ocean, Marin must decide if her heart can handle handing over the only person who has ever seen her as more than a pirate.
Tuck has been in stasis on the USS John Muir, a ship that houses Earth's most valued artifacts—its natural resources. Parks and mountains are preserved in space.
Laura belongs to a shipraiding family, who are funded by a group used to getting what they want. And they want what's on the Muir.
Tuck and Laura didn't bargain on working together, or battling mutant aliens who use sound to kill. But their plan is the only hope for their crews, their families, and themselves.
In space, nobody can hear you scream . . . but on the John Muir, the screams are the last thing you'll hear.
A CIA prodigy's cover is blown when he accidentally becomes an internet sensation in #Prettyboy Must Die, inspired by the #Alexfromtarget story.
When Peter Smith's classmate snaps a picture of him during a late night run at the track, Peter thinks he might be in trouble. When she posts that photo–along with the caption, "See the Pretty Boy Run,"–Peter knows he's in trouble. But when hostiles drop through the ceiling of his 6th period Chem Class, Peter's pretty sure his trouble just became a national emergency.
Because he's not really Peter Smith. He's Jake Morrow, former foster-kid turned CIA operative. After a massive screw-up on his first mission, he's on a pity assignment, a dozen hit lists and now, social media, apparently. As #Prettyboy, of all freaking things.
His cover's blown, his school's under siege, and if he screws up now, #Prettyboy will become #Deadboy faster than you can say, 'fifteen minutes of fame.' Trapped in a high school with rabid killers and rabid fans, he'll need all his training and then some to save his job, his school and, oh yeah, his life.
Spliced by Jon McGoran
In this gripping sci-fi thriller, genetically altered teens fight for survival in a near-future society that is redefining what it means to be human.

Sixteen-year-old Jimi knows people change, but nothing could prepare her for what's about to happen to her best friend, Del. Del is obsessed with becoming a chimera (ki-mir-a): a person who pays back-alley geneticists, known as "genies," to illegally splice animal genes into their own. The resulting physical changes have scared lawmakers into drafting legislation declaring chimeras officially nonpersons–so when Del goes missing, Jimi is desperate to find him before he alters himself forever.
As she tries to save him, Jimi must face down unscrupulous people and risk her own life–all while knowing that if getting spliced is the choice Del has made, it means he's leaving her behind forever.
You go through life thinking there's so much you need…
Until you leave with only your phone, your wallet, and a picture of your mother.
Marin hasn't spoken to anyone from her old life since the day she left everything behind. No one knows the truth about those final weeks. Not even her best friend, Mabel. But even thousands of miles away from the California coast, at college in New York, Marin still feels the pull of the life and tragedy she's tried to outrun. Now, months later, alone in an emptied dorm for winter break, Marin waits. Mabel is coming to visit, and Marin will be forced to face everything that's been left unsaid and finally confront the loneliness that has made a home in her heart.
When the Vasquez siblings' father left, it seemed nothing could remedy the absence in their lives . . . until a shimmering figure named Luz appeared in the canyon behind their house.
Luz filled the void. He shot hoops with seventeen-year-old Hank's hands. He showed fourteen-year-old Ana cinematic beauty behind her eyelids. He spoke kindly to eight-year-old Milo. But then Luz left, too, and he took something from each of them. As a new school year begins, Ana, Hank, and Milo must carry on as if an alien presence never altered them. But how can they ever feel close to other people again when Luz changed everything about how they see the world and themselves?
In an imaginative and heartfelt exploration of human—and non-human—nature, Leah Thomas champions the unyielding bonds between family and true friends.
Curious what else hit paperback this year? You can get the fall YA paperback releases here.