This content contains affiliate links. When you buy through these links, we may earn an affiliate commission.
It might not be fall quite yet, but with the dawn of September comes the beginning of a new season in the book world. Publishing picks up again after a quieter summer, bringing with it both new YA hardcovers and a pile of new YA paperbacks to get excited about.
Find below a round-up of upcoming fall YA paperbacks. These hit shelves between September and the end of November and include books which are new, as well as some which are new in paperback or paperback originals. Titles are fiction and nonfiction, across a wide span of genres within the YA category.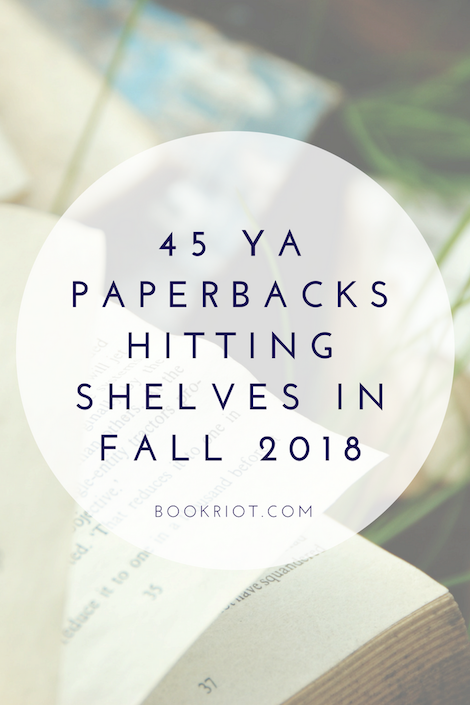 This isn't a comprehensive list, but one that aims to offer up popular, well-known titles, as well as some of the quieter titles that you may have missed upon initial publication. I've limited series books on this list to those which are first; there are more series books hitting paperback, but they're later installments.
Get excited: this is a seriously great reading season for those who love their books in paperback form. Descriptions come from Amazon, since I've not yet read all of the titles included.
Fall YA Paperbacks
September
Bang by Barry Lyga
Sebastian Cody did something horrible, something no one—not even Sebastian himself—can forgive. At the age of four, he accidentally shot and killed his infant sister with his father's gun.
Now, ten years later, Sebastian has lived with the guilt and horror for his entire life. With his best friend away for the summer, Sebastian has only a new friend, Aneesa, to distract him from his darkest thoughts. But even this relationship cannot blunt the pain of his past. Because Sebastian knows exactly how to rectify his childhood crime and sanctify his past. It took a gun to get him into this.
Now he needs a gun to get out.
Unflinching and honest, Bang is the story of one boy and one moment in time that cannot be reclaimed, as true and as relevant as tomorrow's headlines.
In the walled city of Kos, corrupt mages can magically call forth sin from a sinner in the form of sin-beasts—lethal creatures spawned from feelings of guilt. Taj is the most talented of the aki, young sin-eaters indentured by the mages to slay the sin-beasts. But Taj's livelihood comes at a terrible cost. When he kills a sin-beast, a tattoo of the beast appears on his skin while the guilt of committing the sin appears on his mind. Most aki are driven mad by the process, but Taj is cocky and desperate to provide for his family.
When Taj is called to eat a sin of a member of the royal family, he's suddenly thrust into the center of a dark conspiracy to destroy Kos. Now Taj must fight to save the princess that he loves—and his own life.
Throughout the Presidential campaign, Senator Bernie Sanders promised voters a future to believe in through his progressive platform and a vision for America worth fighting for. This vision calls for an economic, environmental, health care, and social justice revolution beyond the stagnant agendas of Democrat and Republican politicians to build an equitable future for all Americans—especially the younger generation that will inherit the consequences of decisions made now.
Inside this practical and inspiring guide to effecting change in today's world, you'll learn how to:
· Understand and navigate the current system of policy and government
· Work to change the system to reflect your values and to protect our society's most vulnerable
· Organize for the causes you care about most
· Resources for further reading and organizations to get involved with
With more than two decades of Washington D.C. insider knowledge and experience, Senator Sanders knows how to fight and change the system from within, a system desperately in need of reform in health care, immigration, taxes, higher education, climate change, and criminal justice.
The political revolution is just beginning. What role will you play?
This unforgettable novel tells a universal coming-of-age story about Taja Brown, a young African American girl growing up in Houston, Texas, and deftly and beautifully explores the universal struggles of growing up, battling family expectations, discovering a sense of self, and finding a unique voice and purpose.
Told in fifty-three short, episodic, moving, and iridescent chapters, Calling My Name follows Taja on her journey from middle school to high school. Literary and noteworthy, this is a beauty of a novel that captures the multifaceted struggle of finding where you belong and why you matter.
THE RULES ARE SIMPLE: You must be gifted. You must be younger than twenty-five. You must be willing to accept the dangers that you will face if you win.
Eighteen-year-old Cassandra Gupta's entire life has been leading up to this—the opportunity to travel to space. But to secure a spot on this classified mission, she must first compete against the best and brightest people on the planet. People who are as determined as she is to win a place on a journey to the farthest reaches of the universe.
Cassie is ready for the toll that the competition will take; the rigorous mental and physical tests designed to push her to the brink of her endurance. But nothing could have prepared her for the bonds she would form with the very people she hopes to beat. Or that with each passing day it would be more and more difficult to ignore the feeling that the true objective of the mission is being kept from her.
As the days until the launch tick down and the stakes rise higher than ever before, only one thing is clear to Cassie: she'll never back down…even if it costs her everything.
Justyce McAllister is a good kid, an honor student, and always there to help a friend—but none of that matters to the police officer who just put him in handcuffs. Despite leaving his rough neighborhood behind, he can't escape the scorn of his former peers or the ridicule of his new classmates.
Justyce looks to the teachings of Dr. Martin Luther King Jr. for answers. But do they hold up anymore? He starts a journal to Dr. King to find out.
Then comes the day Justyce goes driving with his best friend, Manny, windows rolled down, music turned up—way up, sparking the fury of a white off-duty cop beside them. Words fly. Shots are fired. Justyce and Manny are caught in the crosshairs. In the media fallout, it's Justyce who is under attack.
Feral Youth edited by Shaun David Hutchinson
At Zeppelin Bend, an outdoor-education program designed to teach troubled youth the value of hard work, cooperation, and compassion, ten teens are left alone in the wild. The teens are a diverse group who come all walks of life, and were all sent to Zeppelin Bend as a last chance to get them to turn their lives around. They've just spent nearly two weeks hiking, working, learning to survive in the wilderness, and now their instructors have dropped them off eighteen miles from camp with no food, no water, and only their packs, and they'll have to struggle to overcome their vast differences if they hope to survive.
Inspired by The Canterbury Tales, the characters in Feral Youth, each complex and damaged in their own ways, are enticed to tell a story (or two) with the promise of a cash prize. The stories range from noir-inspired revenge tales to mythological stories of fierce heroines and angry gods. And while few of the stories are claimed to be based in truth, they ultimately reveal more about the teller than the truth ever could.
Eighteen-year-old Xifeng is beautiful. The stars say she is destined for greatness, that she is meant to be Empress of Feng Lu. But only if she embraces the darkness within her.
Growing up as a peasant in a forgotten village on the edge of the map, Xifeng longs to fulfill the destiny promised to her by her cruel aunt, the witch Guma, who has read the cards and seen glimmers of Xifeng's majestic future. But is the price of the throne too high? Because in order to achieve greatness, she must spurn the young man who loves her and exploit the callous magic that runs through her veins—sorcery fueled by eating the hearts of the recently killed. For the god who has sent her on this journey will not be satisfied until his power is absolute.
Set in an East Asian–inspired fantasy world filled with both breathtaking pain and beauty, Forest of a Thousand Lanterns possesses all the hallmarks of masterful fantasy: dazzling magic, heartbreaking romance, and a world that hangs in the balance. Fans of Heartless, Stealing Snow, and Red Queen will devour this stunning debut.
Gem has never known what it is to have security. She's never known an adult she can truly rely on. But the one constant in her life has been Dixie. Gem grew up taking care of her sister when no one else could: not their mother, whose issues make it hard for her to keep food on the table, and definitely not their father, whose intermittent presence is the only thing worse than his frequent absence.
Even as Gem and Dixie have grown apart, they've always had each other.
When their dad returns home for the first time in years and tries to insert himself back into their lives, Gem finds herself with an unexpected opportunity: three days with Dixie—on their own in Seattle and beyond.
But this short trip soon becomes something more, as Gem discovers that that to save herself, she may have to sever the one bond she's tried so hard to keep.
A young bisexual British lord embarks on an unforgettable Grand Tour of Europe with his best friend/secret crush. An 18th-century romantic adventure for the modern age written by This Monstrous Thing author Mackenzi Lee—Simon vs. the Homo Sapiens Agenda meets the 1700s.
Henry "Monty" Montague doesn't care that his roguish passions are far from suitable for the gentleman he was born to be. But as Monty embarks on his grand tour of Europe, his quests for pleasure and vice are in danger of coming to an end. Not only does his father expect him to take over the family's estate upon his return, but Monty is also nursing an impossible crush on his best friend and traveling companion, Percy.
So Monty vows to make this yearlong escapade one last hedonistic hurrah and flirt with Percy from Paris to Rome. But when one of Monty's reckless decisions turns their trip abroad into a harrowing manhunt, it calls into question everything he knows, including his relationship with the boy he adores.
Jess Wong is Angie Redmond's best friend. And that's the most important thing, even if Angie can't see how Jess truly feels. Being the girl no one quite notices is OK with Jess anyway. If nobody notices her, she's free to watch everyone else. But when Angie begins to fall for Margot Adams, a girl from the nearby boarding school, Jess can see it coming a mile away. Suddenly her powers of observation are more a curse than a gift.
As Angie drags Jess further into Margot's circle, Jess discovers more than her friend's growing crush. Secrets and cruelty lie just beneath the carefree surface of this world of wealth and privilege, and when they come out, Jess knows Angie won't be able to handle the consequences.
When the inevitable darkness finally descends, Angie will need her best friend.
Moxie by Jennifer Mathieu
MOXIE GIRLS FIGHT BACK!
Vivian Carter is fed up. Fed up with an administration at her high school that thinks the football team can do no wrong. Fed up with sexist dress codes, hallway harassment, and gross comments from guys during class. But most of all, Viv Carter is fed up with always following the rules.
Viv's mom was a tough-as-nails, punk rock Riot Grrrl in the '90s, and now Viv takes a page from her mother's past and creates a feminist zine that she distributes anonymously to her classmates. She's just blowing off steam, but other girls respond. As Viv forges friendships with other young women across the divides of cliques and popularity rankings, she realizes that what she has started is nothing short of a girl revolution.
Until sophomore year of high school, fifteen-year-old Allison Britz lived a comfortable life in an idyllic town. She was a dedicated student with tons of extracurricular activities, friends, and loving parents at home.
But after awakening from a vivid nightmare in which she was diagnosed with brain cancer, she was convinced the dream had been a warning. Allison believed that she must do something to stop the cancer in her dream from becoming a reality.
It started with avoiding sidewalk cracks and quickly grew to counting steps as loudly as possible. Over the following weeks, her brain listed more dangers and fixes. She had to avoid hair dryers, calculators, cell phones, computers, anything green, bananas, oatmeal, and most of her own clothing.
Unable to act "normal," the once-popular Allison became an outcast. Her parents questioned her behavior, leading to explosive fights. When notebook paper, pencils, and most schoolbooks were declared dangerous to her health, her GPA imploded, along with her plans for the future.
Finally, she allowed herself to ask for help and was diagnosed with obsessive-compulsive disorder. This brave memoir tracks Allison's descent and ultimately hopeful climb out of the depths.
Fifteen-year-old Aki Simon has a theory. And it's mostly about sex.
No, it isn't that kind of theory. Aki already knows she's bisexual—even if, until now, it's mostly been in the hypothetical sense. Aki has dated only guys so far, and her best friend, Lori, is the only person who knows she likes girls, too.
Actually, Aki's theory is that she's got only one shot at living an interesting life—and that means she's got to stop sitting around and thinking so much. It's time for her to actually do something. Or at least try.
So when Aki and Lori set off on a church youth-group trip to a small Mexican town for the summer and Aki meets Christa—slightly older, far more experienced—it seems her theory is prime for the testing.
But it's not going to be easy. For one thing, how exactly do two girls have sex, anyway? And more important, how can you tell if you're in love? It's going to be a summer of testing theories—and the result may just be love.
Release by Patrick Ness
Adam Thorn doesn't know it yet, but today will change his life.
Between his religious family, a deeply unpleasant ultimatum from his boss, and his own unrequited love for his sort-of ex, Enzo, it seems as though Adam's life is falling apart. At least he has two people to keep him sane: his new boyfriend (he does love Linus, doesn't he?) and his best friend, Angela.
But all day long, old memories and new heartaches come crashing together, throwing Adam's life into chaos. The bindings of his world are coming untied one by one; yet in spite of everything he has to let go, he may also find freedom in the release.
Starfish by Akemi Dawn Bowman
A gorgeous and emotionally resonant debut novel about a half-Japanese teen who grapples with social anxiety and her narcissist mother in the wake of a crushing rejection from art school.
Kiko Himura has always had a hard time saying exactly what she's thinking. With a mother who makes her feel unremarkable and a half-Japanese heritage she doesn't quite understand, Kiko prefers to keep her head down, certain that once she makes it into her dream art school, Prism, her real life will begin.
But then Kiko doesn't get into Prism, at the same time her abusive uncle moves back in with her family. So when she receives an invitation from her childhood friend to leave her small town and tour art schools on the west coast, Kiko jumps at the opportunity in spite of the anxieties and fears that attempt to hold her back. And now that she is finally free to be her own person outside the constricting walls of her home life, Kiko learns life-changing truths about herself, her past, and how to be brave.
Raisa was just a child when she was sold into slavery in the kingdom of Qilara. Before she was taken away, her father had been adamant that she learn to read and write. But where she now lives, literacy is a capital offense for all but the nobility. The written language is closely protected, and only the King, Prince, Tutor, and Tutor-in-training are allowed to learn its very highest form. So when she is plucked from her menial labor and selected to replace the last Tutor-in-training who was executed, Raisa knows that betraying any hint of her past could mean death.
Keeping her secret guarded is hard enough, but the romance that's been blossoming between her and Prince Mati isn't helping matters. Then Raisa is approached by the Resistance—an underground rebel army—to help liberate the city's slaves. She wants to free her people, but that would mean aiding a war against Mati. As Raisa struggles with what to do, she discovers a secret that the Qilarites have been hiding for centuries—one that, if uncovered, could bring the kingdom to its knees.
Catarina Agatta is a hacker. She can cripple mainframes and crash through firewalls, but that's not what makes her special. In Cat's world, people are implanted with technology to recode their DNA, allowing them to change their bodies in any way they want. And Cat happens to be a gene-hacking genius.
That's no surprise, since Cat's father is Dr. Lachlan Agatta, a legendary geneticist who may be the last hope for defeating a plague that has brought humanity to the brink of extinction. But during the outbreak, Lachlan was kidnapped by a shadowy organization called Cartaxus, leaving Cat to survive the last two years on her own.
When a Cartaxus soldier, Cole, arrives with news that her father has been killed, Cat's instincts tell her it's just another Cartaxus lie. But Cole also brings a message: before Lachlan died, he managed to create a vaccine, and Cole needs Cat's help to release it and save the human race.
Now Cat must decide who she can trust: The soldier with secrets of his own? The father who made her promise to hide from Cartaxus at all costs? In a world where nature itself can be rewritten, how much can she even trust herself?
In this gripping, eerily prescient sci-fi thriller that Kirkus described as "masterful," Tool—a half-man/half-beast designed for combat—proves himself capable of so much more than his creators had ever dreamed. He has gone rogue from his pack of bioengineered "augments" and emerged a victorious leader of a pack of human soldier boys. But he is hunted relentlessly by someone determined to destroy him, who knows an alarming secret: Tool has found the way to resist his genetically ingrained impulses of submission and loyalty toward his masters…The time is coming when Tool will embark on an all-out war against those who have enslaved him.
From one of science fiction's undisputed masters comes a riveting and all-too-timely page-turner thatexplores the intricate relationships connecting hunter and prey, master and enslaved, human and monster.
Victoria Cruz inhabits two worlds: In one, she is a rock star, thrashing the stage with her husky voice and purple-streaked hair. In the other, currently serving as her reality, Victoria is a shy teenager with overprotective Cuban parents, who sleepwalks through her life at the prestigious Evanston Academy. Unable to overcome the whole paralyzing-stage-fright thing, Victoria settles for living inside her fantasies, where nothing can go wrong and everything is set to her expertly crafted music playlists.
But after a chance encounter with an unattainably gorgeous boy named Strand, whose band seeks a lead singer, Victoria is tempted to turn her fevered daydreams into reality. To do that, she must confront her insecurities and break away from the treadmill that is her life. Suddenly, Victoria is faced with the choice of staying on the path she's always known and straying off-course to find love, adventure, and danger.
Cram ten hormonal teens into a spaceship and blast off: that's the premise for the ill-conceived reality show Waste of Space. The kids who are cast know everything about drama—and nothing about the fact that the production is fake. Hidden in a desert warehouse, their spaceship replica is equipped with state-of-the-art special effects dreamed up by the scientists partnering with the shady cable network airing the show.
And it's a hit! Millions of viewers are transfixed. But then, suddenly, all communication is severed. Trapped and paranoid, the kids must figure out what to do when this reality show loses its grip on reality.
October
When I looked up, his smile was wide and real. "Ready?" he said.
I faked a smile back. I had gotten so good at faking things.
I thought: You brought this on yourself, Sasha. You will have to pretend forever now.
He squeezed my hand again. He couldn't begin to imagine what this actually was. He had no idea what I'd done. What any of us had.
When Sasha's best friend Xavier gets back together with his cheating ex, Ivy, Sasha knows she needs to protect him. So she poses as a guy online to lure Ivy away.
But Sasha's plan goes sickeningly wrong. And she soon learns to be careful of who you pretend to be because you might be surprised by who you become…
Told in multiple points of view, Bad Girls with Perfect Faces is sexy and twisted with shocks at every turn.
It all started with a harmless prank. But now high school junior Lawrence Barry is one step away from reform school unless he participates in a mentorship program. His mentee? Spencer Knudsen, a Norwegian exchange student with Spock-like intelligence but the social skills of the periodic table.
Then disaster strikes. Homecoming Week. When someone dressed as the school Viking mascot starts destroying the fairytale-inspired floats, all suspicion falls on Lawrence. Add to the mix a demon Goth girl, a Renaissance LARPing group, an overzealous yearbook editor, and three vindictive chickens, and Lawrence soon realizes that his situation may be a little out of control. But Spencer seems to have some answers. In fact, Spencer may be the one friend Lawrence never knew he needed.
Who's Crazy?
What does it mean to be crazy? Is using the word crazy offensive? What happens when such a label gets attached to your everyday experiences?
In order to understand mental health, we need to talk openly about it. Because there's no single definition of crazy, there's no single experience that embodies it, and the word itself means different things—wild? extreme? disturbed? passionate?—to different people.
(Don't) Call Me Crazy is a conversation starter and guide to better understanding how our mental health affects us every day. Thirty-three writers, athletes, and artists offer essays, lists, comics, and illustrations that explore their personal experiences with mental illness, how we do and do not talk about mental health, help for better understanding how every person's brain is wired differently, and what, exactly, might make someone crazy.
If you've ever struggled with your mental health, or know someone who has, come on in, turn the pages, and let's get talking.
You think you know this story.
You do not.
A harsh, controlling father. A quiescent mother. A house that feels like anything but ahome. Natasha gathers the strength to leave, and comes upon a little house in the wood: A house that walks about on chicken feet and is inhabited by a fairy tale witch. In finding Baba Yaga, Natasha finds her voice, her power, herself…
A mythic yet timely novel-in-verse by the beloved and prolific author and poet Jane Yolen, "the Hans Christian Andersen of America."
When a glamorous family of teenage witches brings a mysterious new girl into their fold, they unwittingly nurture a powerful black magic that could destroy them all. This paranormal YA fantasy features intrigue, spells, and a devastating twist. In The Graces, the first rule of witchcraft states that if you want something badly enough, you can get it…no matter who has to pay.
Everyone loves the Graces. Fenrin, Thalia, and Summer Grace are captivating, wealthy, and glamorous. They've managed to cast a spell over not just their high school but also their entire town—and they're rumored to have powerful connections all over the world. If you're not in love with one of them, you want to be them. Especially River: the loner new girl at school. She's different from her peers, who both revere and fear the Grace family. She wants to be a Grace more than anything. But what the Graces don't know is that River's presence in town is no accident.
Seventeen-year-old Ismae escapes from the brutality of an arranged marriage to the respite of the convent of St. Mortain. Here she learns that the god of Death has blessed her with dangerous gifts and a violent destiny. To claim her new life, she must destroy the lives of others. But how can she deliver Death's vengeance upon a target who has stolen her heart?
A warmly humane look at universal questions of belonging, infused with humour, from the bestselling author of Aristotle and Dante Discover the Secrets of the Universe. Sal used to know his place with his adoptive gay father, their loving Mexican American family, and his best friend, Samantha. But it's senior year, and suddenly Sal is throwing punches, questioning everything, and realizing he no longer knows himself. If Sal's not who he thought he was, who is he?
Neo loves music, and all she ever wanted was a life sharing this passion, on the radio. When she meets Tale, the lead singer in a local South African band, their shared love of music grows. So does their love for each other. But not everyone approves. Then Neo lands her dream job of working at a popular radio station, and she discovers that using your voice is sometimes harder than expected, and there are always consequences.
The Renegades are a syndicate of prodigies—humans with extraordinary abilities—who emerged from the ruins of a crumbled society and established peace and order where chaos reigned. As champions of justice, they remain a symbol of hope and courage to everyone…except the villains they once overthrew.
Nova has a reason to hate the Renegades, and she is on a mission for vengeance. As she gets closer to her target, she meets Adrian, a Renegade boy who believes in justice—and in Nova. But Nova's allegiance is to a villain who has the power to end them both.
Before the war, Eden's life was easy. Then the revolution happened, and everything changed.
Now a powerful group called the Wolfpack controls the earth and its resources. And even though Eden has lost everything to them, she refuses to die by their hands. She knows the coordinates to the only neutral ground left in the world, a place called Sanctuary Island, and she is desperate to escape to its shores.
Eden finally reaches the island and meets others resistant to the Wolves. But the solace is short-lived when one of Eden's new friends goes missing. Braving the jungle in search of their lost ally, they quickly discover Sanctuary is filled with lethal traps and an enemy they never expected.
This island might be deadlier than the world Eden left behind, but surviving it is the only thing that stands between her and freedom.
Victoria-Margaret is the crown princess of the empire, a direct descendent of Victoria I, the queen who changed the course of history. The imperial tradition of genetically arranged matchmaking will soon guide Margaret into a politically advantageous marriage. But before she does her duty, she'll have one summer of freedom and privacy in a far corner of empire. Posing as a commoner in Toronto, she meets Helena Marcus, daughter of one of the empire's greatest placement geneticists, and August Callaghan, the heir to a powerful shipping firm currently besieged by American pirates. In a summer of high-society debutante balls, politically charged tea parties, and romantic country dances, Margaret, Helena, and August discover they share an extraordinary bond and maybe a one-in-a-million chance to have what they want and to change the world in the process.
Set in a near-future world where the British Empire was preserved not by the cost of blood and theft but by the effort of repatriation and promises kept, That Inevitable Victorian Thing is a surprising, romantic, and thought-provoking story of love, duty, and the small moments that can change people and the world.
Sixteen-year-old Aza never intended to pursue the mystery of fugitive billionaire Russell Pickett, but there's a hundred-thousand-dollar reward at stake and her Best and Most Fearless Friend, Daisy, is eager to investigate. So together, they navigate the short distance and broad divides that separate them from Russell Pickett's son, Davis.
Aza is trying. She is trying to be a good daughter, a good friend, a good student, and maybe even a good detective, while also living within the ever-tightening spiral of her own thoughts.
Mellie has always been the reliable friend, the good student, the doting daughter. But when an unspeakable act leads her to withdraw from everyone she loves, she is faced with a life-altering choice—a choice she must face alone.
Lise stands up—and speaks out—for what she believes in. And when she notices Mellie acting strangely, she gets caught up in trying to save her…all while trying to protect her own secret. One that might be the key to helping Mellie.
Told through Mellie and Lise's journal entries, this powerful, emotional novel chronicles Mellie's struggle to decide what is right for her and the unbreakable bond formed by the two girls on their journey.
Wild Beauty by Anna-Marie McLemore
For nearly a century, the Nomeolvides women have tended the grounds of La Pradera, the lush estate gardens that enchant guests from around the world. They've also hidden a tragic legacy: if they fall in love too deeply, their lovers vanish. But then, after generations of vanishings, a strange boy appears in the gardens.
The boy is a mystery to Estrella, the Nomeolvides girl who finds him, and to her family, but he's even more a mystery to himself; he knows nothing more about who he is or where he came from than his first name. As Estrella tries to help Fel piece together his unknown past, La Pradera leads them to secrets as dangerous as they are magical in this stunning exploration of love, loss, and family.
Jack once saved August's life…now can August save him?
August is a misfit with a pyro streak and Jack is a golden boy on the varsity rugby team—but their intense friendship goes way back. Jack begins to see increasingly vivid hallucinations that take the form of an elaborate fantasy kingdom creeping into the edges of the real world. With their parents' unreliable behavior, August decides to help Jack the way he always has—on his own. He accepts the visions as reality, even when Jack leads them on a quest to fulfill a dark prophecy.
August and Jack alienate everyone around them as they struggle with their sanity, free falling into the surreal fantasy world that feels made for them. In the end, each one must choose his own truth.
Written in vivid micro-fiction with a stream-of-consciousness feel and multimedia elements, K. Ancrum's The Wicker King touches on themes of mental health and explores a codependent relationship fraught with tension, madness and love.
November
On Christmas Eve five years ago, seventeen-year-old Holly Chase was visited by three Ghosts who showed her how selfish and spoiled she'd become. They tried to convince her to mend her ways. She didn't. And then she died.
Now she's stuck working for the top-secret company Project Scrooge—as their latest Ghost of Christmas Past. So far, Holly's afterlife has been miserable. But this year's Scrooge is different. This year's Scrooge might change everything…
The Afterlife of Holly Chase is a witty, poignant, and insightful novel about life, love, and seizing second (or third) chances, perfect for readers who loved Before I Fall or Dash & Lily's Book of Dares.
World War Two has shattered Valka's homeland of Russia, and Valka is determined to help the effort. She knows her skills as a pilot rival the best of the men, so when an all-female aviation group forms, Valka is the first to sign up.
Flying has always meant freedom and exhilaration for Valka, but dropping bombs on German soldiers from a fragile canvas biplane is no joyride. The war is taking its toll on everyone, including the boy Valka grew up with, who is fighting for his life on the front lines.
As the war intensifies and those around her fall, Valka must decide how much she is willing to risk to defend the skies she once called home.
Inspired by the true story of the airwomen the Nazis called Night Witches, Gwen C. Katz weaves a tale of strength and sacrifice, learning to fight for yourself, and the perils of a world at war.
Kamzin has always dreamed of becoming one of the Emperor's royal explorers, the elite climbers tasked with mapping the wintry, mountainous Empire and spying on its enemies. She knows she could be the best in the world, if only someone would give her a chance.
But everything changes when the mysterious and eccentric River Shara, the greatest explorer ever known, arrives in her village and demands to hire Kamzin—not her older sister Lusha, as everyone had expected—for his next expedition. This is Kamzin's chance to prove herself—even though River's mission to retrieve a rare talisman for the emperor means climbing Raksha, the tallest and deadliest mountain in the Aryas. Then Lusha sets off on her own mission to Raksha with a rival explorer who is determined to best River, and Kamzin must decide what's most important to her: protecting her sister from the countless perils of the climb or beating her to the summit.
The challenges of climbing Raksha are unlike anything Kamzin expected—or prepared for—with avalanches, ice chasms, ghosts, and even worse at every turn. And as dark secrets are revealed, Kamzin must unravel the truth of their mission and of her companions—while surviving the deadliest climb she has ever faced.
Fangirl by Rainbow Rowell
Cath is a Simon Snow fan. Okay, the whole world is a Simon Snow fan, but for Cath, being a fan is her life—and she's really good at it. She and her twin sister, Wren, ensconced themselves in the Simon Snow series when they were just kids; it's what got them through their mother leaving.
Reading. Rereading. Hanging out in Simon Snow forums, writing Simon Snow fan fiction, dressing up like the characters for every movie premiere.
Cath's sister has mostly grown away from fandom, but Cath can't let go. She doesn't want to.
Now that they're going to college, Wren has told Cath she doesn't want to be roommates. Cath is on her own, completely outside of her comfort zone. She's got a surly roommate with a charming, always-around boyfriend, a fiction-writing professor who thinks fan fiction is the end of the civilized world, a handsome classmate who only wants to talk about words…And she can't stop worrying about her dad, who's loving and fragile and has never really been alone.
For Cath, the question is: Can she do this? Can she make it without Wren holding her hand? Is she ready to start living her own life? And does she even want to move on if it means leaving Simon Snow behind?
Aly Raisman first stepped onto a gymnastics mat as a toddler in a "mommy & me" gymnastics class. No one could have predicted then that sixteen years later, she'd be standing on an Olympic podium, having achieved her dreams.
Aly's road to success was full of hard work, perseverance, and victories, but not without its hardships. Aly faced many obstacles, from naysayers who said she'd never make it in gymnastics to classmates who shamed her for her athletic body to a devastating betrayal of trust. Through it all, Aly surrounded herself with supportive family, friends, and teammates and found the inner strength to remain positive and believe in herself. Now, in her own words, Aly shows what it takes to be a champion on and off the floor, and takes readers on a behind-the-scenes journey before, during, and after her remarkable achievements in two Olympic Games—through her highest highs, lowest lows, and all the moments in between.
Honest and heartfelt, frank and funny, Aly's story is enhanced with never-before-published photos, excerpts from the personal journals she's kept since childhood that chronicle memorable moments with her teammates, and hard-won advice for readers striving to rise above challenges, learn to love themselves, and make their own dreams come true.
Frankie by Shivaun Plozza
Frankie Vega is angry. Just ask the guy whose nose she broke. Or the cop investigating the burglary she witnessed, or her cheating ex-boyfriend, or her aunt who's tired of giving second chances.
When a kid shows up claiming to be Frankie's half brother, it opens the door to a past she doesn't want to remember. And when that kid goes missing, the only person willing to help is a boy with stupidly blue eyes, a criminal record, and secrets of his own.
Frankie's search for the truth could change her life, or cost her everything.
Wilhelmina Heidle, the fourth child and only daughter of the king of the world's wealthiest nation, has grown up in the shadows. Kept hidden from the world in order to serve as a spy for her father—whose obsession with building his empire is causing a war—Wil wants nothing more than to explore the world beyond her kingdom, if only her father would give her the chance.
Until one night Wil is attacked, and she discovers a dangerous secret. Her touch turns people into gemstone. At first Wil is horrified—but as she tests its limits, she's drawn more and more to the strange and volatile ability. When it leads to tragedy, though, Wil is forced to face the destructive power within her and finally leave her home to seek the truth and a cure.
But finding the key to her redemption puts her in the path of a cursed prince who has his own ideas for what to do with Wil's power.
With a world on the brink of war and a power of ultimate destruction, can Wil find a way to help the kingdom that's turned its back on her, or will she betray her past and her family forever?
Sixteen-year-old Sana Kiyohara has too many secrets. Some are small, like how it bothers her when her friends don't invite her to parties. Some are big, like the fact that her father may be having an affair. And then there's the one that she can barely even admit to herself—the one about how she might have a crush on her best friend.
When Sana and her family move to California, she begins to wonder if it's finally time for some honesty, especially after she meets Jamie Ramirez. Jamie is beautiful and smart and unlike anyone Sana's ever known. There are just a few problems: Sana's new friends don't trust Jamie's crowd; Jamie's friends clearly don't want her around anyway; and a sweet guy named Caleb seems to have more-than-friendly feelings for her. Meanwhile, her dad's affair is becoming too obvious to ignore.
Sana always figured that the hardest thing would be to tell people that she wants to date a girl, but as she quickly learns, telling the truth is easy…what comes after it, though, is a whole lot more complicated.
Seventeen-year-old Snow has spent her life at the Whittaker Institute, a mental hospital in upstate New York. Deep down, she knows she doesn't belong there. When she meets a mysterious new orderly and dreams about a strange twisted tree, she realizes she must escape and figure out who she really is.
After Snow breaks free and races into the nearby woods, she stumbles into icy Algid—her true home-—with witches, thieves, and a strangely alluring boy named Kai, none of whom she's sure she can trust. As secrets are revealed, Snow discovers that she's on the run from a royal lineage she's destined to inherit, a father more ruthless than she could have imagined, and choices of the heart that could change everything…including Snow's return to the world she once knew.
This breathtaking, New York Times bestselling volume begins the story of how Snow becomes a villain, a queen, and a hero.