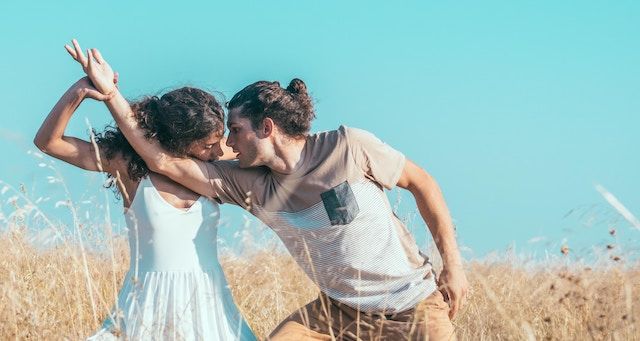 This content contains affiliate links. When you buy through these links, we may earn an affiliate commission.
There is a natural progression of things in the literary world. For example, with every new year comes new young adult books. With new books comes shipping. With shipping comes the expectation that blood will be shed, friendships will end, and readers will create copious amounts of thirsty fan art. While previous years sponsored the introductions of couples who really did shed blood…
End friendships…
And inspired readers to create copious amounts of thirsty fan art (y'all know who you are)…
2019 brought readers new couples who withstand war, time travel, fame, and illness to be together. Here are six beautiful couples who entered the spotlight this year and are completely worthy of shipping.
Hazel & James and Colette & Aubrey from Lovely War by Julie Berry
Julie Berry's most recent masterpiece blesses readers with not only one but two great romances (there is a bonus third couple as well, but they aren't young adults so we'll leave them for another post). In a hotel in New York City, the Greek goddess Aphrodite narrates the tale of romance: Hazel, a pianist, meets James at a dance hall right before James goes off to serve in World War I. Soon after, Aubrey and Colette are introduced. A talented African American musician in the U.S. military, Aubrey meets Colette, a young Belgian woman with a beautiful voice, and the two are immediately smitten.
The four face both love and horror in a story that is classy, sweet, and set to the music of the time.
Jack wants nothing more than to pursue photography professionally. Since he knows his parents won't approve, he (naturally) settles for a secret gig as a tabloid photographer. When he meets Lucky, a K-pop icon, in Hong Kong one night, he begins to question what he wants in life. Lucky is full of humor but exhausted from being on tour. She simply cannot stop thinking about finding a juicy American hamburger somewhere in the city. When she escapes from her bodyguards, she finds Jack instead.
For the next 24 hours, they embark on the sweetest, food-filled tour of Hong Kong that will leave no doubt in your mind they belong together.
The Tiger at Midnight is set in a fantasy world in which the livelihood of kingdoms is directly tied to those on the throne. Kunal is a warrior who dreams of leaving the barracks behind in exchange for days of quiet and painting. But when his uncle, General Hotha, is murdered by the mysterious rebel known as the Viper, peace is forgotten. Esha knows the land is dying; when she comes to slay the general, she finds that someone beat her to it and framed her. On the run, she hears Kunal's footsteps close behind as he tracks his uncle's murderer.
Esha and Kunal's chemistry is bubbling right over the sides of this book. They are well matched in hand to hand combat, wit, and in their passion for their countries. Thrown together—pun intended—in a search for truth, healing, and hope, they will likely fight their way into your heart as well.
Kate & Jack from Opposite of Always by Justin A. Reynolds
Every four months, Jack finds himself in the same place again: on the grimy steps at a college party, facing Kate, the girl of his dreams. The issue is that Kate doesn't remember him because Jack is trapped in an endless time loop. As Jack tries his best to remedy his mistakes and save Kate, he finds that love is much more complicated than he first thought.
No matter how many times Jack's life is reset, one thing never changes: how unabashedly enamored the two are with each other. Jack and Kate are hilarious, witty, and the type of couple who will never tire of each other.
When Zayneb is expelled from school after an incomplete note to her friend mistakenly finds itself in the hands of an Islamaphobic teacher, Zayneb is temporarily expelled. Frustrated, her parents send her on a plane for an early visit with her aunt in Doha, Qatar. On that same plane is Adam, a college student who loves woodworking, spending time with his younger sister, and avoiding telling his father that he doesn't plan to return to college this semester.
While Zayneb and Adam have completely different personalities, their affection for each other overrides their differences. Through their shared curiosity at the world, love of art, interest in Islamic history, and desire to devour French pastries, they find a way to fit together in this messy world.
---
Who are you shipping from this year's releases?
If you're searching for more fresh YA books, check out 3 on a YA Theme: August YA New Releases. Interested in a peek into the minds of YA writers? Read about the 7 Playlists that Inspired Your Favorite YA Books.