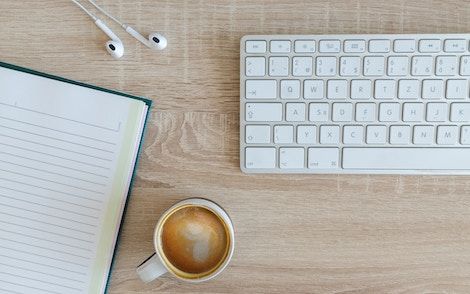 Lists
7 Playlists That Inspired Your Favorite YA Books
This content contains affiliate links. When you buy through these links, we may earn an affiliate commission.
When I read, I often sign into Spotify and play a film soundtrack. The music helps tune out the sound of my brother clinking and crashing dishes as he empties the dishwasher while I travel inside the book and away from the mundane parts of life. Unsurprisingly, I am not alone in pairing music with words since many authors create playlists to write along to as they craft their novels.
For those of you eager to slip on headphones and get inside the heads of your favorite authors, here's your chance: read on to find a list of seven YA authors and their writing playlists.
1. Marie Lu: Warcross Playlist
Before Lu's neon, virtual reality driven book hit the bookstores, she shared the songs that kept her focused and on track as she wrote Warcross. The playlist includes pop tracks from Malaysian, Italian, and Korean artists; video game, film, and tv (shout out to Stranger Things) soundtracks; and other upbeat songs that match the energy of the book.
View the twitter thread with the songs here.
As a self-proclaimed "musichead," Sabaa Tahir doesn't stop at creating a playlist for each individual book. Instead, she has curated playlists for characters and specific moments in her books as well. (For example: view the lists dedicated to Helene on Sabaa's tumblr.) The playlist that helped bring about A Reaper at the Gates is also unique and does not conform to one genre. The playlist consists of a mixture of instrumental, rock, and rap to guide the stories of Helene, Laia, and Elias.
View a list of the songs here.
3. Marissa Meyer: Renegades Playlist
Marissa Meyer found inspiration for her tale of clashing superheroes in a playlist primarily consisting of rock songs. The playlist boasts jams from classic rock artists, such as David Bowie, to more recent bands such as Cage the Elephant. (My hope is that she was channeling some of her inner Star-Lord and had a full-on rock concert while writing.)
View the full listing here.
4. Stephanie Garber: Legendary Playlist
Stephanie Garber doesn't play around when it comes to the music she writes to. In the Instagram post revealing her playlist she says, "Long before I ever sold a book I used to read other authors playlists and dream about what I would put on my own book playlist." The playlist for Legendary, the sequel to Caraval, is full of carefully picked alt-rock hits. From "Sail" by AWOLNATION to "Way Down We Go" by Kaleo, the fast-paced music matches the speed of the story line.
View the post with the complete playlist here.
5. Sarah J. Maas: Tower of Dawn Playlist
While many authors listen to music with lyrics, Sarah J. Maas's playlist for Tower of Dawn consists of songs that are instrumental or from film soundtracks. The Lord of the Rings, Raiders of the Lost Ark, and tracks from Disney hits Moana and Tangled all make an appearance as songs that inspired Chaol Westfall's story. As a book set in a fantasy world filled with demon-infested humans, shape shifters, and magical abilities still waiting to be discovered, a nod to Tolkien via music feels appropriate (although I doubt Rowan and Aelin can get down as much as Hobbits at a birthday party).
View all of her playlists here.
"It's no secret that Tupac influenced The Hate U Give," Angie Thomas writes in a post prefacing her writing playlist, "but other artists and songs inspired the book, too." Her playlist is filled with not only the honest, societal commentative tracks from the rap legend, but also songs from contemporary musicians of color such as Kendrick Lamar, Alicia Keys, and Beyonce. The playlist gives the reader a glimpse not only into Starr's life but into the narrative of race and injustice in America.
Access the playlist here.
It likely comes as no surprise that Jenny Han's playlist for To All the Boys I've Loved Before has a mixture of both old and new music. (Lara Jean is the role model for combining vintage and modern styles, after all.) In Han's notes on the music selection—viewable on Amazon—she shares that Lara Jean would undoubtedly listen to "The Longest Time" by Billy Joel while baking. "Crazy" by Alanis Morissette served as "a great song to listen to if you're writing a book and you need something big to happen." (Hmm… I can think of a few big moments that were likely spurred on by this song.)
View the full playlist in the "Editorial Review" section on Amazon here.
If you're someone who listens to music while reading or writing, do you stick to one genre or bounce around to various? Share your thoughts with us in the comments below. If you're looking for even more bookish music, check out Novels with Original Music Accompaniments and Listening in on Author Playlists.