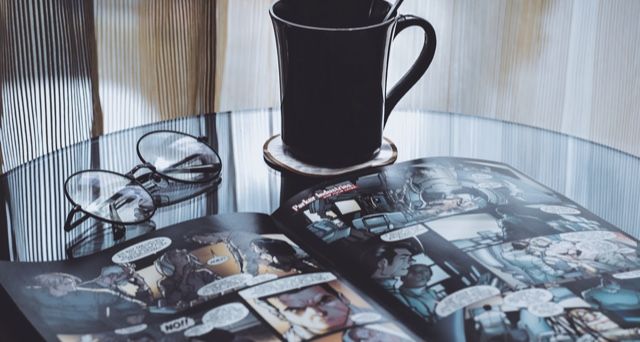 This content contains affiliate links. When you buy through these links, we may earn an affiliate commission.
Happy 2020, comics readers! I think that 2020 is shaping up to be an amazing year for graphic novels and comics. Not only do we have new books to look forward to by comics greats and a whole slew of exciting debuts, but two major publishers have new imprints launching this year that focus solely on graphic content for kids and teens! Random House Graphic has new titles launching this spring, and HarperAlley will be launching its first season later this fall. (Plus, Mariko Tamaki and Abrams have an imprint in the works for 2021.)
Without further ado, here are the YA graphic novels, memoirs, and comics releasing from January–March of 2020. We have a lot of memoirs and some superhero adaptations, plus some continuations of favorites. I am disappointed that this quarter's releases aren't a bit more diverse—here's hoping that will improve as we move through 2020.
The PLAIN Janes by Cecil Castellucci and Jim Ruggs
In this anniversary reissue of the popular graphic novel, Jane is miserable over her move from the city to suburbia. She falls in with three other misfits, all also named Jane, and together they form a secret group of artist activists determined to shake up their sleepy town.
Out January 7.
In this graphic novel adaptation of Leigh Bardugo's Wonder Woman novel, Diana risks her title and her people when she saves a mere mortal lost at sea. But Alia is no mere mortal, and the two will have to work together if they're to defeat enemies mortal and divine.
Out January 7.
Robin and her mother were as close could be while Robin was growing up in Seoul. But then her mother remarried and relocated them to Alabama, and Robin felt isolated from everything she knew and loved, and at odds with her new stepfamily. It wasn't until her mother enrolled her into a drawing class that Robin began to process the enormous change to her life and her relationship with her mother.
Out January 28.
In order to fight her own tragic destiny, Cassandra Cain wants to find out as much as she possibly can about Batgirl in the hopes of saving Gotham City…but if she can't find Batgirl, she might just have to rise to the challenge herself.
Out February 4.
Volume 12 of Giant Days sees Esther, Susan, and Daisy investigating the mystery of a comic book caper, attending a wedding, and helping Daisy learn how to drive.
Out February 11.
The second volume in a fun series about a star basketball player who transfers to a new school and is hoping to stay under the radar…but finds herself recruited to the school's truly terrible basketball team.
Out February 18.
Nimona author and Lumberjanes co-creator Stevenson shares a collection of essays and comics about the creative life, coming of age, and finding success in pursuing your dreams.
Out March 3.
Isabel and Jane are conjoined twins who travel and live in a circus sideshow at the turn of the century. When a surgeon claims that he can separate them, the girls undergo a procedure…and Jane dies. Now Isabel is left, but so is Jane, in a way…she's a ghost that only Isabel can see, and she's going to help Isabel escape.
Out March 3.
Oracle Code by Marieke Nijkamp and Manuel Preitano
In this graphic novel about Barbara Gordon, teen Barbara's life is altered forever when a gunshot wound leaves her paralyzed. In order to learn how to use a wheelchair and regain mobility, Barbara is admitted to the Arkham Center for Independence, a rehabilitation center with a dark secret…and Barbara is about to uncover it.
Out March 10.
Banned Book Club by Kim Hyun Sook, Ryan Estrada, Hyung-Ju Ko
Hyun Sook was delighted to finally leave home and head to college in 1983, and looked forward to immersing herself in western literature. But the government had strict censors in place, and when she was invited to an underground book club, she found herself reading banned books and risking her future every day.
Out March 17.
Yang is an award-winning come artist, but sports aren't really his thing. And yet when the basketball team at the school where he teaches has a winning season and seems to be headed to the state championship, he becomes invested in their story and players, and along the way finds himself changed by these inspiring athletes.
Out March 20.
---
What comic or graphic novel/memoir is on your wishlist for this spring? Let us know on Twitter or Instagram!