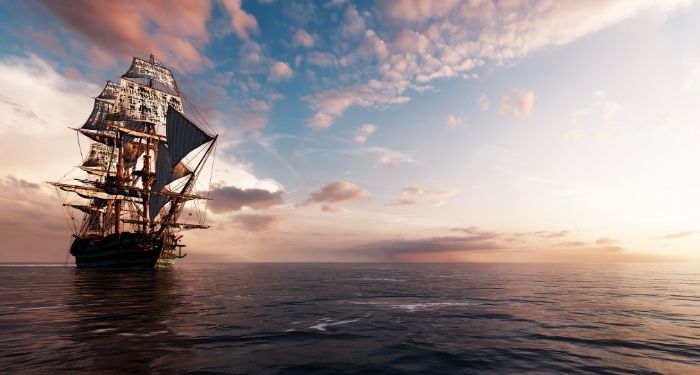 Lists
Treasure, Time Travel, and Tall Tales: 8 YA Books About Pirates
This content contains affiliate links. When you buy through these links, we may earn an affiliate commission.
Captain Hook? Long John Silver? Blackbeard? If any of these names ring a bell, then you know a thing or two about pirates. Growing up, I spent a fair amount of time perusing a coloring book that was all about pirates. Beneath each black and white sketch was a sentence or two about the character pictured. It was in this book that I discovered the existence of famed female pirates like Anne Bonny and Mary Read. Soon after, my younger sister won an award for best scarecrow at a county fair. Her scarecrow? A rather bloodthirsty looking pirate. During the following summers, my cousins and I became obsessed with the Pirates of the Caribbean films (particularly At World's End's soundtrack, along with the idea that one cousin had a crush on Elizabeth Swann). My childhood was filled with all sorts of references to pirates and other seafaring adventurers. So now, I guess it's no wonder that I still find joy in reading YA books about pirates of all sorts.
If you're anything like me — or are very interested in being introduced to pirates at this point in life — then I have eight recommendations for books about teens, pirates, and all the magic the ocean conceals.
---
Interested in checking out even more YA books about pirates? Take a quiz to find out which YA pirate book you should read next! Want to dive into books about teens surrounded by magic? Check out 8 New YA Fantasy Series From Your Favorite Authors.