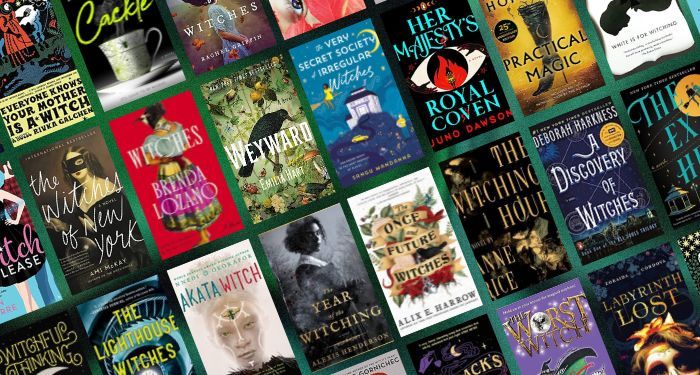 Essays
For the Love of Witches: Why Witch Fiction Isn't Going Anywhere
This content contains affiliate links. When you buy through these links, we may earn an affiliate commission.
As I'm writing this, we're entering the fall. Practical Magic season. A time for collecting your fall-scented candle of choice and settling down to read a book about witches. I have joked in my bio for this very website that one of my favorite genres is "witches." Of course, we're talking about witches because witches are and have always been important. As the days get longer and I stare down another dark winter, I am comforted by the thought that we need a balance of darkness and light, even as our world is woefully unbalanced. Witchcraft, as I learned from an early age, is all about balance.
When I say "witches," I also obviously mean sorcerers, enchantresses, conjurors, necromancers, and just plain old "wise women." Witches burned and unburned and impossible to burn. I have read hundreds of books, both fictional and not about witches. I am a grown-up who grew up a weird, witchy kid. My path did not end up taking me down any formal or informal magical path — I remain very much an admirer, not a practitioner. My toxic trait is that if I find myself in a New Age store, I can usually identify the CD that is playing — which is not as impressive as it sounds since it feels like 60% of the time it's a Lord of the Rings soundtrack.
Recently, The Guardian published a piece calling witch fiction "the hottest new genre," but how new is it, really? There is an awful lot of buzz around books like The Very Secret Society of Irregular Witches by Sangu Mandanna, but I don't know that we can call the attention to witch fiction "new." It may be, however, that witches themselves are being allowed to insert themselves into genres beyond just "fantasy" or "horror."
It feels a bit simplistic to say that the current proliferation of books about witches has simply to do with power and who gets to have power. It also has to do with subverting the expectations of the often disappointing world we live in with a little magic. I have written my own witch fiction, though it remains a project just for me. It helped me to find myself as a writer, just a little bit, during my first year of parenthood.
I would argue that this also isn't entirely like the proliferation of Twilight-esque vampire stories in that stories about witches never really seemed to go out of style. Of course, some stories about witches are written in response to draconian laws that limit our rights, but the first time I recall hearing about the "war on women" was following Wendy Davis's 2013 Texas Senate filibuster, which was aimed at blocking a measure that would, among other things, ban abortion after 20 weeks of pregnancy in the state of Texas. It goes without saying that things have only gotten worse in the hell years that have followed, but I, for one, have wanted to escape into a world where I could exact my witchy revenge for a while. (I feel obligated to point out here that in most cases, there are rules and guidelines about precisely what kind of witchy revenge can be exacted and that many real-life witches follow the Threefold Law.)
A Discovery of Witches, which was written for adults, came out and was a hit in 2011 alongside books like The Hunger Games. Have we ever been without a hit witch book? The difference, I think, is actually in who is telling the story and what story they are telling. There are obviously tons of books about the Salem Witch Trials, but today's books also draw from other historical events and traditions of witchcraft. Being a witch, in many cases, is its own kind of marginalization — it's an identity that many choose to keep secret in real life as well as in fiction.
Perhaps most of all, the kids who grew up on books about witches have grown up, and the books have grown up too — they've become queerer and more diverse to reflect the generation writing them. They are perhaps more often being mixed in with other popular genres, like cozy mysteries and new mashup genres, 'romantasy' being a major one. Meg Cabot's newest book, Enchanted to Meet You, is a romance centered on a reluctant witch and bridges nicely between some of her YA stories (shoutout to The Mediator and 1-800-WHERE-R-YOU, both of which touched on the supernatural but gave their characters very specific powers) and the romances she is also well-known for.
In stories about witches, there is often a connection to one's heritage as a witch (the Owens women of Practical Magic fame, for example) and, in some cases, to the land one lives on or has been displaced from that I haven't felt outside of childhood. Where I live now is just where I live. It could be any North Jersey town, and, ugh, does it have to be a North Jersey town? Not even my fictional witches had to live here. No wonder my TBR pile has no less than three books about witches at any given time. There is nothing that witch fiction can't do.
---
If you think your reading life needs a bit more magic, check out our list of 100 Must-Read Books About Witches or, if you're looking for a magically scary read, 8 Horror Books About Witches That Are Truly Scary.