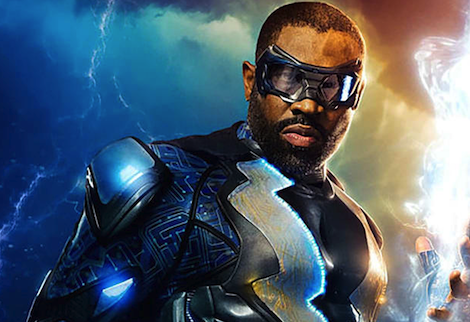 This content contains affiliate links. When you buy through these links, we may earn an affiliate commission.
The CW recently added another superhero show its roster with the January premiere of Black Lightning, starring Cress Williams as the titular hero. The show is already electrifying (zing!) critics and audiences, with a 100% approval rating on Rotten Tomatoes so far. If you're hooked on the Pierce family and want to know where to start reading about them, I've rounded up a few of their more notable adventures.
Before we get into the list, it's worth noting that until the show, which centers black voices in a way we haven't seen before from DC's live action offerings, there's been a serious dearth of black creators behind these heroes. With the notable exception of Trevor Von Eeden, who co-created Black Lightning back in the '70s, and Clayton Henry, the artist of the current series, I was unable to find any black pencillers with a lengthy or prominent tenure on any of these characters—and no black writers at all. (But please let me know if I've missed any!) This is disappointing, to say the least, and I hope DC will rectify it soon.
On to the comics!
Black Lightning by Tony Isabella and Trevor Von Eeden (1977)
Jefferson Pierce debuted in his own series in 1977, making him both DC's first African American superhero and the first black superhero to headline a DC series. (1971's Vykin the Black (sigh) was DC's first black hero but as he's from outer space, he's clearly neither African nor American.) It ran for 11 issues before being canceled with a wave of other books in the infamous "DC Implosion" of 1978. Still, if you want to see the OG version of the character, this is the place to start. And you can get the whole series for ten bucks!
Black Lightning's probably most closely associated with the Outsiders, one of DC's second-string teams that, quite frankly, Batman put together because the Justice League wouldn't let him boss them around as much as a bunch of C-listers would. It's a fun book, despite the fact that the classic roster includes colossal bore Geo-Force, but Jeff takes a backseat to the drama of some of the younger, less established characters. Various spinoffs and continuations of this series exist as Adventures of the Outsiders and simply The Outsiders, but basically, if it's got an '80s publication date, Jeff's probably there zapping no-goodniks. (No Pierces are on the '90s roster, which is probably for the best as that series was hilariously awful.)
This excellent miniseries has Jeff returning to his childhood neighborhood of Metropolis's Suicide Slum with his wife and young daughter Anissa in tow. He takes over as the principal of a failing high school, but when he interferes with the local criminal organization's recruitment tactics, things start getting violent, and Jeff has to call on the superpowers he'd like to forget he has. Van Meter and Hamner give us a solid, compelling hero at the center of a rich, fully-realized world. If you only pick up one Black Lightning book, this is the one to get.
Outsiders by Judd Winick and Tom Raney (2003)
Jeff didn't want his kids fighting crime, but his oldest daughter Anissa made a deal with him: once she finished college, she could decide for herself whether or not she wanted to be a superhero. Her eventual answer? Hell yes. Anissa, who has the ability to control her density, takes on the codename Thunder to join this much younger, hipper roster of Outsiders let by Nightwing and Arsenal. There, she not only gets her first taste of superheroics, but winds up in a romantic relationship with Grace, a bisexual half-Amazon bruiser. Sadly, Anissa's tenure in later iterations of this book was rocky, both because of unfortunate life events and because the comics themselves weren't very good, but those early issues are fun, and Grace and Anissa are a great couple.
Justice Society of America by Geoff Johns, Dale Eaglesham, and Jerry Ordway (2007)
After Anissa's difficult heroic debut, Jeff decides to give his youngest daughter Jennifer a bit more structure and has her join the Justice Society, filled as it is with the ranks of DC's most experienced and mentorly heroes. Jennifer struggles to control her electrical powers and feels isolated from other teenagers as a result, but her brief tenure on the JSA gives her the chance to interact with her (superheroic) peers more than ever before. Unfortunately, she's never been given much of a spotlight, but hopefully the TV show will help change that.
This currently running 6-issue miniseries ignores or retcons much of Jeff's pre–New 52 history, giving him Cleveland as a hometown, making Anissa and Jennifer his cousins instead of his daughters, and recasting him as something of a rookie. I don't love these changes, or DC's weird commitment to revitalizing characters by reassigning them to their original Bronze Age creators, but this series does at least try to engage with contemporary issues like police brutality and Black Lives Matter. There's even a (very minor) gender fluid character! Though the writing addresses these topics a little clumsily, the book's heart is in the right place, and Henry's art is great.
Other Media
Finally, I'd be remiss if I didn't mention the Thunder and Lightning shorts from the DC Nation programming block that ran 2012–2014, which recast Anissa and Jennifer as much younger. Sadly, there were only two of these, but they're incredibly cute, and you can watch them both on YouTube: Clothes Make the Hero and Lightning Under the Weather. They've also appeared in DC Super Hero Girls.
Are you watching the show? What do you think? What are your favorite Black Lightning/Thunder/Lightning comics?