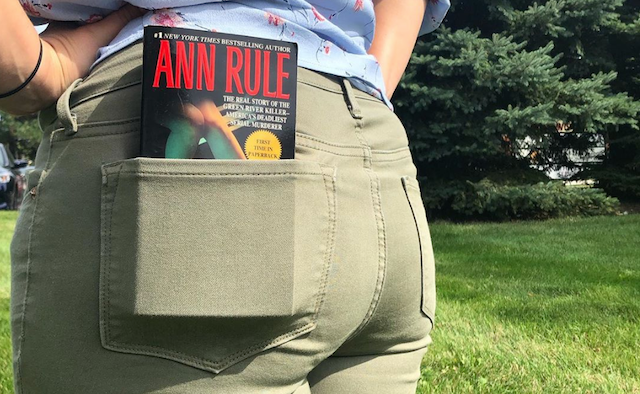 Humor
What's Up With All the Butts On #Bookstagram?
It's a tale as old as time: periodically, a hashtag challenge takes the internet (or, the bookish internet, anyway) by storm, and for a while, you could be a bit confused as to what exactly is going on. And this time? It's BUTTS.
That's right: the #masspaperbackandbutts challenge has swept through Bookstagram (the bookish Instagram community), and this is a hashtag I can get behind. Bookish feeds are flooding with images of users with mass market paperbacks (usually cheaper and more compact versions of books) shoved in their back pockets, gleefully displaying their booty-ful backsides.
The best part is that anyone can participate. It doesn't matter what kind of butt you have—they're all excellent, and they all help hold books! (~Baby got [paper]back~)
Lydia, creator of the challenge at @dethbeforedisco, was a little confused when it started to grow as a viral bookish challenge. "To be completely honest, it was a joke," she said via email. "I had made a post that morning about how nothing ever fits in women's pockets. However, I had been extremely happy that a mass paperback could fit, and that's all I really need with me anyway, right?"
We could not agree more. Unfortunately, because Instagram is Instagram, it seemed someone had reported the hashtag, which resulted in quite a few original posts disappearing, according to Lydia. But "people redid their posts to keep it going," she said. "It really showed how close-knit this community of bookstagrammers are."
So ditch the phones, wallets, and keys: all you need is a mass paperback in the back pocket of your jeans, and you're good to go. I've found a few of my favorite challenge entries and included them below. This excellent doggo posing with their owner's butt and book:
A+ for this husband who posed with his wife's book:
Butt with the queen of mystery:
Butt with a book and…chicken?
I even tried it myself!
So grab a mass market paperback, channel your inner (or outer) Tina Belcher, and work that booty with the book.