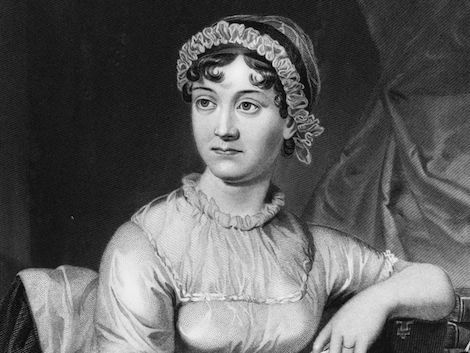 This content contains affiliate links. When you buy through these links, we may earn an affiliate commission.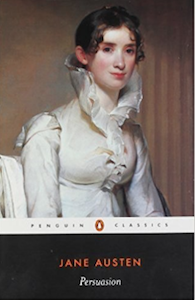 When I began Persuasion, I was a thirty-something Jane Austen virgin. I broke the binding on that paperback, savoring each chapter. Because apparently I wanted to live in the story longer, I listened to just-finished chapters while cooking dinner, dying to discover more about Anne Elliot who, persuaded by others as a young woman, breaks off her engagement with Frederick Wentworth and regrets her decision.
Austen, who was born 242 years ago today, created such human characters that they outlast the clothes and carriages and phrases like "drawing-room." In honor of the witty author's birthday, here are some of my favorite things about her last completed novel, published six months after her death.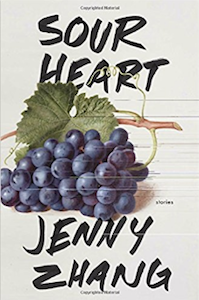 I love a long sentence. Sour Heart by Jenny Zhang opens with one and drops you off near the page's bottom. The second sentence winds you onto page two then three. Austen uses sentences that leave you gasping for breath and searching for a period throughout her novel. To establish Anne's meandering interior life in social situations, during a country stroll with others: "Her pleasure in the walk must arise from the exercise and the day, from the view of the last smiles of the year upon the tawny leaves and withered hedges, and from repeating to herself some few of the thousand poetical descriptions extant of autumn, that season of peculiar and inexhaustible influence on the mind of taste and tenderness, that season which has drawn from every poet, worthy of being read, some attempt at description, or some lines of feeling." Sometimes Austen's long sentences show a spiraling of emotion, obsession. They create tension, build excitement.
Riding back from a business lunch, a coworker mentioned she comes from a lineage of captains. Like songs, good books have a way of staying with us. If the ocean were our conversation topic, my mind might have wandered to Wide Sargasso Sea or To the Lighthouse, but because in this context the sea is inextricably tied to a captain, Land of Love and Drowning and Persuasion surfaced. It's no secret that I love the ocean, so, naturally, Captain Wentworth's occupation and his constant references to water draw me to him. Like him, I can't order myself in this world without thinking of the Pacific.
Definitely not my least favorite, love appears in many forms: a strained marriage, a widow, blind infatuation, lukewarm arrangements, hidden motives. The central romance doesn't grace the pages until the fourth chapter. Fourth chapter! (Wentworth first appears in the third as a mystery.) The tension of late information and the fact that the backstory ignites with "—Half the sum of attraction, on either side, might have been enough, for he had nothing to do, and she had hardly any body to love; but the encounter of such lavish recommendations could not fail. They were gradually acquainted, and when acquainted, rapidly and deeply in love. It would be difficult to say which had seen the highest perfection in the other, or which had been the happiest; she, in receiving his declarations and proposals, or he in having them accepted." That's how I like my love: all-encompassing and shared, deep, churning waters.
My favorite punctuation mark is—without doubt—the dash, and Jane Austen uses them interestingly, in a way that's estranging. As you can see in the lengthy quote above, she begins the first sentence with a dash. She does this elsewhere, too. She uses dashes after commas and semicolons. A poetry hound, I love wading in a sentence. Whether it be Austen's dash-happiness, Carol Frost's double colons in Honeycomb, or Layli Long Soldier's sparse punctuation in WHEREAS, imagining an author's intentions behind punctuation or lack of it excites me.
On the anniversary of Austen's birth, I have to end with romance, a sort of toast. These spoiler lines (count yourself warned) may be my favorite moment and appear in a letter (another weakness of mine) written by Captain Wentworth to Anne after he overhears her conversation about love with Captain Harville: "You pierce my soul. I am half agony, half hope. Tell me not that I am too late, that such precious feelings are gone for ever. I offer myself to you again with a heart even more your own than when you almost broke it eight years and a half ago."