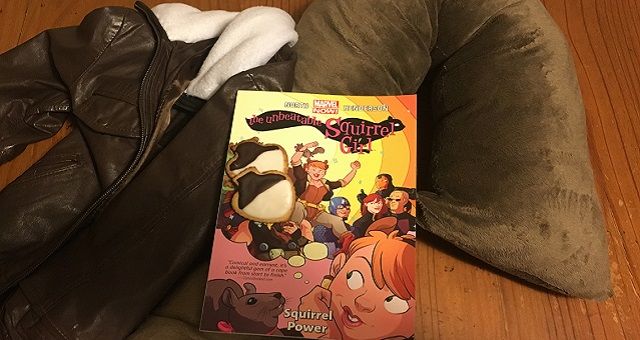 This content contains affiliate links. When you buy through these links, we may earn an affiliate commission.
When our youngest child heard about the Book Week Parade at school, she started bouncing and bubbling with excitement. Almost a month before the parade, she came up with the idea of dressing as the Wild Rose fairy from our very old (and very loved) book, Flower Fairies of the Summer by Cicely M. Barker (circa 1923). And then suddenly, without any provocation, our 6-year-old announced to everyone, "I'm going to be Squirrel Girl."
Part of me was very proud; mostly because the theme for Australia's Childrens' Book Week was "Reading is My Super-Power". That means teachers could finally see comic books as "acceptable reading material". And Squirrel Girl is positively one of the BEST role models for all kids today. Our 10-year-old son loves how Squirrel Girl thinks her way out of most conflicts, while the 13-year-old says her wacky sense of humour is refreshing amongst the heavy-laden sarcasm today.
However, part of me was like, "Squirrel Girl? But the Wild Rose Fairy was such an easy kids cosplay outfit to do!! Now I have to make a squirrel tail!"
Well, I have good news for Squirrel Girl fans!! If I can pull together a simple and casual Squirrel Girl cosplay for my 6-year-old daughter in under a week, so can you. And here's how!!
Choose Your Squirrel Girl Cosplay
First up, you have to choose which Squirrel Girl you want to cosplay. The good news is there are plenty of options to choose from. There is Ditko's original outfit in 1991 (with weird eye makeup), or Henderson's modern approach with some very cute variations. Hell, there's even a space Squirrel Girl outfit, if you are so inclined (apparently, our daughter is now so inclined). So long as you have the foundation pieces, you are pretty much set.
Since we were limited to a week, we passed on space Squirrel Girl this time and chose a casual approach to the Henderson's earlier run.
What You Will Need
A brown bomber-style jacket or similar
We found a small brown fake leather jacket at our local second-hand clothes store. It was clean and in great condition. You will be sewing clips into the jacket, so don't go for a major purchase or use anything you want to keep in original condition.
A red or brown shirt
Grey pants
A yellow belt – bonus points if it has pouches attached
Little ears headband
Brown boots
4 x Press clips to attach the tail to the jacket
A Big Fluffy Squirrel Tail – This is the DIY job
DIY Detachable Squirrel Girl Tail
Use a single piece of brown fluffy material, a little longer than the height of your cosplay subject. For our average height 6-year-old, we used approximately 1 metre/3.25 feet wide by 1.5 metre/5 feet long.
Fold it over into a sock, fluffy-side on the inside, and sew up the longest side and one of the shortest sides. Leave one end open because you need to stuff the tail.

Choose a stuffing as light as possible – the bigger the tail, the heavier the weight on the back of whoever is wearing this. For kids cosplay, you want to make it as light as possible because either (a) they will complain about the weight; or (b) you will end up carrying them and their tail, and you don't need that extra baggage. We used an old pillow, taking the stuff out and directly into the tail.
Sew up the end, creating a long soft body pillow. Do not sleep on it. You still have work to do.
Take the top third of the tail and bend it over to create a curve in the tail. Note: I think it looks best if you keep the seam on the inside of this curve. Hand-sew the tail to itself, creating a shepherd's rook in shape. You can also play a little with the end corners of the tail, creating a point or rounding effect.
Now sew the press-clips on to the long straight side of the tail, facing out. This is where you will attach the tail to the jacket. I chose to attach two (2) clips to the bottom of the tail (near the waistband of the jacket) and two (2) clips to the top of the straight part of the tail (where it would attach to the collar). I chose this because I didn't want the hassle of trying to stitch into the slightly-brittle fake leather. You can also space the press-clips evenly across the back; personal preference is preferred.
Line up the clips on the jacket and sew the matching counterparts on to the jacket. Check the alignment before sewing each clip. Very much a "measure twice, cut once" scenario.
Bonus tip: I am now thinking of attaching two small rods down the side of the tail/jacket to give it more structure, however, our young Squirrel Girl is telling me not to because she likes the floppy natural behaviour of the tail. It's an option, if you are interested.
And now for the most important critic of all: the 6-year-old daughter…
"I love it, Mum!! Can I wear it for Halloween too?"
Just for that, I think I'll bake you some nut-shape cookies as well.
If you want to learn more about Squirrel Girl, pick up a copy of The Unbeatable Squirrel Girl Vol. 1: Squirrel Power by Ryan North and Erica Henderson. It is a great introduction to the charm of Doreen and her squirrel sidekick, Tippy Toe. You can also read more about the artwork with fellow Book Rioter Marcy and her article, Why The Art of Squirrel Girl Matters. You can also read about 8 Times the Unbeatable Squirrel Girl Made Me Lose My Nuts, from fellow Book Rioter Christine Hoxmeier.