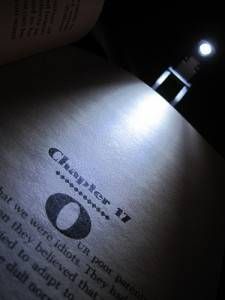 What's the last book that kept you up at night?
I'm not talking about the last book that scared you so much you couldn't sleep (although, I suppose that could count too). I'm talking about the book that you settled down with to read a chapter or two before bed, only to emerge hours later, book finished and bedtime just a fleeting moment in the distant past. What book was that?
I emerged from the swamp of the non-reader in a big way over the weekend with doing one of my favorite things: starting and finishing a book in one sitting. The problem is that I started the book around 9:30 p.m. Sunday night, just an hour before my head was supposed to be hitting the pillow so I could be rested for work on Monday morning.
By the time I turned the last page, it was 12:45 a.m. and I had to be awake in less than six hours. #responsibilityfail
The book? The Nobodies Album by Carolyn Parkhurst.
The Nobodies Album — part murder mystery, part relationship exploration, part meditation on writing and our role in rewriting our own stories — is a bit of a departure from my normal reading fare, but I'd read a review from a trusted blogger, found a copy at the library, and, at that moment Sunday night, needed a book that was a radical departure from the history books I've been reading. I had no idea just how addicting the book would turn out to be.
This isn't the first time — or, certainly, the last time — that I've gotten so sucked into a book that I forgot to go to sleep. I devoured each and every one of the Harry Potter books as soon as we got them, foregoing sleep if necessary to finish each before my sister. And I distinctly remember staying up well past a reasonable hour to read just one more (and then one more, and then one more) chapter in The Da Vinci Code when borrowed a copy from my mother.
Oh! And then there was my epic read-a-thon of the entire Hunger Games trilogy when Mockingjay came out in 2010. In an impulsive move, I decided to re-read both The Hunger Games and Catching Fire before Mockingjay, but because I was SO EXCITED to read Mockingjay but still had to be a grown up and go to my job, I spent three late nights in a row in Panem finishing the series.
It's amazing the power that a great book can have, to make a reader give up other basic needs in order to stay immersed in the pages. I am confident that every reader has at least one book that has kept them up at night… what's yours?
Photo Credit: christyfrink via Flickr
____________________________
Kim Ukura is a newspaper editor and blogs about literary fiction and non fiction at Sophisticated Dorkiness. Follow her on Twitter: @kimthedork