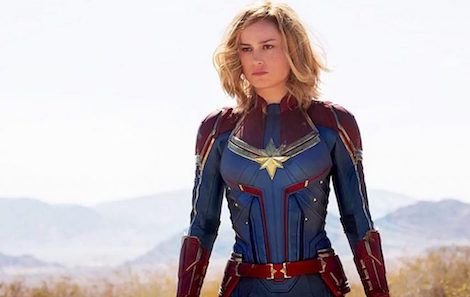 The moment we've been for since the teaser end credit scene in Avengers: Infinity War is FINALLY here.
The first trailer for Captain Marvel, starring the ever-amazing Brie Larson as the eponymous Captain Marvel aka Carol Danvers dropped Tuesday morning on Good Morning America and It. Is. Everything.
"War is a universal language. I know a renegade soldier when I see one," Nick Fury drawls. "Never occurred to me that one might come from above."
And BOOM. The first solo female lead film in the Marvel Cinematic Universe takes action.
It's been previously stated that Captain Marvel will not be an origin story. Audiences will dive right in, so a little background for those who need it: Carol Danvers was previously an Air Force pilot in the 90's, who gains superpowers after she is injected with DNA of the alien race of Kree. She then finds herself caught in the middle of a galactic war between the Kree and their enemy, the Skrulls. You can learn more about her with our guide to what you should know before the movie.
The film will center on Danvers joining Jude Law's Walter Lawson's, Starforce, an elite Kree military team, and, of course, running into the who's who of the MCU along the way.
Captain Marvel is directed by Anna Boden and Ryan Fleck, and will hit theaters March 8, 2019. Watch the full trailer here: