This content contains affiliate links. When you buy through these links, we may earn an affiliate commission.
Unless you're living under a rock, you've probably seen the hype around the first images from the new Captain Marvel movie. The movie may not come out until 2019, but it's never too early to start brushing up on your Marvel trivia in preparation.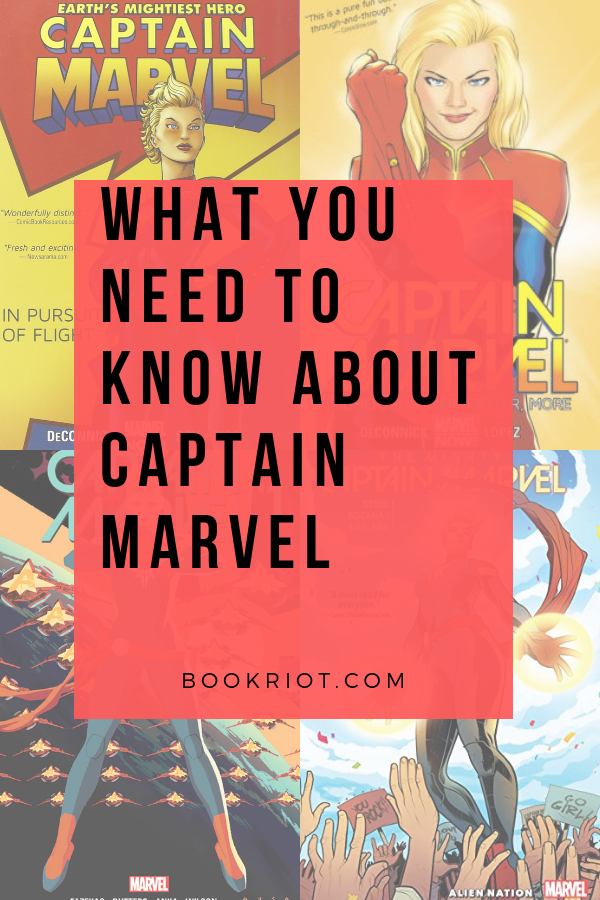 Hey @EW I'm bored. Wanna break the Internet tomorrow?

— Brie Larson (@brielarson) September 5, 2018
The new images released exclusives on EW give us an amazing first look at Brie Larson as Carol Danvers, the Captain Marvel suit (so good), and some of the other characters and locations that will be featured in the movie. But aside from how awesome these behind the scenes photos look, what else do you need to know before the movie comes out?
A quick crash course in Carol Danvers as Captain Marvel:
She wasn't always Captain Marvel
In fact, there has been a whole string of Captain Marvels before her, including Mar-Vell and Monica Rambeau. The character of Carol Danvers has been around since the late 1960s, but she first appeared as a military officer working alongside the original Captain Marvel.
And well before Carol Danvers was Captain Marvel, she was the original Ms. Marvel. You can still find her making occasional appearances in the current run of Ms. Marvel with Kamala Khan.
She has alien DNA
Carol Danvers used to be a regular old human. Not so much anymore. She got her powers during an explosion when her DNA fused with that of Mar-Vell, aka the original Captain Marvel who was a Kree. It gives her lots of awesome powers like superhuman strength and flight. She's now generally viewed as a human-Kree hybrid.
She's a hotshot pilot
She might be better known for her superheroing and intergalactic exploits these days, but Carol Danvers used to be a pilot in the Air Force. Her very first appearance, as mentioned, was as security officer of a military base. And it looks like that's definitely going to be explored in the movie based on some of the images.
She's a team player
Danvers has been associated with a lot of superhero teams since her first appearance in the 60s. The Avengers, the X-Men, A-Force, S.H.I.E.L.D., Guardians of the Galaxy, and Alpha Flight, to name a few.
The movie is going to be set in the '90s—pre–collapse of S.H.I.E.L.D. and creation of the Avengers—and it looks like both S.H.I.E.L.D. (hello Nick Fury pre–eye patch) and Starforce (an elite Kree fighting team) will be involved.
The Comics
So where should you start with the comics if you want to learn more about Carol Danvers and Captain Marvel before the movie comes out next year?
If we go all the way back to the beginning, her very first appearance as Carol Danvers is in Marvel Super-Heroes #13 (1968) and her run as the original Ms. Marvel starts with Ms. Marvel #1 (1977). But, chances are you aren't going to be able to get your hands (or your eyes) on either of those Silver or Bronze Age comics.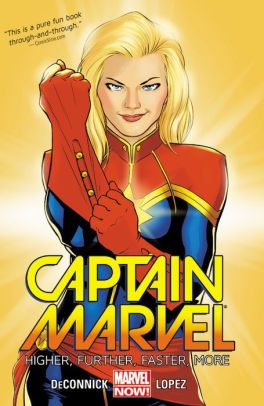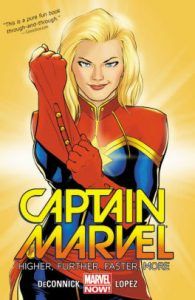 Instead, I suggest starting with a more current take on Carol Danvers. A great place to start is with Kelly Sue DeConnick, Dexter Soy, and Emma Ríos's Captain Marvel: In Pursuit of Flight, the first solo run with Danvers as Captain Marvel. Not to be confused with DeConnick's other recent Captain Marvel run with art by David López: Captain Marvel: Higher, Further, Faster, More, which takes her out of NYC and onto more intergalactic adventures. You can also find Carol leading a team of pilots in another comic by DeConnick along with Kelly Thompson and David Lopez: Captain Marvel and the Carol Corps, a tie-in to the Secret Wars event.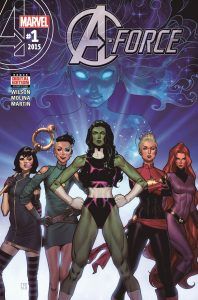 She also appears in A-Force by G. Willow Wilson and makes occasional appearances in the current run of Ms. Marvel, like in Ms. Marvel issues #17, #18, #27, and #28 as well as Ms. Marvel: Civil War II #8, #9, and #11. That series is worth reading on its own, though, for reasons of pure adorableness. Plus it's fun to see Carol's initial reaction to someone else taking up the Ms. Marvel mantel and how she eventually evolves into a sort-of mentor figure for the young superhero. And in Captain Marvel: Rise of Alpha Flight by Michele Fazekas and Tara Butters she returns as the leader of the Alpha Flight space program.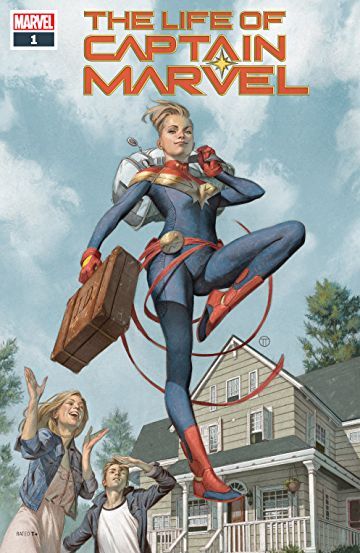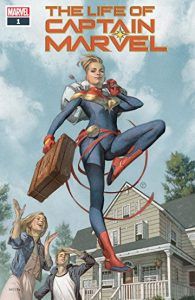 The most recent runs include The Mighty Captain Marvel by YA author Margaret Stohl (known for books like Beautiful Creatures and Black Widow Forever Red) and artist Ramon Rosanas, and the current ongoing run by Stohl and Carlos Pacheco The Life of Captain Marvel, which is a retelling of Danver's origin story and will supposedly have some similarities to the 2019 film.
So what do you think? Are you excited for the long-overdue Captain Marvel film? What storylines or characters from the comics are you hoping might make an appearance? Let us know in the comments!