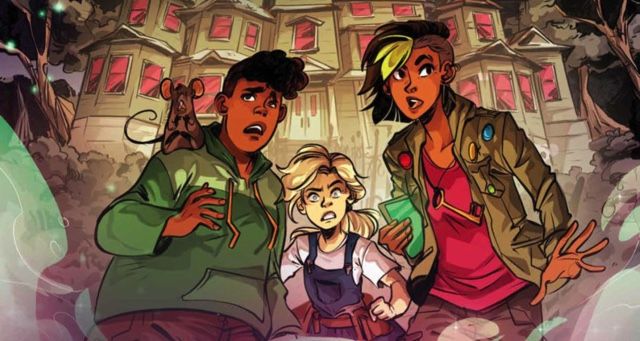 This content contains affiliate links. When you buy through these links, we may earn an affiliate commission.
Terry Blas (Dead Weight) and Claudia Aguirre (Morning in America) are the team behind Hotel Dare, a fantasy graphic novel about family secrets, space aliens and hotels that hide doorways to magical worlds. Olive and her adopted siblings, Darwin and Charlotte, are stuck in Mexico with their estranged—and intimidating—grandmother, Mama Lupe. Begrudgingly made to clean and fix up Lupe's hotel home, the Dares uncover portals that pull each of them into strange surroundings. You can read more about the plot in my graphic novel round-up here. I spoke to Blas and Aguirre to ask more about the inspiration behind the Dare family.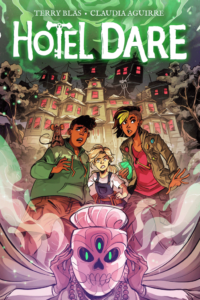 Rachel Rosenberg: Can you tell me a bit about your individual creative process?
Terry Blas: I'm an illustrator. That's what I got my degree in, but the bulk of my work consists of writing now. In terms of story, when I have an idea that can't escape from my brain I start writing down notes and answering a lot of questions about the characters. That leads me to write a very thorough synopsis—sort of like my blueprint. You don't start building a house without a good plan, so for me, it's the same for a book.
Claudia Aguirre: For me, my process is to get my sketches, inks and colors as close to Terry's vision as possible. It is a very vivid and colorful story, and I wanted to be as crazy as possible with it.
RR: How did the two of you end up working together on this book?
TB: I was familiar with Claudia's work and was introduced to it through Steve Lieber, who had met her at a convention in Mexico. I reached out and asked her if she'd be interested, since the book features several Mexican Latinas, one of whom identifies as queer, I was hoping to at least get a Latina interested in collaborating on the book, and really, I hit the jackpot. I'm so lucky to have Claudia in my life (which sounds funny because we've never met in person), and I can't imagine the book with anyone else now. She's terrific, and I adore her.
CA: Honestly, Terry and my editor emailed me because they wanted me to illustrate the book, and after reading the pitch I was absolutely in love with it. Terry is a fantastic writer, and I'm happy we got to be friends during our work with Hotel Dare!
RR: Terry, I read that you found inspiration for this story by a trip you and your husband took to the Harry Potter Leavesden Studio tour. What other works of art do you find inspiration through?
TB: I love stories where children and or siblings get sent to live somewhere and discover magical places: Bedknobs and Broomsticks is a favorite, Narnia, A Series of Unfortunate Events and A Little Princess. I love fantasy and science fiction, and wanted to blend the two. Also, knowing that most of the fantasy we have is very European in its visual aesthetic (with Avatar and Korra being terrific exceptions), I wanted something that looked very Mexican and Aztec. The Latinx community spends more money on movie ticket sales every weekend than any other demographic and I wanted an epic adventure story for us that others could embrace as well.
RR: I loved the adoption subplot; the demonstration of that struggle to fit in and accept yourself as part of a found family. It's a very realistic base to build a fantastical sci-fi world up around. I wanted to learn more about Olive, Charlotte and Darwin—are there follow up books in the works?
TB: I have several volumes in mind. Obviously I don't want to say too much, but with more material you'd get to know a lot of the characters much better. However, in this volume, what the kids' circumstances were before they became a family are a little important to the story because of what Charlotte says regarding the orphanage and Darwin's personality having been affected by a late adoption.
CA: Hopefully there will be!
RR: In this multiverse-filled reality, there's a lot going on. You have glamour-casting cloud-slash-fan monsters, costumed space pirates, and grumpy, snooty wizards. Was there one universe that was your favorite?
TB: I like them all for different reasons. In this volume, you get just a little taste of the worlds they go to, and each exists for a certain reason. Olive loves tech and is always on her tablet, so I put her in a world that has none of that stuff. Magic vs Science. Darwin loves animals, so I gave him a world where these little creatures might not be what they seem. Charlotte's world needed to appeal to her, so I put her on a spaceship that needed fixing up. Also, I wanted to introduce a character in each of these worlds who also feels like an outsider. Having them interact with people who have found family is life changing for them. There's one more world that they go to, which I won't ruin, but it's very important and super Mexican. I love it.
CA: Probably the Pirate Ship. Everything that happens on it is full of action, intrigue and drama! I also have a soft spot for the Cuddlemuffin Kingdom.
RR: Hotel Dare is pretty run down, which seems to make Olive especially uneasy. Have either of you ever stayed in a very ragged, dumpy hotel? If yes, how bad did it get?
TB: Luckily, no. Every hotel I've stayed at in Mexico was nice and not remotely like Mama Lupe's.