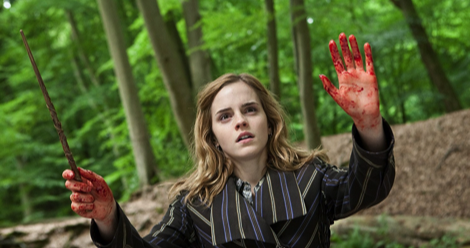 Horror
If Stephen King Wrote HARRY POTTER
This content contains affiliate links. When you buy through these links, we may earn an affiliate commission.
What if Stephen King's novels all took place in the Harry Potter universe? Here's what we think a few of them would be about. (Please note that we have not included any Robert Galbraith Richard Bachman titles, for obvious reasons.)
Fed up with Ron's constant bullying, Hermione drenches the Hogwarts Yule Ball in pig's blood.
The dementors are actual vampires.
Vernon Dursley takes his family on vacation to get away from the owls, but he's…not stable, and Dudley's having visions.
Dark Marks are coming back; Death Eaters are drawn to Little Hangleton while other wizards gather under the direction of Mother Albus. Eventually, the two groups confront each other.
A magical mist traps wizards and witches in The Three Broomsticks. Outside, Bellatrix LaStrange calls for a sacrifice.
There's a rabid three-headed dog in the third floor corridor on the right-hand side.
The Weasley family Ford Anglia has it in for Ron and Harry.
A grieving Harry buries Hedwig in the old pet cemetary. Then things get really bad.
It (1986)
Young orphan Harry befriends a half-giant in the sewers. "We're all wizards down here."
Hermione Granger takes Rita Skeeter prisoner and forces her to write articles that tell the truth about Harry Potter.
A dementor at Azkaban has a strange encounter with a prisoner.
"The Muggle in Black fled across the desert and the Wizard followed" (h/t Anthony Karcz). Also there's Quidditch in the wild west, and for some reason the golden snitches/sneetches explode.
A time traveler attempts to stop Voldemort's murder of Lily and James Potter.