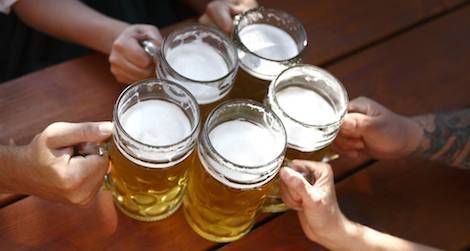 This content contains affiliate links. When you buy through these links, we may earn an affiliate commission.
It's winter time, and there's nothing better on a cold night than to curl up with a good book and an excellent…beer. Look, I know some people eschew the brew for warmer drinks this time of year—and I've done my share of hot chocolate with extra "flavoring"—but when there are so many good winter beers out there, it seems a shame to not give as many a chance as possible. The darkest time of the year just begs for dark brews and books where the air breathes cold, swirl of snow optional. So what's on tap?
Miryem is the daughter of her village's moneylender, so she knows how to turn silver into gold with her financial skills, even if it doesn't make her or her family popular. Unfortunately, the terrifying Staryk (ice fae, basically) have been encroaching on her village's territory, threatening to turn it into a place of endless winter, and they love gold more than even the greediest man can imagine. The Staryk king delivers an ultimatum to Miryem: change his silver into gold and he'll marry her. If she doesn't, he'll kill her. But the real mystery of what drives the Staryk is even deeper, old magic and betrayals and the fate of a kingdom, and Miryem's story becomes interwoven with that of two other women, all of them fighting for survival and hope.
Beer: In my mind, it can't be anything but 1554 from New Belgium. This is a "dark ale" that's not a porter, not a stout, just definitely its own kind of thing. The beer's intended to evoke the ales that were served in Belgium over 500 years ago. It feels suitably fairytale in its own way.
In a future that doesn't feel too far removed from our own, the world's been hit with endless climate catastrophe, triggering wars and genocide. One of the few refuges that remain is a floating city in the Arctic Circle named Qaanaaq. And even that city is being ravaged by a mysterious disease called the Breaks, something the authorities are trying very hard to pretend doesn't actually exist (in a way that very purposefully evokes the AIDS epidemic). The citizens of Qaanaaq are just trying to get by…until a mysterious woman who seems to be psychically bonded to an orca and a polar bear shows up. Questions about her quickly turn back in toward the city, revealing answers that have been hidden far too long.
Beer: It's another rich, dark, complex book that deserves a beer that'll give you a heck of a lot to chew on while you're drinking it. The Hard Wired Nitro from Left Hand Brewing is even appropriately cold brewed.
Time of year is obviously relative when we're talking a generation ship that's fleeing an apparently destroyed Earth. But on the HSS Matilda, the cold is very real for the people in the lower levels of the ship, thanks to the ship builders deciding to bring Earth's shitty racial prejudices into space along with a selection of people, animals, and plants. The ship is malfunctioning now, the little sun used to grow its food not providing enough heat, so it's those with dark skin, already banished to the deeper decks, who suffer the most. Aster is a freak even among the abused, and she might be the only person who can figure out what's wrong with the ship, as she follows clues left behind by her long-missing mother.
Beer: This is a book that's beautiful and complex and heartbreaking, one that asks a lot of questions and is content to not give comfortable answers when it does. Oskar Blues's Ten Fidy Imperial Stout seems oddly appropriate here. It's dark, strong, packs one hell of a punch under its coffee tones, and in the brewery's own words, is "boundary-stretching."
In a world that's been torn apart by climate change, the Diné have taken their chance to reestablish a sovereign nation that's protected from the greedy, encroaching energy companies by building the Wall from stone and magic. But with that protective ancient magic, some less helpful and benign things have awoken to the new world. It's up to a misfit with a dark past, Maggie Hoskie, to hunt these new monsters. And behind the little monsters, there are bigger monsters waiting…Basically, this is what Supernatural should have been and can only dream of being.
Beer: Powder Session from Comrade Brewing Company, because not all winter beers have to be dark, right? It's an IPA, so it's crisp and citrusy and would probably be damn refreshing after a day of fighting monsters.
Hogfather by Terry Pratchett
Look, you can't expect me to get through a winter list without naming one of my favorite Discworld books. It's just not going to happen. Death has to take over as the Hogfather, and hijinks ensue with even more than Terry Pratchett's normal levels of hilarity underlain by heart-punching earnestness. So drink it with any beer you like, honestly. Just believe in the little lies while you do.
"All right," said Susan. "I'm not stupid. You're saying humans need…fantasies to make life bearable."
REALLY? AS IF IT WAS SOME KIND OF PINK PILL? NO. HUMANS NEED FANTASY TO BE HUMAN. TO BE THE PLACE WHERE THE FALLING ANGEL MEETS THE RISING APE.
"Tooth fairies? Hogfathers? Little—"
YES. AS PRACTICE. YOU HAVE TO START OUT LEARNING TO BELIEVE THE LITTLE LIES.
"So we can believe the big ones?"
YES. JUSTICE. MERCY. DUTY. THAT SORT OF THING.
Happy new beer, everyone!