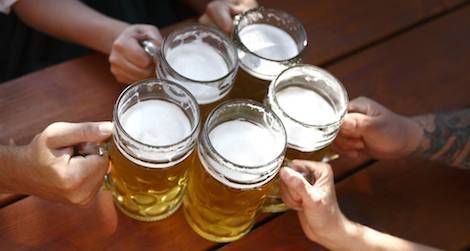 This content contains affiliate links. When you buy through these links, we may earn an affiliate commission.
The days are getting longer and warmer if you live in the northern hemisphere, which means…well, not that I'm drinking more or less beer than I was before, or that I was reading more or fewer books. But it does mean that I'm slowly switching from stouts to lighter beers without venturing into the summer IPA zone, so let's see what pairings that will generate!
I knew I had to read this book when I saw it was the first book of "Janitors of the Post-Apocalypse," and I was not disappointed. Humans have been fished out of a zombie apocalypse by friendly aliens and brought into interstellar society—but not too much. Because humans are known to be scary, brutal, and not terribly bright. But when disaster strikes on the battle cruiser Pufferfish, it's up to a plucky team of human janitors to save their crew and unravel a dangerous mystery using their cleaning supplies and housekeeping know-how.
Beer: A fun book deserves a fun beer, so I have to put this with the Shamrock SMASH from Kokopelli Brewery, a light, clean and malty beer with just enough red in it to show off its Irish roots.
A young woman named Ingray, trying desperately to impress her politician mother, makes a series of potentially unwise decisions that start with retrieving a criminal from a prison planet that her people call, without apparent irony, "Compassionate Removal." From that point on, nothing and no one are quite as they seem and Ingray is drawn into a mess of planetary and interstellar politics that just might get her killed.
Beer: The Hwaeans of the book (Ingray's people) spend all of their time drinking something called "serbat." I still have no idea what the heck it might taste like. But we're going to pretend for now that you'd drink it cold instead of hot, and I imagine it'd taste something like the Mural from New Belgium Brewing Company, which is a bright pink, watermelon-tastic beer inspired by "agua fresca." Seems sufficiently refreshing.
In the final installment of Nnedi Okorafor's tor.com novella series, Binti must come to terms with who she's becoming and where she's come from—all while facing down a war about to happen right on top of her home. The unexpected and surprising is around every corner, and it never stops being a joy to follow Binti on her journey.
Beer: Ophelia from Breckenridge Brewery. It's a hoppy wheat ale with a lot of fruit notes…that gets aged in tequila barrels. The complexity of flavor matches well with the layers and lack of easy answers Binti gives us, and never stops being a pleasure.
This book is the sequel to Parable of the Sower, and I feel like everyone should be required to read these. In Parable of the Talents, Lauren Olamina watches her carefully built community be torn apart by religious extremists who believe their mission is to (I am not making this up) "make America great again" and must try to rebuild her life again, still following her belief that God is Change and the destiny of humanity is the stars. It's a terrifyingly prescient, difficult story, but one not devoid of hope.
Beer: Only a sour could do for these books, something difficult, tart, bitter, and rewarding. The Saison aux Baies Ameres from Left Hand Brewing is made with local chokecherries and fits the bill nicely.
A recently risen dynasty slowly falls in this sprawling, epic story of quite a few men who would like to redraw the map of their known world, though quickly enough two rise above the pack and become brothers in battle. Unfortunately, nothing is ever simple when it comes to the human heart, even without involving power and politics.
Beer: Let's be honest, I don't think I could find a light beer epic enough for this book without going for a brain-cooking IPA, and it's not nearly hot enough out for that yet. So with the book's wonderfully Asian feel making it so distinct from other epic fantasy, I spent most of it wanting a rice beer—which, for local brews, means a Samurai Blonde Ale from Great Divide.
Nahra, a young con artist living in Cairo, accidentally summons a Djinn named Dara, and her life becomes dangerous on an exponential curve. Despite her best efforts, she's sucked into the ancestral enmities and machinations of djinn politics in Daevabad, where the persecution of half-humans only ratchets up these tensions. Nothing is simple and no one is quite what they seem in this intense, fascinating world.
Beer: I feel like this book deserves a beer as changeable and strong as the currents of its story, which means Le Terroir from New Belgium. No batch of this beer is quite the same, and it's not messing around as a sour in any of its incarnations.