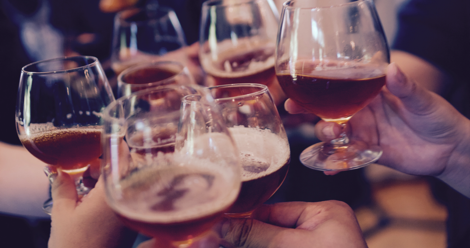 This content contains affiliate links. When you buy through these links, we may earn an affiliate commission.
I heard a nasty rumor at a recent book conference: that a book party schmooze could put you on the side of a title, or a publisher, as quickly as a presidential tweet might send a nation into a theocratic tailspin. That seduction could take the place of meaning.
I reject this conception. Readers are not so easily wooed.
AND YET: there is such a thing as the perfect introduction to a title–a meeting of the page with experience that leaves an impression that cannot be shaken.
Oxford University Press may have perfected the model with their release party for The League of Exotic Dancers.
Full confession: I am (was, now) a book party neophyte. (Not a burlesque neophyte, though, which I hope counts for something.) I had heard rumors of the seductive atmosphere: a meeting of books, booze, and bombastic personalities.
It's not that Oxford has entirely forsaken the last two parts of that equation–they've just melded them to, or included them in their introduction to, their work in a way that is both sexy and thoughtful.
The book is on the history of American burlesque. It is a celebration of sensuality across our historical landscape that is both image driven and wholly thoughtful. It presents burlesque in its every incarnation–as only Oxford could, with nuance befitting its name–from its bursts on the stage, to its still proud, defiant, and lingering presence on the lives of those who led the art form.
As a book, it is the ideal meeting of flirtation with thought.
As introduced via its book party, as much so as it is in its pages: it is everything that you want it to be.
The book party scene for Exotic Dancers was intellectual, searching, and sensually appealing–set in Manhattan's the Slipper Room, where forties coquette meets the desires of today. The abbreviated show brought the pages of the book to life: evocative, appealing, and unparalleled. Yes, the cocktails were there–flowing as freely as one wished–but the thoughtful conversations were there in equal measure: where is our culture going? How can we talk about it, both contextually and meaningfully? What, in this quagmire of often unwanted change, is next for us—both implicitly and in defiant response?
It was kinda perfect.
I'm not saying this because the swag was great–which it was, though my particular copy of the book itself is destined (after I pore over it more) to be gifted to the burlesque dancer in my life who will appreciate its superlative prose, time conscious imagery, and rigorous reportage most–but because it's true: Oxford set the book party bar.
It brought its book to life.
It made it fun.
It made it sexy.
It made it unforgettable.
It was everything that the personification of a book should be.
I am as enamored with this passionate way of introducing a title as I am with the title itself, and for that, Oxford deserves both snaps and a reprimand:
Snaps, because who could do this better?
A reprimand, because: thanks a lot, guys. Who on Earth is going to be able to follow this act?