This content contains affiliate links. When you buy through these links, we may earn an affiliate commission.
Rioters have long been in love with Sarah MacLean and her romance novels. Her regency romances are feminist, fat-positive, and (perhaps most importantly) fun. They feature women with big personalities who go after what—and who—they want with unapologetic vigor. Sarah MacLean books also show the scandalous, outrageous aspects of history often left out of our image of the nineteenth century. Sarah also serves as an important advocate for the romance genre, through her monthly Washington Post column, the legendary book recommendation list on her website, and her podcast Fated Mates.
Personally, Sarah MacLean brought me back to the romance genre I'd loved in high school and college. Through her beautiful, emotional, sexy as hell books I remembered how much I loved reading about strong women finding happily ever afters. And through her advocacy, Sarah helped me stop feeling ashamed I wasn't reading so-called serious literature. There's no wrong Sarah MacLean book to start with. They are all gorgeous and completely engrossing. But here's an attempt to offer a pathway through her books for intrigued first-time readers.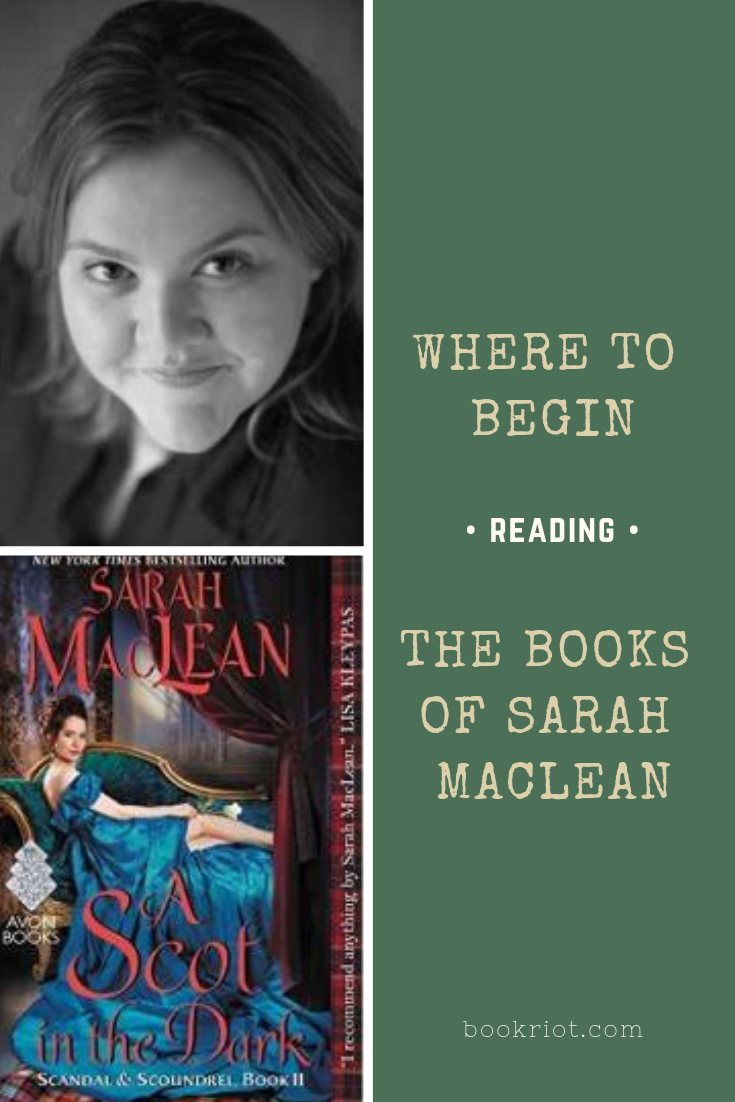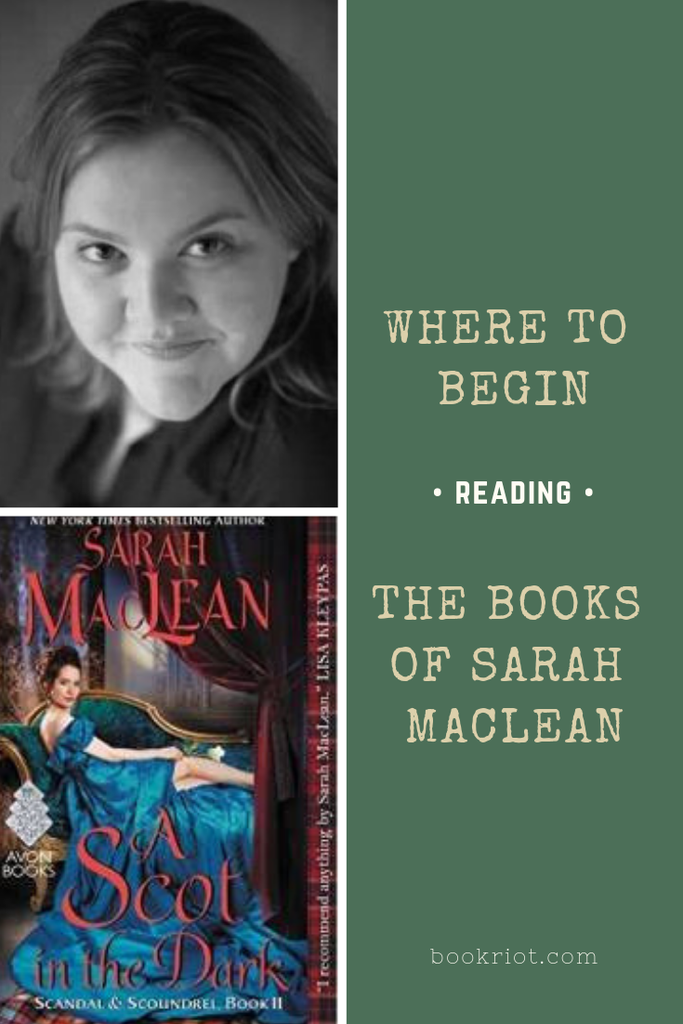 Where to Start with Sarah Maclean Books: the Middle
A Scot in the Dark
I agonized over which Sarah MacLean novel to suggest readers start with. But I kept coming back to the second book in MacLean's third collection, The Scandal and Scoundrel Series. Pitched as pre-Victorian TMZ, the cleverly titled A Scot in the Dark.
The story features Lillian Hargrove, who's been kept secluded from society by a forgetful guardian. So when she falls for the charms of an artist, she agrees to pose nude for a painting meant for him and only him. Only now, with the relationship over the painter is threatening to display the piece of art publicly. In desperation, she turns to her new guardian, a Scotsman who's newly inherited a dukedom he never wanted. The Duke of Warnick comes to London with one goal: marry Lillian off before the painting ruins her reputation. But, as you may have guessed, feelings get in the way. And Lillian isn't as amenable to his plans as he expected. With all the romance and smooches you could want, mixed with a storyline that feels incredibly relevant in today's world of nude photo scandals and revenge porn, this book seems like an ideal place to start.
Then Go Back to the Beginning
Nine Rules to Break When Romancing a Rake
If you want to stay in the world of Scandals and Scoundrels, feel free! But Sarah MacLean's first romance novel, Nine Rules to Break When Romancing a Rake, legitimately changed my life. As I wrote before, it changed my reading life. But it also was one of the first times I saw a fat woman who was sexy, powerful, and not looking to change her body. Also it includes literal swoons for days. Lady Calpurnia Hartwell has always followed societies rules for her. But these all these rules gave her were ten years of boredom and perpetual spinsterhood. No fun! So Callie decides to start breaking the rules, starting with sneaking into the Marquess of Ralston's bedroom and asking for her first kiss. He's a rake of the highest order, but even Lord Ralston is above ruining an unmarried lady. But Callie's growing confidence makes her impossible to resist. This whole series, following the Ralston siblings, is pretty irresistible as well. The celebration of so many different kinds of bravery make these some of my favorite romance novels of all time.
Finally, If You're Feeling Fiercely Feminist
Never Judge a Lady by Her Cover
All of Sarah MacLean's novels are fiercely feminist. And I think Sarah and I would both argue that romance is at its core a fiercely feminist genre. But I will say that Never Judge a Lady by Her Cover has some extra anti-patriarchal oomph. It features a woman leading a double life and the newspaper magnate who's in the best position to discover her secret. Before you read this, understand that as the fourth Rule of Scoundrels book, it has some *major spoilers* for the series. But whether read in order or on its own, this Sarah MacLean novel is not one that you should miss.
The Day of the Duchess
If you don't want to read out of order, then may I suggest swinging back to The Scandals and Scoundrels series with The Day of the Duchess. The story of the Duke of Haven and his estranged wife Seraphina directly engages with gender inequalities of their time and ours. After three years of running away from her cheating husband, Seraphina returns demanding a divorce. Haven reluctantly agrees with one stipulation: she find his next wife. Her search should give him plenty of time to woo his wife into changing her mind. But he underestimates the depth of the scars he's left on her heart. Reigniting the passion between them isn't hard. But earning her trust and forging a new, more equitable partnership might not be possible.
Here is one of many possible pathways through Sarah MacLean's fifteen romances. But please choose however you want. Pick based on which one is at your local bookstore or available at the library. Pick based on which punny title tickles your funny bone. Or pick based on which cover you like the best. But please romance readers, just pick up one of Sarah MacLean books ASAP if you haven't already. You'll thank me, yourself, and the Romancelandia goddesses later—I promise!