Inspired by my confessed aversion to finishing what I start, I've decided to get more regimented with my reading, because my TBR is out-of-control. I know, I know, it's a hobby; a love of words, a penchant for the smell of pages after a long day, a compulsion to dive deep into a new world that's removed (by some degree) from this one. But I've seriously been slacking. I don't know if the issue is that real life has sapped my heretofore indomitable love of reading, or if I'm just not picking the right books, but something has to be done.
I think we can agree (or at least, some of us can, anyway) that Goodreads goals, challenges, and strict guidelines for reading aren't the be-all-and-end-all. But I've just been so uninspired by the thought of picking up a novel— any novel— and found that, with the creeping ennui towards the written word, comes a clear aversion to writing (something I have loved and cherished since before I knew anything about anything. Without it, I feel lost and a little shaky as to who I am).
I figured having a more structured idea of what I'll be reading month-to-month might first help me in small ways— which will then spiderweb into bigger ways, and eventually, I'll feel right as rain.
Also, let's be real: everyone can stand to diversify their TBR a little bit more, get outside of their comfort zone. I've skipped this month, but I've tailored my reading schedule with both short and long reads all the way to January. Since it would be really boring and self-indulgent to show you the whole thing, I thought I'd just show you October. Google Docs is a game-changer, as it allows me to be accountable and add/edit stuff right on my phone, whereas I can easily misplace (or, "misplace") a paper copy, and then my cat will eat it, and good times will be had by none.
I know my multi-coloured, month-by-month TBR seems a tad neurotic, but it's loose enough that I can get as much or as little reading done as I want— with the added bonus of standards.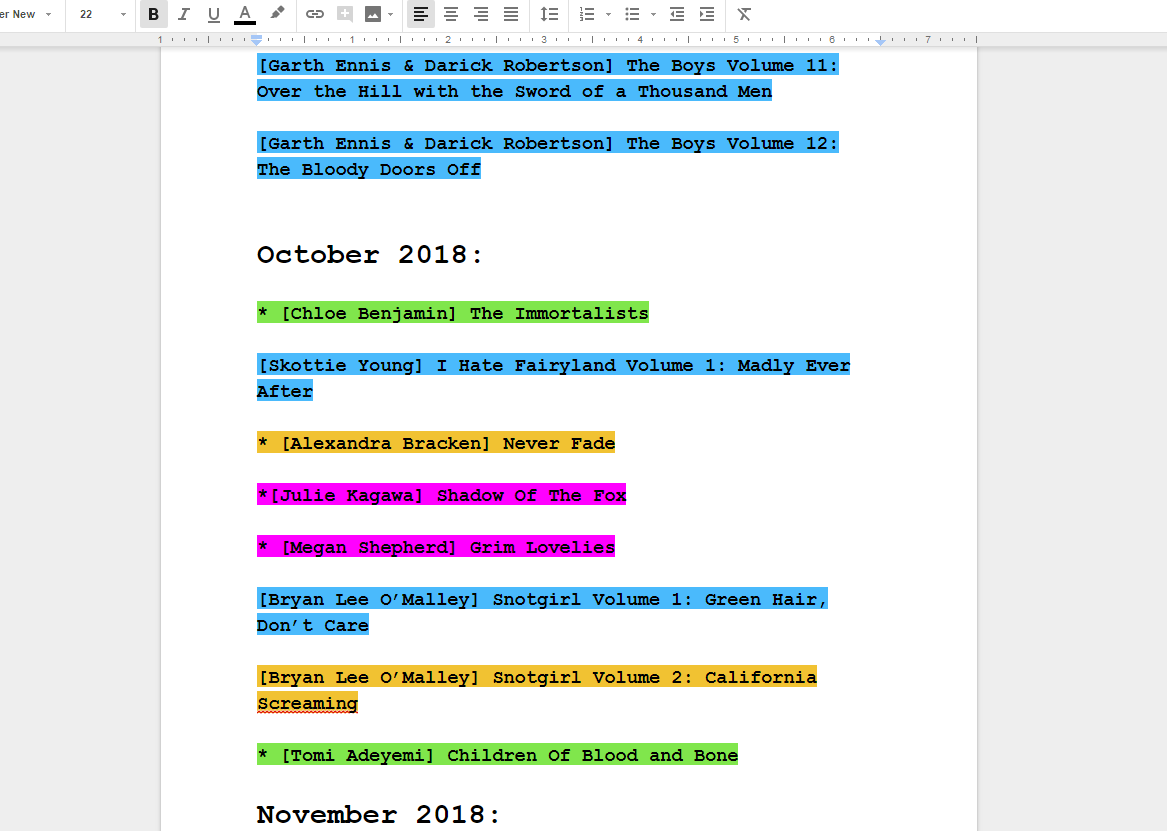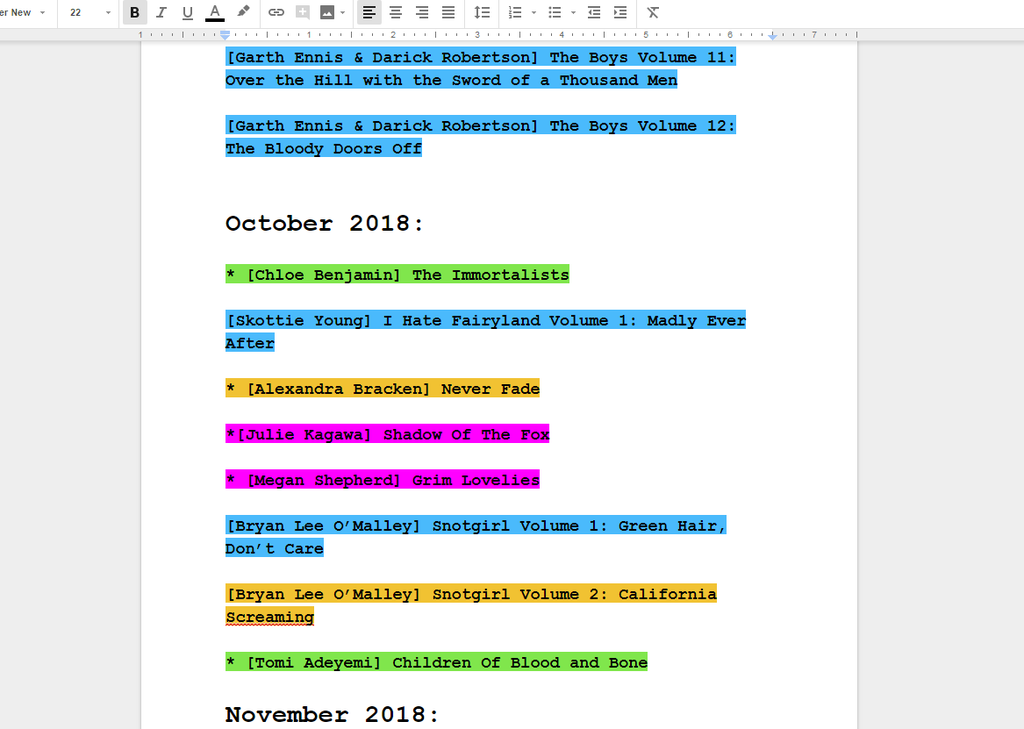 The titles with the "*" next to them are priority reads, the rest are exciting, but not at the top of my list. Titles marked in green have been on my TBR for too long; yellow are books in series; hot-pink are new releases; and blue are re-reads. Simple, but it also scratches the inherent itch for organization. Have you ever devised a system like this? How do you get yourself motivated to read?