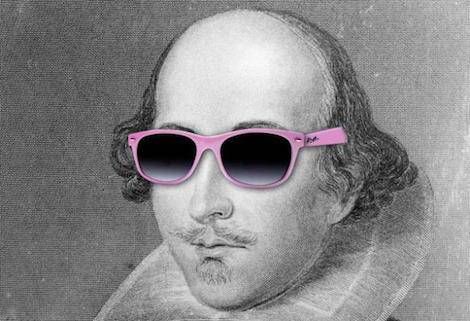 Classics
Reading Shakespeare is Absurd, But Still Amazing
This content contains affiliate links. When you buy through these links, we may earn an affiliate commission.
Last spring I was in our campus chapel for one of the too-many memorial services I've attended in the last year. While the crowd gathered, I chatted with a colleague, a theatre professor, about my Shakespeare reading project, and he mentioned the Oregon Shakespeare Festival. I confessed I'd never been.
My colleague quietly, grandly gestured toward the window, the sun streaming through the tinted glass, where we couldn't see, but knew, that Mt. Rainier loomed, just behind the dorms across the parking lot. And he confessed that although he'd lived here thirty years, he'd never been to the mountain, either.
We made a deal. I'd go south to Oregon for some Shakespeare, and he'd go see the mountain.
Well.
I didn't make it to Oregon. But I went to London.
London! And I saw, from the second row, "Queen Anne," with the Royal Shakespeare Company. On the day of the show, the Theatre Royal Haymarket sells tickets for seats in the first two rows for just £10, less than a couple lattes, so a screaming deal. I only had a day in the city, the last day before returning home from a literary pilgrimage up north, and it was a spur of the moment decision to see the play.
Here at home I manage a tiny, poorly-lit, somewhat neglected concert hall, housed in a Sputnik-era cinderblock music building, on a pristine college campus. So sitting in that gorgeous London theatre, I felt like I was in a grown-up, for-real venue.
I was too excited to not chat with my neighbor. I was next to a gentleman my age, a project manager (whatever that is), Liam. His two children are the same ages-ish as my boys, and we had a long, lovely talk before the show and during intermission.
Liam had come to the theatre to "kill time" until his daughter got off work at 11:00. She's doing stage management or some such at an outdoor theatre, is eighteen, and has "a poor sense of direction," so he typically rides the train home with her after work.
So, there I was having this once-in-a-lifetime experience. And he's just hangin' out. Goes to theatre productions all the time, gave me a rundown of various theatres, for the "next time" I'm in London.
This encounter, the ice cream at intermission, everything…everything was just astonishing. The sound, the choreography, the lighting, the acting, the not-entirely-white-white-white cast, holy cow. And the countertenor knocked my socks off. At one point they gave him reverb, mysteriously. I could not see microphones anywhere! The pit orchestra was just a handful of musicians and they were perfect, so perfect that we were several scenes into the play before I realized that they were actual people, and not a recording, right there a few feet from me, tucked in the pit.
Perfection from the moment the lights came up. It was electric and wholly new to me.
Two days later, home again, jet-lagged, I sat down to catch up with my regular Shakespeare reading. I opened my massive Oxford Shakespeare: The Complete Works—which I usually say in my head in all caps COMPLETE SHAKESPEARE. The sheer absurdity of reading these plays made me chuckle. As if, reading with my eyeballs, or even reading with my ears, which I totally do, I could possibly make contact with the living chemistry of the play, the magic.
Watching video productions helps. Sure it does. Last year I even saw, in a movie theater, a streamed "live" production of Hamlet, with Benedict Cumberbatch. Terrific! Reading excellent commentary is also huge. My online Shakespeare book group has begun to refer to Shakespeare After All in shorthand, OBM, Our Beloved Marjorie. She's that good. There are plenty of ways to access the plays, to take advantage of what they have to offer.
And we see glimpses of brilliance, of course we do, when we read or hear a play. But having seen that London production, I was newly and hyper aware that the printed words on the page only hint at the sparkle of a live production.
Funnily enough, even while I had watched "Queen Anne," entranced, I was aware that while the play was well-researched and well-written, I would not have enjoyed reading it. It's not that that it was dull. It was intriguing, for sure. But nothing about the words themselves would have indicated to this theatre novice the exuberant charm of that production.
When I shared this uncomfortable and astonishing realization with a friend, she told me that she'd seen a production of Shakespeare in London herself, years ago. "It wasn't even one of his good plays. But I cried and laughed. It was an amazing production."
So. I didn't really hold up my end of the deal with my theatre professor pal, but he gave me credit for seeing the Royal Shakespeare Company, even if they didn't do Shakespeare and I didn't make it to OSF. And he didn't make it to the mountain, but he did get outside. (!!!) So I'll give him credit, too.