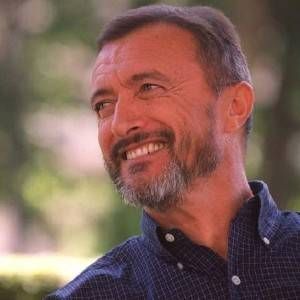 This content contains affiliate links. When you buy through these links, we may earn an affiliate commission.
I discovered Arturo Perez-Reverte in Paris. I was in the second month of my study-abroad program, just reaching the point where the romance of being in Paris (omg) had started to die away, and the rather harder reality of trying to eat and pass classes in a country where I only sort-of spoke the language was setting in. But since I'd watched an escape-to-Paris-and-find-yourself movie or two (…or five), I decided to go walking around the city regularly in order to fall back in love with it again.
And you know what? It actually worked. On only my second walk, I discovered there was an English language bookstore within a half mile. And because I discovered they had the entire catalog of Arturo Perez-Reverte's work. Something I discovered as I returned again and again until I bought all of them and they were forced to tell me that there actually were no more in existence. (I think they tried to persuade me as to the merits of, like, Flaubert or somebody. Fools.)
Why did this work so well? Arturo Perez-Reverte creates what are, for me, pretty much the perfect range of escapist books, encompassing mystery, suspense, thriller and adventure, all of them with a noir and gothic twist of conspiracy and danger. His heroes have generally been through a thing or two, and touch the story with their bitter experience, and his narrators give us the awe and drawn-breath excitement that allows them to act as our stand-ins and exclaim out loud for us when things get really good. (Which they do, frequently). On many levels, his books are full on pulp, cloak-and-dagger dime-store stories- and that's clearly where his heart is. But the quality of the writing, his penchant for genre-remixing, and his ability to cleverly lay out puzzles that keep the reader turning pages long into the night.
If this sounds like your bag, you've got to read on. I am telling you. You're missing out if you don't. So, without further ado, here are three novels to get you started: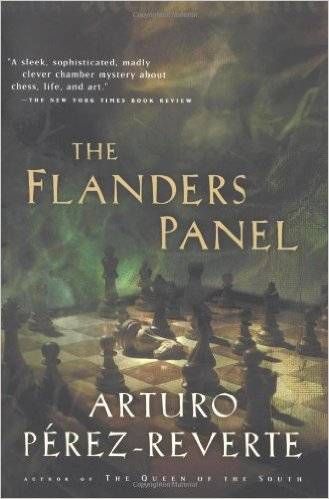 The Flanders Panel: I have to recommend that you start with the one that started the obsession for me, The Flanders Panel. To this day, it remains my absolute favorite of his. It's an art-and-literary mystery puzzle that continually reveals itself to have more and more layers along the way. Our protagonist is an art restorer who has recently been through the wringer in her personal life, but in a piece of actual good luck in her life, has been hired to restore a piece of art in advance of its auction. And while restoring it, she finds a hidden message in a painting, something that hints at a murder-mystery centuries old. The thing is that after her discovery, suddenly there's plenty of fresh murder and crime to deal with. Someone, (or something) appears to not want this mystery to be solved. This is a story that takes place under streetlights and under fedoras, with swirling smoke and in rooms of aging glory, and populated by scholars, artists, policemen, an awkward chess expert, and not-quite-so aboveboard businessmen. The eventual answer to the puzzle is gasp-worthy and excellent and I wouldn't dream of getting anywhere near revealing it. You've got to read this one for yourself.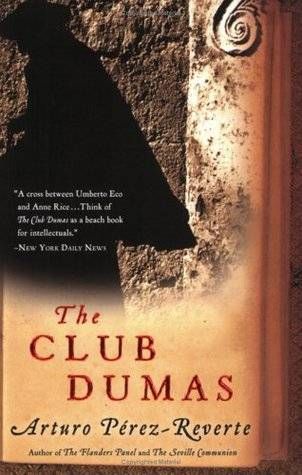 The Club Dumas: This is, as is perhaps suggested by the title, Perez-Reverte's most overt homage to the Dumas-worship that inspires so much of his writing (except for perhaps his Dantes-as-a-modern-woman spin in Queen of the South), and it's also his most famous. There was even a Polanski film (The Ninth Gate) based on it. (The book is better! *booknerd fist bump*). It centers on Corso, a dealer in rare books with a lot of wealthy clientele, whose willing to bend a lot of rules for his obsessive clients to get what they want. This book centers on the outcome of Corso's work for two clients: one who has him working on authenticating a supposed draft of The Three Musketeers, and the other, well- the other hires him to find perhaps the rarest book of all: the one authentic copy of a book that can actually summon the devil. As you might imagine, as Corso begins to push his inquires on these books, things quickly get deeply odd and increasingly dangerous. Lovers of Dumas will find plenty of homages to delight them, but those who haven't read them will have plenty of intrigue and mystery to sustain them.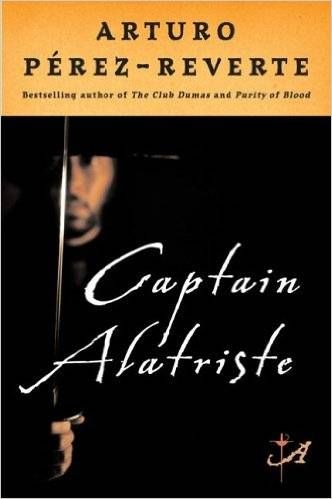 Captain Alatriste: At the other end of his spectrum of pulpy inspiration is Perez-Reverte's first installment in the adventures of Captain Alatriste. Captain Diego Alatriste y Tenorio is a mercenary soldier who once fought with Spain's armies in the Thirty Years' War, and now lives by his sword and his wits in 17th century Madrid. In this first installment (based on real life events of the period, as it turns out), Alatriste is hired by a shadowy conspiracy to attack some new arrivals to Madrid. As it turns out, these people are more important than he's bargained for, and the choice he makes that night has far-reaching consequences for both himself and Europe at large which follow him through the rest of the novel. This has echoes and homages of Cervantes and his beloved Dumas, but mostly this is a role that makes me sad that Errol Flynn in his full half-piratical glory isn't around to play. Swashbuckling and duels abound and if you like this one, there's several more books in the series to devour after it.
So go on! Get out of here and escape into these! It's the perfect, dark and shadowy time of the year to do it- not that there's a bad time of the year for these excellent adventures.