Pop Culture
Reading in Virtual Reality: The Good And Not-So-Good
This content contains affiliate links. When you buy through these links, we may earn an affiliate commission.
Last year, Book Riot took a look at some of the ways virtual reality and books can be combined. Well, after reading that article, I wanted to take a personal look myself and try out first hand the benefits (and drawbacks) of reading in Virtual Reality. So I booted up an HTC Vive, got a book, and got cracking!
To actually start reading in virtual reality, I used Bigscreen, which lets you use your desktop in a VR environment. The big benefit of this is I can use any book app I'd normally use on a computer, whether its Kindle, Kobo, etc, and then tilt and stretch the screen to my personal comfort.
The (Very) Good: Atmosphere
If you like playing music while you read to set the mood — this is the ultimate next step. Bigscreen lets you set the background to numerous different environments. So, I huddled up in my hammock, put on the headset, and found myself sitting by a cozy campfire at night, reading Stephen King's "The Boogeyman" from Night Shift.
And it was amazing.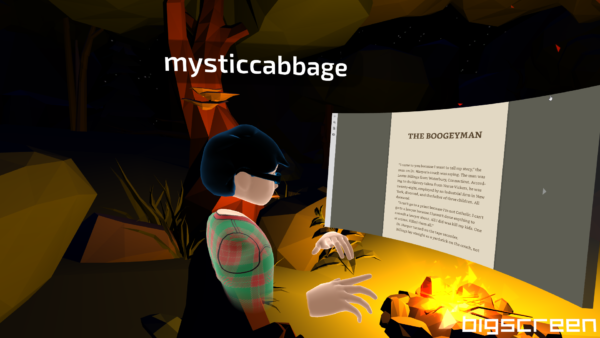 With the crackle of the campfire in the background, I surprised myself how easily I was drawn into the story. While the boogeyman slithered and tortured the poor narrator's children, I found myself occasionally peeking at the shadows and dark lit trees; I really felt alone and lost in the woods, and it was wonderful. I've read the horror story before, but now it felt new, fresh…and personal.
(And best of all, I got to go camping without the hassle of going outside. Huzzah!)
The good: (almost) distraction free
I doubt I'm the only one that is astoundingly easy to distract. As much as I love reading, my fidgety eyes will, without fail, drift around my apartment looking to bother something. Some of my best quality piano practice has come from abandoning a boring book just for a second, I promise.
Well, muscling through Walt Whitman's beautiful but…let's be frank…tedious masterpiece, Leaves of Grass, was a lot easier when doing it in Outer Space! Certainly nothing to bother me here.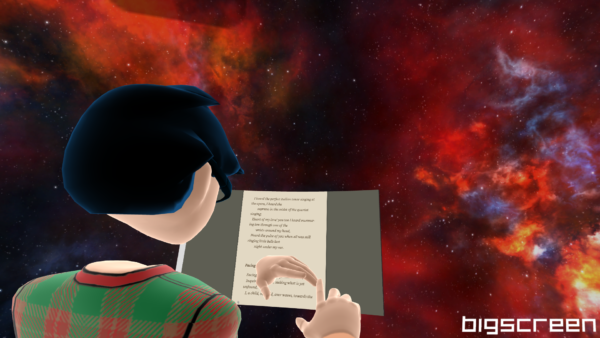 Plus, it just feels right. I'd like to think Whitman would be tickled by the idea of a bookworm curled up in the cosmos.
The Not-So-Good: You can totally still distract yourself
Getting the Vive all setup, there is the mighty temptation to just go ahead and use it for…you know…virtual reality games instead.
And since Bigscreen gives me access to all of my desktop apps, there is the equally mighty temptation to switch over to a theater environment and watch Youtube or a movie on Netflix…just for a second, I promise.
The not-so-good: that book is a headset on your face
Tinkering with the settings, the text quality was actually pretty good for my eyes. But it's still definitely not as crisp as a real book, obviously. And lack of eye-tracking is also problematic. As a test, I tried out reading Emil Ferris's graphic novel My Favorite Thing Is Monsters.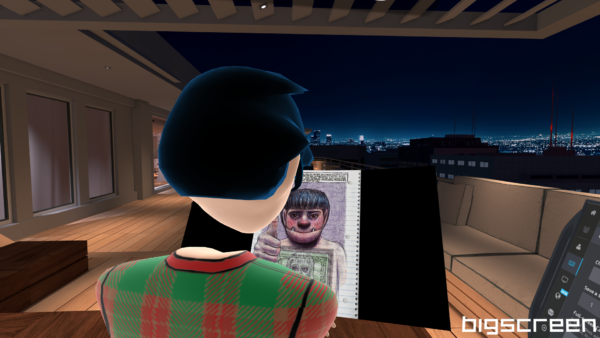 For the most part, reading in virtual reality worked out better than I thought, occasionally needing to move and stretch the screen or play with the fonts so it was all in focus and readable (without giving me a headache). But for a lot of people, it's a 1000% easier just to read the physical comic.
And while, for the most part, you don't even notice the headset after a while, it is always there. And kind of like when you think too hard about the fact your tongue is always in your mouth, your entire reading experience can be derailed when you remember that you have a computer screen strapped to your face.
The not-so-good: Practicality
If you don't have your VR device setup already, it's a bit of a technical hassle getting everything hooked in just to read a book versus…you know…picking up a book and opening it up, or turning on your ebook reader. And if you don't own a VR device, it is a thunderously expensive way to experience a book in a nifty way.
If you're the sort that prefers a real physical book over ebooks, this is definitely not for you…yet. There are efforts like Vivepaper to bridge that gap between tactile reading and virtual reality.
Conclusion
Yes, VR is not perfect yet, and reading in VR is definitely in its infancy. Nevertheless, I'm really excited about the future for virtual reality bookworms. Just an hour or two in another world made reading feel genuinely magical again. And that to me is worth all the hassle in the world, just for those small moments of being entirely lost, mentally and physically, in a book.
This is the sort of miracle I dreamed about as a little kid, and it's extraordinary to me that I'm now getting to live it. Have you tried reading in virtual reality?
Also In This Story Stream