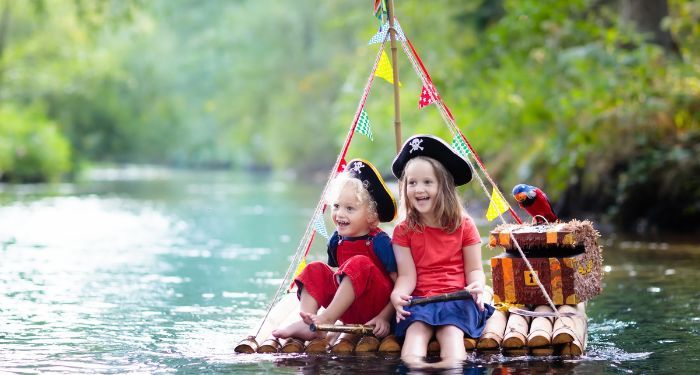 Children's
Ahoy, Young Mateys! 8 Picture Books about Pirates
This content contains affiliate links. When you buy through these links, we may earn an affiliate commission.
Picture books about pirates are very popular around these parts. No surprise that a favorite joke in this household is the classic: "What is a pirate's favorite letter?" Yup, even if you don't know the joke you can probably guess: "Rrrrrrrr!" Funnily enough, that still makes me chuckle even though I've heard it too many times to count.
Perhaps it varies from reader to reader, but pirates and pirate-inspired adventures do seem to remain popular among children's book fans. I assume it is the heady freedom and the playfulness that naturally seems to accompany the topic. Or maybe it's just the clothes and the gear, who knows, but pirates do seem to be a time-tested topic for kids to read about. So then, which titles could you and your little pirates-in-training enjoy most?
If you're a Neil Gaiman fan, you may already know about his Pirate Stew. And as I was searching for other titles, I came across a busy book for toddlers called Narwhals and Pirates, that I just basically wanted for myself, and also a fun looking graphic novel called Pirate Penguin vs Ninja Chicken by Ray Friesen, which I feel I would really enjoy (dropping subtle hints for any gift-givers in my life).
However, there are a lot of other titles out there if you're particularly interested in picture books to explore. Below are some of what I have stumbled across recently and I hope you find some of these as charming as I have.
That is my list for now, mateys. I can't believe I've made it this far without adding in some fake Pirate speak. That is obviously a missed opportunity I should rectify the next time I'm writing about pirate books. Anyway, I'll have to look for more pirate adventures to share as this has been such a pleasant topic to revisit just for my own enjoyment.
In the meantime, if you're looking for titles for older readers, check out these YA books for pirates for yourself or others. If you like those, also check out this quiz to figure out your next YA pirate book.