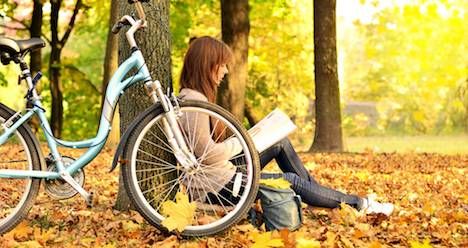 Lists
Peek Over Our Shoulders: What Rioters Are Reading On September 29, 2016
This content contains affiliate links. When you buy through these links, we may earn an affiliate commission.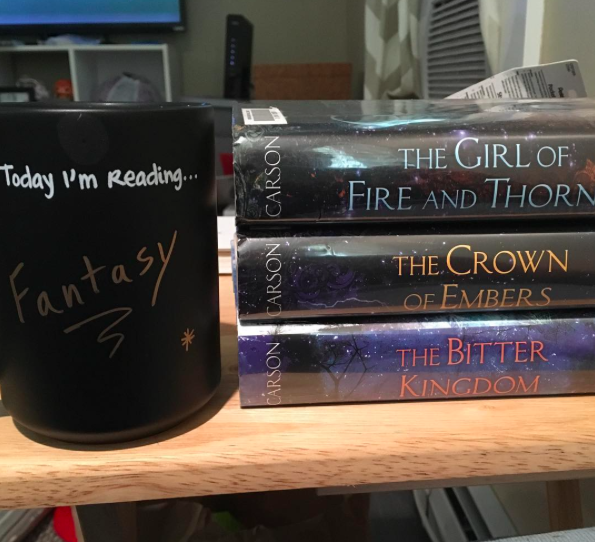 In this feature at Book Riot, we give you a glimpse of what we are reading this very moment.
Here is what the Rioters are reading today (as in literally today). This is what's on their bedside table (or the floor, work bag, desk, whatevskis). See a Rioter who is reading your favorite book? I've included the link that will take you to their author archives (meaning, that magical place that organizes what they've written for the site). Gird your loins – this list combined with all of those archived posts will make your TBR list EXPLODE.
We've shown you ours, now show us yours; let us know what you're reading (right this very moment) in the comment section below!
An Ember in the Ashes by Sabaa Tahir: Everyone I've run into has raved about this book, and I figured it was about time to finally sit down and join the club now that the sequel's out. (hardcover)
Commonwealth by Ann Patchett: Currently listening to this to review for Booklist. Normally this kind of book is so ubiquitous it seems like white noise to me, and I wouldn't be drawn to it, but then I read the synopsis when it landed on my door, and was actually intrigued, so I'm excited to see where it goes. (audiobook)
The Wangs vs. the World by Jade Chang: I first discovered this book on another blog and knew I had to read it. I love funny road trip novels. (ARC)
The Immune System Recovery Plan by Susan Blum, M.D.: An interesting book on getting to the root of autoimmune disease. I have a couple of family members with autoimmune diseases and I find this topic interesting. (Library Hardcover)
The Dollhouse by Fiona Davis: I spotted this on the Volumes app and went into it without even reading the blurb. From the first chapter I assumed it would be light chick lit, but it got intense pretty fast, so apparently I miscategorized it. (Audiobook)
Girls of Riyadh by Rajaa Alsanea: Fascinating book that has often been described as Sex and the City set in Saudi Arabia. It follows the stories of four women navigating the conservative social and religious mores of the kingdom in their search for love and status and desire. (Paperback)
13 Ways of Looking at a Fat Girl by Mona Awad: I don't actually remember where I first heard about this book, but I saw it was available on Hoopla and knew I needed to read it.(Audiobook).
Shadow of Night by Deborah Harkness: A good friend recommended the All Souls Trilogy to me ages ago and I finally got around to it. (Ebook)
Power and Identity in the Creative Writing Classroom by Anna Leahy: This one is for my pedagogy course in grad school. (Ebook).
The Last Days of Ptolemy Grey by Walter Mosley: Reading this in preparation for meeting Walter Mosley at Book Riot Live! (Paperback)
March, Book 1 by John Lewis, Andrew Aydin, and Nate Powell: Saw this on the long list for the National Book Award for Young People's Literature and knew I needed to read this graphic novel series. (Library Paperback)
Chains by Laurie Halse Anderson: I have been meaning to read this older middle grade trilogy about the Revolutionary War and finally picked this up at the library. (Library Hardcover)
Vengeance Road by Erin Bowman: Had a long bus ride to an event last week, and decided I needed some audiobooks in my life. First up, this delightful western from Erin Bowman. It's very much a True Grit-esque novel, with a character traversing a dark, violent landscape in search of justice. (Audiobook)
The Secret of a Heart Note by Stacey Lee: With a bit of magic and a lot of romance, Lee's latest focuses on a girl that can use her sense of smell to help bring people together. People love her for her gift… but if she uses it for herself, she'll lose her ability. It's gorgeous so far, which is no surprise. Lee is incredible. (ARC)
The Witches by Stacey Schiff. I found a $5 version copy in the Niantic Book Barn (a national treasure) and was delighted that I didn't have to wait for an affordable paperback. Read about 50 good pages before looking up Schiff, and then got sidetracked to….
Cleopatra by Stacey Schiff. Holy moly, is this book mesmerizing. I "just read one paragraph" and now I'm 150 pages through this bad boy. Now I'm in a Russian nesting doll of biographies!
Everfair by Nisi Shawl. I really, really feel like this book should be inducted into whatever SF/F canon we have. Just kick out some old dead white dude's work and replace it with this book. For real. Shawl has done a fantastic job of creating a truly engaging reimagining of an atrocious period in our history. The way she weaves between point of view characters, her use of simultaneously fresh and classical writing, and the complete and total regard of history and global politics in this reimagining makes this book a must read. Like, seriously. Everyone who claims to be a fan of fantasy, alternate history, or steampunk should read this book.
Shadow Ops: Breach Zone by Myke Cole. Breach Zone is the third and final part of Cole's Shadow Ops series and so far this is my favorite out of the three. I am now at a point in the book where I want to keep reading because it's so good, at the same time as I don't want to read too fast because then the book will end.
Commonwealth by Ann Patchett. This is my first Ann Patchett novel, and I picked it up because of some of my fellow Rioters' recommendations. I'd read the synopsis and had not found it intriguing, but decided to dive in regardless– and it's been quite an unexpected ride at 20% in! There's some very wry humour, which I wasn't expecting, which is just hitting the right spot for me.There's also some long-winded narration and stories, which I would never have thought was my thing, but turns out I love it. I'm not sure I've ever experienced anything similar to her writing before, and can't wait for more. (Digital review copy)
Scratch by Manjula Martin: I was such a fan of Scratch, the online magazine about the intersection of writing and money (RIP Scratch), that when I heard about Martin's forthcoming book, I nearly peed myself from excitement. (Paperback ARC)
Noblesse Oblige by Cynthia Smith: A book I enjoyed in high school that I found on my mom's shelves. (paperback)
Neuromancer by William Gibson: I have an abiding love of cyberpunk movies but haven't read many cyberpunk books. Why not start with the godfather of the genre? There's weird retro sci-fi sexism going on here, but the live-wire dialogue jolts a fascinating universe to life. (paperback)
Darling Days by iO Tillett Wright: This coming-of-age memoir about a hard-scrabble family life and gender identity questions in 1980s New York was all over Book Expo America, and I've been looking forward to reading it ever since a galley jumped into my tote bag. (ARC)
You Can't Touch My Hair by Phoebe Robinson: We're in the final countdown to Book Riot Live (what?!), and I'm loving this collection of hilarious, smart, feminist-as-fuck essays. (ARC)
American Gods by Neil Gaiman: I'm rereading this for the first time since 2002 to prep for the upcoming TV series. (eBook)
New Gods by Jack Kirby and Vince Colletta: A hugely-influential comic series from the early 1970s that I've somehow never read (in part because it's been OOP). (Comixology)
A Distant Soil, Vol 2: The Ascendant by Colleen Doran: I loved the first volume of Doran's space fantasy and have been itching for more. (Paperback)
The World in Flames: A Black Boyhood in a White Supremacist Doomsday Cult by Jerald Walker: With a title like that one, who could resist? So far, it's fascinating. (ebook)
Pond by Claire-Louise Bennett: Ten pages in, I'm intrigued by this book about consciousness. I love to read a book now and then where nothing happens. (Library hardcover)
Necessity by Jo Walton. This is the third book in Walton's Thessaly trilogy, which is all about a group of people from different places and times who are brought together to start a society built on the ideas in Plato's Republic. I loved the first two and have been excited to read the final installment. My library didn't get a copy when it was first published, but they ordered it after I requested it, so now I finally get to read it! (library hardcover)
Just Mercy: A Story of Justice and Redemption by Bryan Stevenson: I put this on my library hold list as soon as I realized that a ton of colleges selected it as their common reading for the class of 2020. I requested it in mid-August and only just now got it, so I'm excited to see what it's all about.
Hell On Wheels by Rhyll Biest: An arranged marriage between a princess of Hell and a bastard warrior out for revenge against the princess' warmongering brother! Plus, there are promises of a demon roller derby bout. Hell yeah! (digital ARC)
The Girl of Fire and Thorns by Rae Carson: Continuing an epic fantasy binge! (Library Hardcover)
Of Fire and Stars by Audrey Coulthurst: A lesbian princesses YA fantasy book?? How could I resist? I've only just started this one, but I love the fairy tale style writing so far. (digital ARC)
Smarter, Faster, Better by Charles Duhigg. Started walking to work and needed something to listen to. I really liked Duhigg's previuos book, The Power of Habit, and decided to give this a try. Excellent so far. (Audible)
Shoggoths in Bloom by Elizabeth Bear. Liz Bear is a true talent and this might just be one of the finest collections of sci-fi/fantasy short stories out there. (Paperback)
Chronicle of the Murdered House by Lucio Cardoso: It's been a bit slow going, but I'm engrossed by this story of a Brazilian aristocratic family in decline and the beautiful young woman who marries into it. The plot is filled with scandals, secrets and skeletons – all on a gorgeously crumbling estate.
Common Ground in a Liquid City: Essays In Defense of an Urban Future by Matt Hern: Urbanism and the urban lifestyle appears to be having an extended moment. The benefits of living in cities, social and environmental, have always appealed to me. Hern uses his home city of Vancouver as a test subject, comparing it to other cities around the world, opening up all kinds of ideas and discussions. I'm really enjoying it, partly based on his obvious enthusiasm for the topic.
Incensed by Ed Lin: A crime novel set in Taiwan—gimme, please! (egalley)
The Last Days of Jack Sparks by Jason Arnopp: I wanted this from the cover/title, then found out it was a book within a book and HAD to have it. (ARC)
Trainwreck: The Women We Love to Hate, Mock, and Fear… and Why by Sady Doyle: I am here for any book that discusses the treatment of women. (audiobook)
Paper Girls #9 by Brian K. Vaughan, Cliff Chiang, Matt Wilson: I love this series and am trapped in the want to read it all right now but don't want to catch up and have to wait. (single issue)
The Dragon Princess by E.D. Baker: Baker is a fantastic, humorous fantasy author who understands how to be tongue in cheek.
Swing Time by Zadie Smith (Penguin Press, Nov. 15): My first Zadie Smith! (No, I don't know how that happened, either.) (galley)
Norse Mythology by Neil Gaiman (W.W. Norton, Feb. 17, 2017): MWUAHAHAHAHAHAHAH!!!!!! (galley)
4 3 2 1 by Paul Auster (Henry Holt, Jan. 31, 2017): So excited for a new Auster, especially when it's almost 900 pages of new Auster! (galley)
A Change of Heart by Sonali Dev: This was pitched to me as "a love story, plus black market organ harvesting." Of course I had to read it. (galley)
The Next Together by Lauren James: Katherine & Matthew are constantly being born again, destined to try and save the world and be together at the same time. A sleek YA novel about time travel, love, the end of the world and all the stuff that is in between.
The Summer Before the War by Helen Simonson: I was in the mood for a bit of charming, thoughtful, and English historical fiction. This little gem about the lead up to World War One, from the author of Major Pettigrew's Last Stand, is definitely fitting the bill. (ebook)
The Birth of Korean Cool by Euny Hong: I'm on a bit of a nonfiction kick, and this book on Korean pop culture and world influence is exactly my kind of book. (Paperback)
The Magic Words by Cheryl B. Klein: Nonfiction again, this time about writing/editing children's and YA books. Klein is one of my very favourite editors, and I really enjoyed her previous book Second Sight. (Paperback)
Run by Kody Keplinger: I was given a copy of this YA novel a few weeks ago, and after the way this week has played out, I think it's about time I get to reading it. (Hardcover)
When the Moon Was Ours by Anna-Marie McLemore: I have been hearing a lot about this book lately, and I was in the mood for some gorgeous writing and magical realism. (eARC)
Behrouz Gets Lucky by Avery Cassell: this was a random buy at my local indie feminist queer solar-powered bookstore, and came out of my unfulfilled #diverseathon stack. But come on, a sixty-year-old genderqueer half-Persian super-sex-positive narrator? Yes please! (Paperback)
The Secret Sky by Atia Abawi: that cover! I am looking forward to reading a love story couched in cultures with which I am unfamiliar. (And I am happy I found a novel that takes place in the Middle East that has a HEA. I think.) (Hardcover)
Charlotte Brontë: A Fiery Heart by Claire Harman: Fall is Brontë season; I will brook no arguments. The misty moors, the gales, and the bittersweetness of the season are all a perfect fit. This one has been on my TBR for a while now (hey there Read Harder biography requirement!) and it feels just autumnal enough outside to lose myself in the life of Charlotte Brontë (ebook)
Monstress by Marjorie Liu and Sana Takeda: I have been longing for this one for ages, but held back until it was out in trade and I can wait no longer. The combination of the monstrous feminine, multi-tailed cats and utterly breathtaking artwork mean this was basically a forgone conclusion for me. (trade)