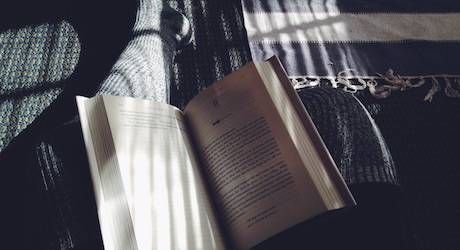 Lists
Peek Over Our Shoulders: What Rioters Are Reading on February 16, 2017
This content contains affiliate links. When you buy through these links, we may earn an affiliate commission.
In this feature at Book Riot, we give you a glimpse of what we are reading this very moment.
Here is what the Rioters are reading today (as in literally today). This is what's on their bedside table (or the floor, work bag, desk, whatevskis). See a Rioter who is reading your favorite book? I've included the link that will take you to their author archives (meaning, that magical place that organizes what they've written for the site). Gird your loins – this list combined with all of those archived posts will make your TBR list EXPLODE.
We've shown you ours, now show us yours; let us know what you're reading (right this very moment) in the comment section below!
---
Liberty Hardy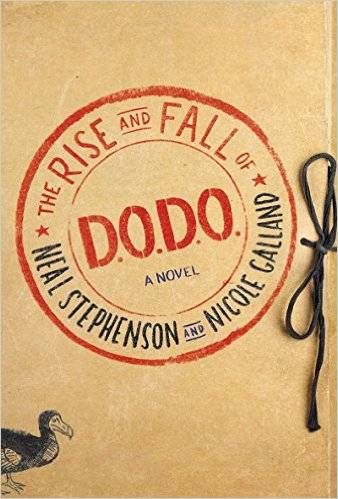 Little Fires Everywhere by Celeste Ng (Sept. 7, Penguin Press): HELL YES. It's about a woman and her daughter who move to a new town and make friends, but seem to be harboring secrets. So excited for this! (galley)
The Rise and Fall of D.O.D.O. by Neal Stephenson and Nicole Galland (June 13, William Morrow): This novel claims to offer "history, science, magic, mystery, intrigue, and adventure" is one place! And I love Neal Stephenson. (e-galley)
Howl's Moving Castle by Diana Wynne Jones: Somehow I have made it through life without having read this???? And didn't know there was a movie??? FIXING IT. (paperback)
Ghachar Ghochar by Vivek Shanbhag (Author), Srinath Perur (Translator): So far, this is a marvelous little novel about a family in India whose fortune changes when a family business takes off. (paperback)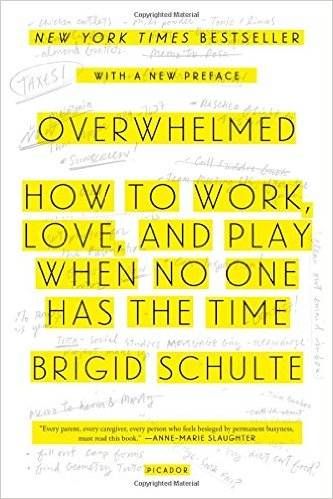 Overwhelmed by Brigid Schulte: Because, as the work-at-home, refuses-to-pay-for-child-care mother of a toddler, I am officially overwhelmed. (Ebook)
Don't Just Do Something, Sit There by Sylvia Boorstein: I'm taking this book (about how to create your own mindfulness retreat) with me on my long weekend trip up to Kripalu. (Paperback)
Six Four by Hideo Yokoyama: Give me a Japanese crime novel any day forever and ever please. (Audiobook)
Magpie Murders by Anthony Horowitz: Agatha-Christie-esque, goes nicely with a cup of tea. (egalley)
Son of a Trickster by Eden Robinson: I was THRILLED to receive a review copy of this book, as Eden Robinson is one of my all-time favourite writers and she hasn't published any fiction for many years. I am obviously LOVING it. (Hardcover)
Midnight Riot by Ben Aaronovitch: A friend recommended this on audio as a great British mystery with magic and interesting content about race. So far it is everything she said it was! (Audiobook)
History is All You Left Me by Adam Silvera: I really want to love this YA book, which I received in the February My Lit Box, but I just don't. The dialogue doesn't read as believable to me at all and the parts of this book that are supposed to be emotionally charged (read: all of them) just aren't hitting me. (Hardcover)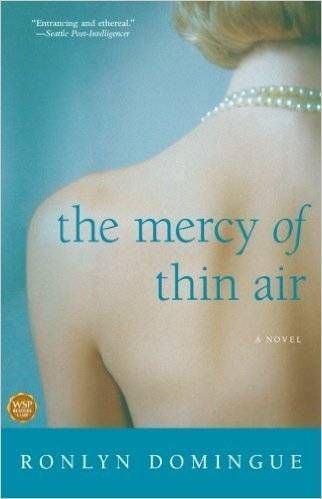 The Mercy of Thin Air by Ronlyn Domingue: This book came with the February Thrifty Books box and so far I'm enjoying it. It's a story that follows a woman's life / afterlife over a good 150+ years, mostly through sometimes-confusing flashbacks. I wish this book had been organized differently, but for fans of a good love story and lush writing, I'm sure it would be a hit. (paperback)
The Voysey Inheritance by Harley Granville-Barker. I'm reading this play for a class I'm taking at the University of Iowa called "Dirty Sexy Money: Class, Commerce, and Desire in Modern British Drama," which is pretty fantastic, I must say! This play has some of the most interesting stage directions I've seen, though I'm not particularly well versed in drama, modern British or otherwise. (paperback)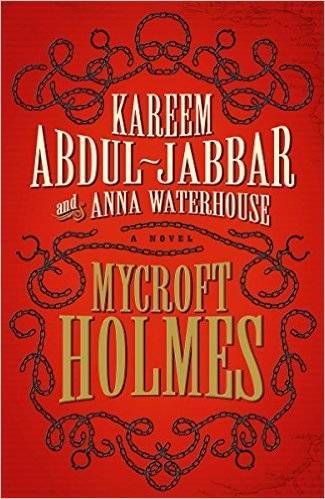 Mycroft Holmes by Kareem Abdul-Jabbar & Anna Waterhouse
I am continuing my Sherlock-themed reading series with a story that focuses on the elder of the Holmes brothers.We know what to expect from Sherlock or a Sherlock like character; it will be interesting to see how Mycroft differs (or doesn't). (Paperback)
Archie Vol. 1: The New Riverdale by Mark Waid, Fiona Staples, Annie Wu, and Veronica Fish
Jughead Vol. 1 by Chip Zdarsky and Erica Henderson
I never really read any of the Archie comics growing up (or any comics really) but now I'm watching the new teen soap Riverdale so it seemed like a good time to give it a try. A work colleague raved about Jughead in particular (and is not watching Riverdale because its Jughead is different from the comics) so definitely had to give that one a try. (Trade Paperback)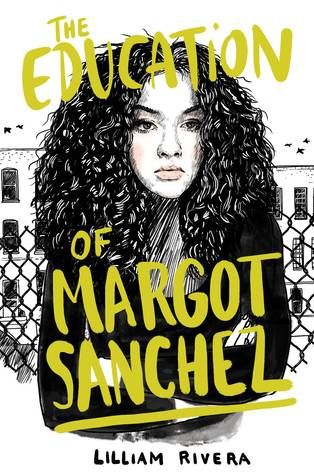 The Education of Margot Sanchez by Lilliam Rivera: I love a good YA contemporary novel about teens feeling out of place, and trying to figure out where they fit in. And that's what's happening in Rivera's debut novel, a really lovely story about a girl forced to work in her family's supermarket to make up for racking up credit card debt… using her father's card. She has an image to maintain at her school, and working in the market does NOT gel with it. It feels a bit like Charlotte Huang's Going Geek, and I'm really adoring it. (ARC, Out February 21st with Simon & Schuster)
1984 by George Orwell: I'm on a dystopian novel kick right now for obvious reasons. I realized that I'd never actually read 1984 and we have a copy on the shelf so I decided to pick it up. My partner and I are reading at the same time, and will discuss when we each finish. So far, it's terrifying and I have the feeling that it's only going to make me more anxious. (Paperback)
The Amazon Way: 14 Leadership Principles Behind the World's Most Disruptive Company by John Rossman: I love business books, especially books on employee culture and management. I have friends who work at Amazon and I know they work very, very hard but I was curious to know more about the company, beyond what I just see when I'm ordering items or watching things via Amazon Prime. I'm almost done with this book and I find it absolutely fascinating. There are principles that I think would be great to apply not only to my current job, but in life in general. (ebook)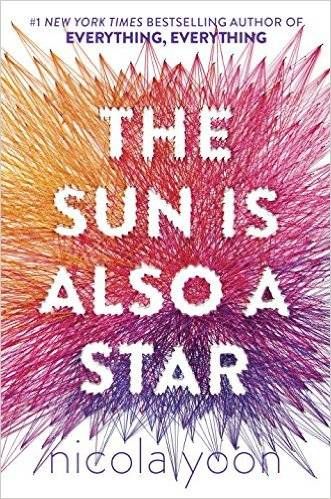 The Sun is Also a Star by Nicola Yoon: I'm so glad Nicola wrote this story for today's world. I only wish I would have read it sooner. (Overdrive audiobook)
Dealing with People You Can't Stand by Dr. Rick Brinkman & Dr. Rick Kirschner: I saw this in the nonfiction section of Overdrive and the title spoke to me. That's all I can say without getting into trouble. (Overdrive audiobook)
We Are Okay by Nina LaCour: I was so excited the publisher offered me an early review copy of this book! I loved Everything Leads to You so I can't wait to get started on this one. (audiobook)
The Bourbon Thief by Tiffany Reisz: I asked twitter what I should listen to next and Tiffany tweeted at me right away. I have a hard copy of this book, but haven't got to it yet, so now I'm listening to it! (library audiobook)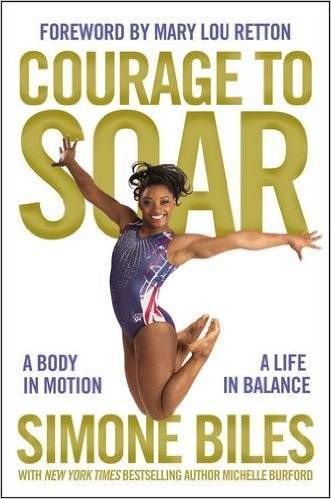 Courage to Soar: A Body in Motion, A Life in Balance by Simone Biles: As a former gymnast, I love reading first hand accounts of amazing gymnasts. I'm loving this autobiography, a great read for teenagers and older who want to learn more about this incredible woman.
The Evolution of Calpurnia Tate by Jacqueline Kelly: I've been meaning to read this book for awhile, and when I finally got it from the library I read one chapter and immediately bought it from my indie bookstore. I knew I needed a copy for myself! Now I'm reading the library book and my daughter is reading our copy, and we're having fun enjoying it together.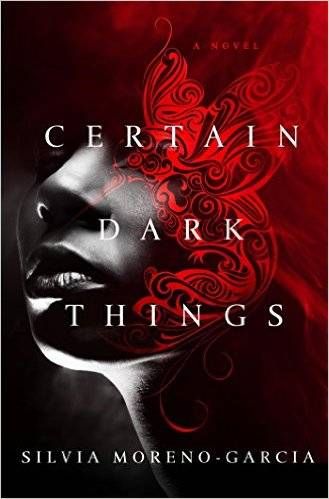 Certain Dark Things and Signal to Noise by Silvia Moreno Garcia: Silvia is one of the best writers to tackle SFF, to discuss living among vampires or exploring the power of music. Certain Dark Things portrays Mexico City as a hub spot for Aztec blood drinkers to get their blood fix while avoiding gang wars. Instead of a male vampire seducing a hapless teenager, a vampire on the lam sucks blood from a garbage kid.
Signal to Noise is about how a teenager finds that certain vinyl records have magic. She may get busted for skipping class, but Meche soon finds that she can wield power over her destiny, to help her friends and family get better lives.
The Presidents Club: Inside the World's Most Exclusive Fraternity by Nancy Gibbs: It's been fun to learn more about history and the government without engaging in the current political situation. (Audiobook)
History Is All You Left Me by Adam Silvera: I wasn't sure if I wanted to read a book with such a sad premise right now, but the overwhelmingly positive buzz I've heard about this story won me over. I'm glad. It's sad, but that's not all. I think I'm feeling all the emotions while reading this one. (Hardcover)
March: Book One by John Lewis, Andrew Aydin, and Nate Powell: I've been wanting to read this since the National Book Awards and have been on the waiting list since at my local library. I'm relatively inexperienced when it comes to graphic novels but am very excited to be reading this one! (Paperback)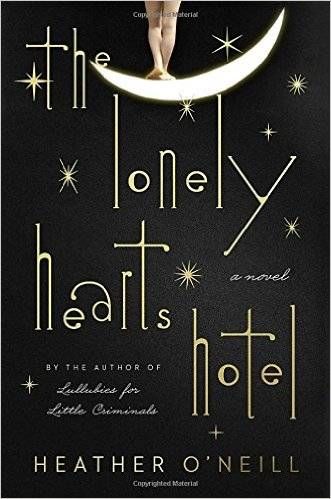 The Lonely Hearts Hotel by Heather O'Neill: I received this galley in the mail the other day and, quite simply, I couldn't resist the cover, the title, or the description. (Galley)
Queen of Spies by Paddy Hayes: I've had this in my pile for almost a year now and I feel awful that I didn't get to read it before it was published. But I've decided to try to read more nonfiction this year (and, specifically, more nonfiction about spies), so Paddy Hayes's recounting of the life and career of Daphne Park, a British SIS officer who served in various capacities through World War II and the Cold War, fits the bill perfectly. (Galley)
Rolling Blackouts by Sarah Glidden: In 2010, Glidden set out on a trip to the Middle East with three friends—two independent journalists and an Iraq War vet—in order to connect with the people living there. Along the way, the group spoke to travelers, locals, government officials, and refugees, and Glidden found herself pondering enormous questions, from America's involvement in the Middle East to ethics in journalism and how best to present a news story. Rolling Blackouts is teaching me some things—but more importantly, it's making me think. (Hardcover)
The Three-Body Problem by Liu Cixin: I have heard such wonderful things about this book. It won the Hugo Award for best novel, there are aliens in it, and Obama gave it a shout-out. I really enjoy books in translation, and am big on Science Fiction and/or Speculative Fiction. I say and/or because nothing feels Speculative anymore… I'm about forty pages in and am already enchanted. (Paperback)
The Princess Diarist by Carrie Fisher: I admit that I'm very, very late to the Carrie Fisher appreciation party, but after her passing, I learned a lot about her and wanted to learn even more. I've finally got ahold of her book, and am really looking forward to it! (hardcover)
Exit West by Mohsin Hamid: This seemed like a particularly good time to read a beautiful, humane, strange book about refugees. (egalley)
Schadenfreude: A Love Story by Rebecca Schuman: A comic memoir from one of the funniest, sharpest writers around? And it's about Germany and love and coming of age as a great big awkward nerd? Sign me up. (galley)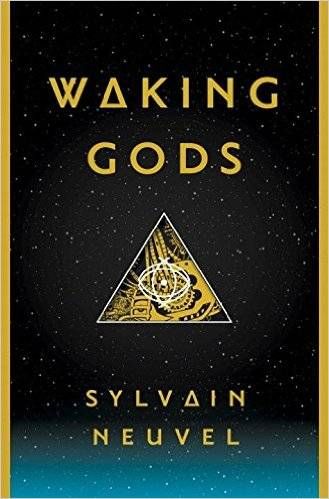 Waking Gods by Sylvain Neuvel: I got several copies of the first book in the Themis Files series from a publicist. I finally decided to read it when I got the second (or maybe third) copy of the book, and boy am I glad I did. I gobbled up Sleeping Giants in a day and a half, and was lucky enough to have the ARC of the second book, Waking Gods with me as well. Excellent read, fast-paced, fascinating, stay-up-all-night kind of book. (Advanced Reader Copy)
Grace by Natashia Deon: I bought this book when I heard the author read at University of California-Northridge in Los Angeles in November, 2016. The author signed it, and is an absolute sweetheart, and I am so excited to finally get to read this book, which has been sitting by my bed since then, aching to be opened. (Hardcover)
The Autobiography of Malcolm X by Malcolm X: So excited to finally be reading this for the social justice book club (ebook)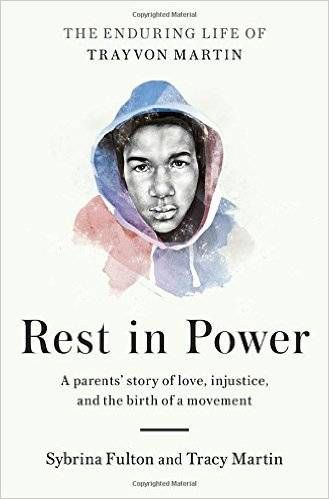 Rest in Power: The Enduring Life of Trayvon Martin by Sabrina Fulton and Tracy Martin. I just started this and I'm simultaneously looking forward to and dreading this book. I can't imagine the pain that Trayvon's parents have experienced. I'm amazed by their ability to channel their deep love for their son into action. (audio)
Born a Crime by Trevor Noah: For a readalong I'm hosting at Book Bloggers International. (hardcover)
A Crown of Bitter Orange by Laura Florand: New Laura Florand novel! (ebook)
A Walk in the Woods by Bill Bryson: I'm not usually a travel memoir sort of reader, but this book has been recommended so many times that I finally decided to give it a go. Quickly realized that this was EXACTLY the type of book I needed to read – funny, compelling, and it even prompted me to start researching outdoor-style weekend getaways for my boyfriend and me! Plus it fulfills a Read Harder challenge! (audio)
Circling the Sun by Paula McLain. I did not read The Paris Wife and this is not normally the type of book I'd pick up on my own… but I'd do anything for my beloved bookgroup. And so far, I'm realizing that my distaste for the cover and my subsequent judging of the book was premature and completely incorrect. This is the perfect book to read after Elizabeth Warren "nevertheless (she) persisted." Books about bad ass ladies is exactly what I need right now. (paperback)
Wonder Woman: Warbringer by Leigh Bardugo: It's Leigh Bardugo's new YA novel about Wonder Woman. When somebody hands you an advance reader's copy of Leigh Bardugo writing Wonder Woman, you stop what you're doing and read it. It's law, or something. (galley)
Final Girls by Riley Sager (Dutton, 7/11/17): I saw that Stephen King praised this story about sole survivors of "horror-story scale massacres" and was instantly sold. It's allowing me to indulge in my love of 80's slasher films with a modern spin. (e-gally)
Shaking a Leg: Collected Journalism and Writing by Angela Carter: I stumbled on this at Powell's during my last visit. I had no idea Carter was such a prolific non-fiction writer. Now I read one essay or so a night before bed; it's a thick book, but her topics vary wildly so I don't mind if it takes all year to finish. (paperback)
A Gathering of Shadows by V.E. Schwab: Because A Darker Shade of Magic emotionally wrecked me and I'm trying to prepare myself for the third book's release on Friday. (Hardcover)
Bad Feminist by Roxane Gay: Because I finally found the copy I bought last year but lost so I didn't have a chance to finish reading it. (Paperback)
All Grown Up by Jami Attenberg: A unique spin on the girl-in-the-city stories; a smart, insightful book about family, finding oneself, and growing up. (galley)
Negroland by Margo Jefferson: Margo was one of my professors, and I've been meaning to read this forever. (paperback)
What We Do Now: Standing up for Your Values in Trump's America by various authors: self-explanatory.
This Close to Happy: A Reckoning with Depression by Daphne Merkin: I'm a sucker for a good memoir, especially about subjects that hit close to home. (hardback)
Dear Ijeawele, or a Feminist Manifesto in 15 Suggestions by Chimamanda Ngozi Adichi: I picked this up because I love Adiche's work (egalley)
One Hundred Nights of Hero by Isabel Greenburg: I keep hearing amazing things about it, and hey, everyone was right! (hardback)
The Bone Witch by Rin Chupeco: Girl discovers she is a necromancer when she accidentally raises her brother from the dead. I mean, that sounds amazing. (egalley)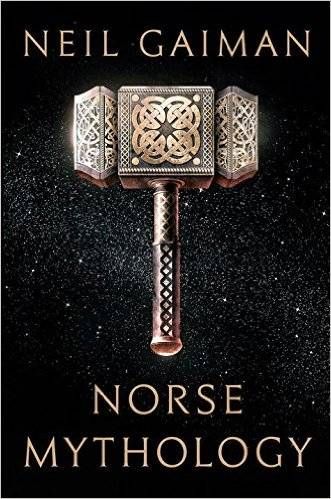 Norse Mythology by Neil Gaiman. It just came out this week and of course I'd preordered it. I also teach mythology so I'm likely going to use this as a secondary text or alternative suggestion for some students, if it holds up well. (Hardcover)
I'm also reading Black Man in a White Coat by Damon Tweedy. It's for a book club. I'm only on chapter one but am liking it well enough so far. (Audio book).
As the Red Carnation Fades by Feyza Hepçilingirler. This is a feminist book set in 1980s Turkey, when in the aftermath of a military coup and a crackdown on leftist thought, a mother of two and university lecturer finds herself suspended from work and exiled to a Black Sea coastal city for her teachings. There she struggles to figure out a way to negotiate what a patriarchal society expects from her as a mother and her desire to be an independent free thinker with ambitions of her own. I've been trying to read more books by women from the Middle East and Turkey as part of my own education and as part of familiarizing myself with Turkish society, as I'm now based in Istanbul as a correspondent.
Teresa Preston
Cruel, Beautiful World by Caroline Leavitt. I'm trying to read books on my lunch breaks instead of falling down internet rabbit holes, and reading books on my phone means not having to carry heavy books to work, so I'm using the time to catch up on e-galleys I never got around to. This one is pretty absorbing so far!
Who We Be: The Colorization of America by Jeff Chang. I'm trying to educate myself by reading more books about race in America, and several people recommended this to me. It focuses on the post-Civil Rights era, which means a lot of it took place in my lifetime, and I'm finding it interesting to revisit some of these events with a different lens.
Homegoing by Yaa Gyasi. I'm trying to read as many competitors in the Morning News Tournament of Books as I can. Once I finish this one (which I've barely started), I'll only have four to go!
Unbound by Ann E. Burg: I picked up this book at the fabulous Books of Wonder during a trip to NYC last year, because although I was on a book buying fast in 2016, everyone knows books bought on vacation DO NOT count. Thank goodness for that loophole, because although I've just started to dive into this novel in verse, I am already thoroughly engrossed by the voice of Grace, a slave girl who has just started working in the Big House. (Hardcover)
Octopus Pie Volume 1 by Meredith Gran: I don't know about you, but I am in deep need of some simple, slice of life comics to read. I can't remember where I first heard about Octopus Pie, but it was probably an employee recommendation from my local comic book store. I was browsing the library comic shelves this week and noticed volume one sitting there, just waiting for me to check it out. I'm looking forward to meeting these characters and winding down with some simple humor in the evenings after work. (Paperback)
The Fortunes by Peter Ho Davies: I'm always down for interconnected stories, and Davies' novel ties together the Chinese American experience through four different storylines.
History of Wolves by Emily Fridlund: Bleak Minnesota landscapes and hypnotic narration characterize this captivating debut novel driven by an impending sense of doom.
About A Boy by Nick Hornby: Sometimes, when the world is bleak, you just need a reliably witty and warm novel by Nick Hornby.
My (Not So) Perfect Life by Sophie Kinsella: This is exactly what I needed. I'm not really a series person so I've only read a few of the Shopaholic books, but I love Kinsella's standalones. So far, this one does not disappoint! It's the perfect thing to cheer me up this dreary, wintery week. (Hardcover)
Jesus Feminist by Sarah Bessey: Because my Jesus is one radical dude; my Jesus is a feminist. So far loving how Bessey tackles commonly held misconceptions and misunderstandings of the intended role of women. (Paperback)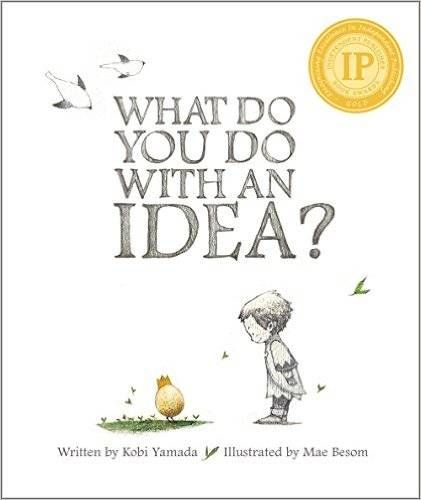 What Do You Do With An Idea by Kobi Yamada and illustrated by Mae Besom: I'm putting together a care package for a friend's kid that's all social justice and radical history kids books. Although this is a more conceptual part, I picked this up and loved how it gets kids (and adults) to think about what they know even before they know it.
The Animators by Kayla Rae Whitaker: Complicated female friendships? Dark imagery? Artists being their worst and best selves? Sign me up. Which is what I literally did in this case because it was my Book of the Month pick.
Black Reconstruction in America, 1860-1880 by W.E.B. DuBois: I've been reading a few pages of this a day, a kind of a daily devotional to American history (in content and practice).
The Unbeatable Squirrel Girl, volumes 1-3 by Ryan North (story) and Erica Henderson (art): I used to be a gritty superheroes kind of gal (I started reading capes and tights comics because of Batman), but lately I've been suffering from grimdark fatigue. If you're looking for a whimsical, self-aware, and meme-worthy superhero, this book is positively perfect in every way. (library paperbacks)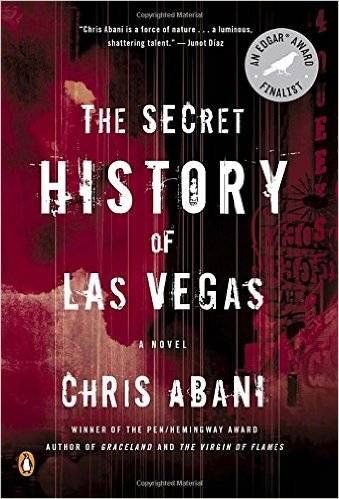 The Secret History of Las Vegas by Chris Abani: I've been wanting to read this for a while so I moved it up on my list because I'm in the mood for anything labeled "gritty." Eight chapters in and super glad I finally started reading it. (audiobook)
If We Were Villains by M. L. Rio: I read two fantastic mystery debuts recently from Flatiron so this was a must read. (ARC)
Lucky (A Detective Jack Yu Investigation #5) by Henry Chang: Chinese detective in Chinatown, yes please! (egalley)
My Favorite Thing is Monsters by Emil Ferris: Set in the '60s, with a murder mystery, and B-movie iconography—this sounds amazing and I had to have it! (egalley)
The Chilbury Ladies' Choir by Jennifer Ryan. I've been paying more attention to British books this year, and this one seemed right up my street. It is! If you like Downton Abbey and/or The Guernsey Literary and Potato Peel Pie Society, you'll likely love it. It's great. And out this week in the US! (digital galley)
The Underground Railroad by Colson Whitehead: I snagged tickets to see Colson Whitehead speak in Chicago, but had yet to pick up his award-winning book. Events like these are so much better when you're an informed reader. I can't wait! (hardcover)