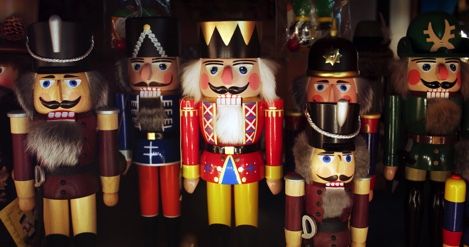 Fiction
22 Nutcracker Retellings For Children, Teens, and Adults
This content contains affiliate links. When you buy through these links, we may earn an affiliate commission.
The story we know today as The Nutcracker was first written in 1816 by German author E.T.A. Hoffmann. The story became a holiday classic after the Russian composer Pyotr Ilyich Tchaikovsky set it to music to create a ballet in 1892. A new movie version premiered this year, and new Nutcracker retellings regularly arrive in bookstores and libraries every holiday season.
This story of a young girl's adventure in a magical world with a brave wooden soldier has fascinated and inspired artists, composers, and audiences for almost two hundred years. These recent Nutcracker retellings prove that the story continues to appeal to readers of all ages.
Nutcracker Retellings for the Very Young
Starring an adorable toddler ballet class, this endearing companion to former dancer Rachel Isadora's Bea at Ballet pares down the classic ballet to its most basic, child-friendly elements, making it perfect for preschool audiences.
In twelve needle-felted scenes and twelve child-friendly words, each book in this ingenious series captures the essence of a literary masterpiece. In this Nutcracker retelling, marvel at Maria's favorite gift, cheer as she defeats the Mouse King, and journey to the magical Land of Sweets. It's a festive first words primer for your literary little one!
Hello Kitty loves her new nutcracker. When she visits the toy after everyone has gone to sleep, she finds sees all of the toys in Grandpa's workshop have come to life, including her beloved nutcracker!
This board book features soldiers marching, mice prancing, snowflakes swirling, dolls bending, and buffoons skipping as a way to introduce basic movement terms to babies and toddlers.
Picture Book Nutcracker Retellings
Based on Byrd's jazzy ballet, this is the story of the recently widowed Clara, whose fear and despair on Christmas Eve melt away during a fantastical journey back in time with the ghost of her beloved husband.
The Nutcracker by E.T.A. Hoffmann, adapted and illustrated by An Leysen
When Clara receives a wooden soldier from Uncle Drosselmeier, she falls in love with his big, kind eyes. That night, she learns that her new friend used to be a brave soldier who fell in love with a real princess…
The Nutcracker by New York City Ballet, illustrated by Valeria Docampo
The storyline and illustrations of this picture book are inspired by the choreography and set design of the New York City Ballet's famous production, as choreographed by George Balanchine.
Inspired by Marius Petipa's sets for the original production of the ballet, this book's silhouette illustrations dance across pale, watercolor-washed backgrounds in a unique interpretation. This keepsake edition evokes all the magic and anticipation of Christmas Eve–and culminates in a pop-up finale that brings the story to life.
The Nutcracker by E.T.A. Hoffmann, adapted and illustrated by Lisbeth Zwerger
This Nutcracker retelling rounds out the story depicted in the ballet. In pictures filled with wit and whimsy, drama, mystery, and magic, Lisbeth Zwerger transports us to the darkest reaches and brightest beauty of this fairy-tale world.
With breathtaking painterly illustrations, a deeply enchanting story, and a foreword written by celebrated dancer Misty Copeland, this picture book brings the recent film The Nutcracker and the Four Realms to life in a brand-new way.
The Nutcracker in Harlem by T.E. McMorrow, illustrated by James E. Ransome
In this original retelling, set in New York City during the height of the Harlem Renaissance, one little girl finds her voice as a musician thanks to her enchanting adventures with a magical toy.
It is a cold and rainy evening when Gran gives her granddaughter something special: tickets to the ballet. As the curtains rise on The Nutcracker, the girl's eyes light up as she's introduced to the magic of the theater. The bright costumes, the intricate dances, the magical music, and a new friend all combine to captivate the girl and to bring color to an otherwise dreary evening.
Zombelina and her friend Lizzie are dancing in The Nutcracker. Young dancers and readers will love this family-filled, friendship-inspired picture book that brings Zombelina home for the holidays in another scary-good story!
Nutcracker Retellings for Middle Grade and Teen Readers
When Georgie is cast as Clara in The Nutcracker, it's not at all as she'd hoped. Her best friend won't talk to her, her grandfather is in the hospital, and every time she holds her teacher's antique nutcracker in her arms while she dances, she goes somewhere else…somewhere with massive Christmas trees, a three-headed mouse king, and row of toy soldiers bigger than her.
This novels both retells the story of The Nutcracker and the Four Realms film as well as expanding upon the story with brand-new content, complete with beautiful full-page chapter opener illustrations.
The Nutcracker Mice by Kristin Kladstrup, illustrated by Brett Helquist
A young mouse must save her production of The Nutcracker in this charming holiday tale. Sweet and inventive, this ballet fantasy features artwork by beloved illustrator Brett Helquist, old-fashioned drama, and just a touch of holiday magic.
Stefan Drosselmeyer is a reluctant apprentice to his toymaker father until the day his world is turned upside down. His father is kidnapped and Stefan is enlisted by his mysterious cousin, Christian Drosselmeyer, to find a mythical nut to save a princess who has been turned into a wooden doll.
New York City, 1899. Clara Stole, the mayor's ever-proper daughter, leads a double life. Since her mother's murder, she has secretly trained in self-defense with the mysterious Drosselmeyer. Then, on Christmas Eve, disaster strikes. Her home is destroyed, her father abducted—by beings distinctly not human. This is a dark, timeless fairy tale about love and war, longing and loneliness, and a girl who must learn to live without fear.
Nutcracker Retellings for Adults
Illustrated with full-color images of crocheted characters, each chapter of the classic adventure features complete instructions for crocheting charming representations of the story's personalities and props.
This retelling imagines the backstory of the Nutcracker, revealing how this entrancing creature came to be carved and how he guided an ailing girl named Klara through a dreamy paradise on a Christmas Eve. At the heart of the tale hovers the toy maker Godfather Drosselmeier, who presents the once and future Nutcracker to Klara, his goddaughter.
For Clara Stahlbaum, this Christmas means the end of her youth. A daughter of the aristocracy, Clara is expected to give up her dreams of adventures and the extraordinary for more normal days as the wife of a cruel Viscount. But when she receives a special gift from Uncle Drosselmeyer, she is beckoned to the land of Winter Dream, where she is thrust into the greatest adventure of her wildest dreams.
Can't get enough Nutcracker retellings? Check out our Nutcracker reading list, and this tribute to the 200th birthday of The Nutcracker.