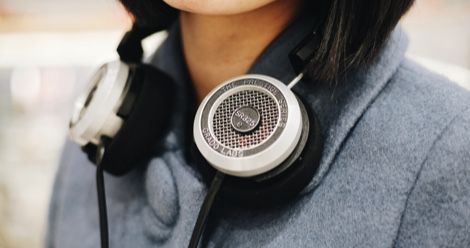 Audiobooks
6 Romances Coming to Audiobook in November
This content contains affiliate links. When you buy through these links, we may earn an affiliate commission.
I've been finding myself turning more and more to audiobooks this autumn. Rainy day commutes and more inside time due to shorter days could be considered a bad thing, I suppose. However, I've been using the additional "extra" time to forge ahead with my reading/listening. Time that used to be dull and mundane is now the highlight of my week when given an audiobook makeover.
There are quite a few romances releasing in an audiobook format this November that are going on my "must-buy" list. Covering multiple genres, tropes, and authors, this list isn't comprehensive by any means, but it may be a good place to start if you are looking to try something out of your comfort zone or if you would like to purchase another book to fill your Thanksgiving travel time.
All descriptions are from Amazon.
"After her husband's passing, Elizabeth Overfield decides she must enter into another suitable marriage. That, however, is the last thing on her mind when she meets Colin Handrich, Lord Hodges, at the Westcott Christmas house party. She simply enjoys his company as they listen to carolers on Christmas Eve, walk home from church together on Christmas morning, and engage in a spirited snowball fight in the afternoon.
"Both are surprised when their sled topples them into a snowbank and they end up sharing an unexpected kiss. They know there is no question of any relationship between them, for she is nine years older than him.
"They return to London the following Season, both committed to finding other more suitable matches. Still, they agree to share one waltz at each ball they attend. This innocuous agreement proves to be one that will topple their worlds, as each dance steadily ensnares them in a romance that forces the two to question what they are willing to sacrifice for love…"
"Elijah Sutton is no fool, despite his love of a country that enslaves people like him. When he's offered land, livestock, and—most importantly—his freedom if he fights in his Patriot owner's stead, Elijah believes he'll soon have everything he ever wanted…and then he meets Kate.
"The Crown has promised freedom to slaves who escape their Patriot masters and join the British side, and Kate intends to take them up on it. She's eager to leave America—and the painful memories it holds for her—far behind…and then she meets Elijah.
"Their attraction is undeniable, but their goals couldn't be further apart. When Elijah is captured by the British while helping Kate, they're thrown into close proximity and forced to choose between their hopes for the future and their hearts."
"I've never spent a day without my mate since arriving on the ice planet. I'm happy and in love, and we have a beautiful child together. All that changed when the world shook.
"My mate nearly died.
"He wakes up from his coma…and he can't remember me. Or our son. Every memory of the past two years is gone. And that changes everything between us. How can I love someone that doesn't remember me?
"How can I not, when I know he's still my mate underneath it all?"
"In the wake of a devastating teen pregnancy that left her childless and heartbroken, Vashti Alcindor left Catalina Cove, Louisiana, with no plans to return. Now, more than a decade later, Vashti reluctantly finds herself back in her hometown after inheriting her aunt's B and B. Her homecoming gets off to a rocky start when the new sheriff, Sawyer Grisham, pulls her over for speeding, and things go downhill from there.
"The B and B, a place she'd always found refuge in when it seemed like the whole world was against her, has fallen into disrepair. When a surprising benefactor encourages Vashti to reopen the B and B, Vashti embraces a fresh start, and soon, old hurts begin to fade as she makes new memories with the town—and its handsome sheriff…
"But some pasts are too big to escape, and when a bombshell of a secret changes everything she thought was true, Vashti is left reeling. With Sawyer and his teenage daughter determined to see her through the storm, though, she's learning family isn't always a matter of blood—sometimes it's a matter of heart."
"With talent, heart, and ambition to spare, the Fernandez sisters have each followed their own unique path, even when it leads to surprising destinations—in life and love…
"Growing up, Lili Maria Fernandez was affectionately known as the family 'wild child.' The life of the party, she loved to dance, especially salsa, merengue, and bachata, and often sang beside her father during rehearsals for his trio group. But tragedy and loss have drawn out Lili's caretaking side, compelling her to become a victim's advocate. These days, the special rhythms of the past seem like a distant memory. Until she meets Diego Reyes….
"A police officer with the Chicago PD, Diego also has a talent for playing classical Spanish guitar. Lili soon finds herself inspired by his passion – for the music, for her, and for their shared love of familia and community.
"Can Diego reignite Lili's fun-loving spirit, persuade her to balance work and pleasure—and embrace her wild side once more?"
"Ainsley Harris has always kept a secret from her best friend. She's stood by his side, helped him raise his daughter, and tried to keep her distance even though she's been in love with him for years. She knows he has secrets of his own and she's not willing to chance what they have on a possibility.
"Loch Collins has hidden himself and his past from the world for good reason. Darkness always comes back to haunt those who fight against it, and he knows better than most. One night of temper, however, forces him to realize his true feelings for Ainsley—for better or worse.
"But Loch's former allies aren't on his side anymore, and now not only is his life and the life of his daughter on the line, but Ainsley is in the crosshairs, as well. Together, two best friends must fight for each other and their small town, because Whiskey has never burned brighter. And danger, it seems, is ever lurking."
Looking for more romance audiobooks? You can find more recommendations (and a quiz) here: