Lists
16 Nonfiction Books for Fiction Lovers
This content contains affiliate links. When you buy through these links, we may earn an affiliate commission.
This year, more than any year prior, I've had friends tell me that it's their goal to read more nonfiction. Whether it's because college turned them off to it or they can't find a book that interests them, many turned to fiction and haven't looked back. While that's certainly not a bad thing, as someone who reads mostly nonfiction, it's hard to contain my excitement when asked. (What do you mean, you don't want a list of my top 100 nonfiction books?!)
Typically, if I'm not recommending a book based on a specific interest, I turn to nonfiction that made an impact on me, that reads like fiction, or that tells a story wild enough to feel made up. So, I've put together a list of 16 books that I think readers of any genre could find interesting or impactful.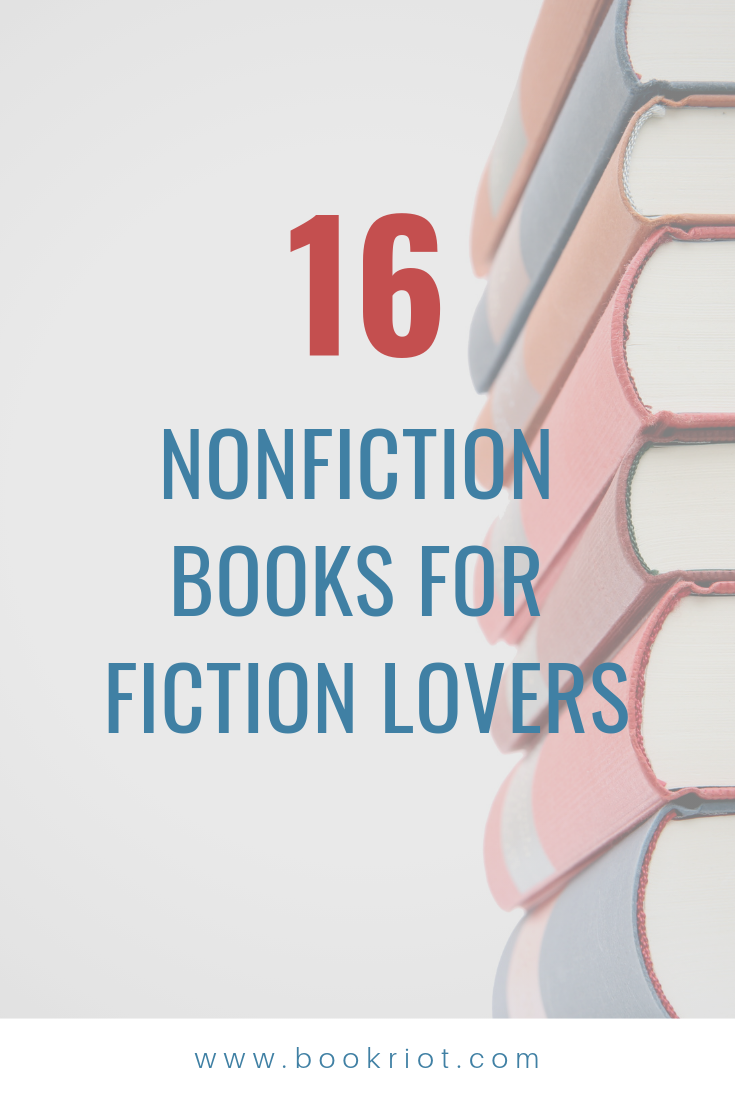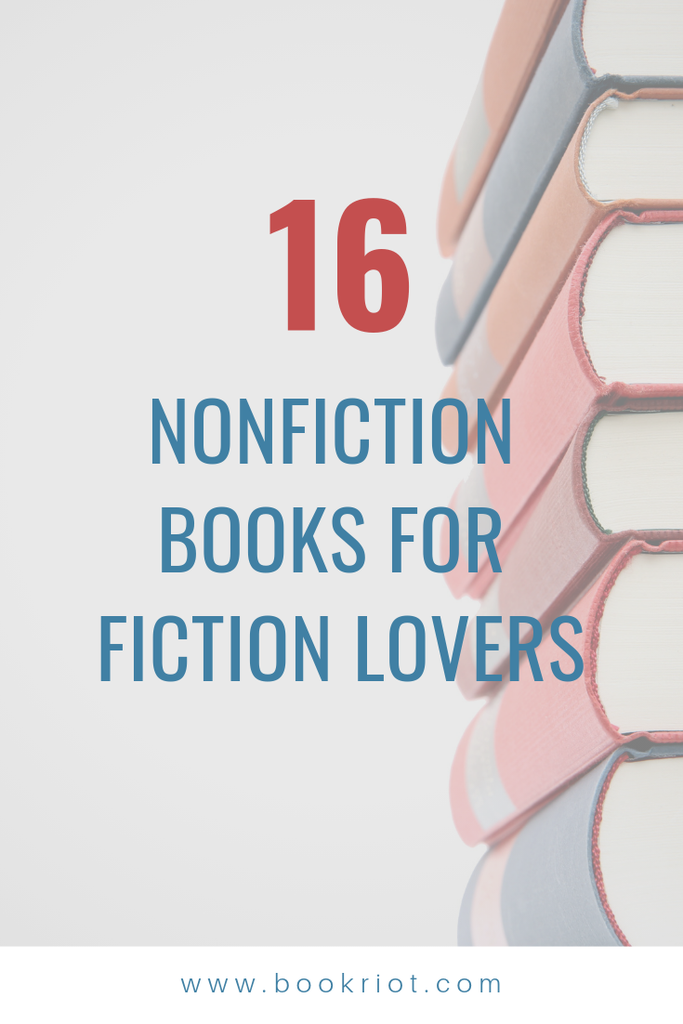 Published posthumously after McNamara's sudden death, I'll Be Gone in the Dark is a true crime account of The Golden State Killer. For over ten years, the killer committed over 50 sexual assaults before moving on to perpetrate ten gruesome murders all throughout the state of California. Reading almost like a thriller, this journalistic accomplishment will have you at the edge of your seat.
Don't let this size of this book fool you: this adaptation of Adichie's TED Talk (of the same name) is short, but it is mighty. We Should All Be Feminists is a great introduction to feminism and the weight the word carries. Both insightful and personal, Adichie shines a light on institutional structures that create the gender divide while explaining why it is harmful to both women and men. After you fly through this book, if you are looking for more extensive feminist texts, check out our list of 100 Must Read Feminist Books.
Mary Roach is an expert at bringing interest and hilarity to scientific writing. If you've ever wondered what happens to our bodies post-death, this book will bring you answers in ways you won't expect. Roach lies in a field with decomposing bodies to explore forensic research, interviews medical students about their experiences with cadavers, and attends autopsies and visits museums. If you like this one, be sure to check out others by her such as Packing for Mars or Spook. (Oh, and pro tip: don't read this one while eating!)
When Nell Stevens wins a fellowship to visit any location in the world to pursue the writing of her novel, much to the surprise of her friends and professors, she chooses the Falklands. For three months, she would be the sole inhabitant of Bleaker Island (along with some penguins, of course). This book is the result of that trip. Chapters alternate between travel writing, memoir, and snippets of fiction she worked on while on the island. Totally unique and immersive, this book had me inexplicably planning my own trip to the Falklands.
Educated by Tara Westover
Born in the mountains of Idaho to survivalist parents, Westover was raised preparing for the end of the world. In an attempt to keep their children from mainstream society, Westover's parents forbade doctors, hospitals, and traditional schooling. The first time she stepped into a school was at age 17, after educating herself enough to be admitted to Brigham Young University. This story follows her from early life throughout her education, showing the ways in which we can separate from our past, no matter its hold on us.
Everything's Trash, But It's Okay is Robinson's second collection of essays on race, womanhood, dating, and of course, her love of U2. Like her first collection, You Can't Touch My Hair, each essay in this book will have you laughing out loud. But through the humor, Robinson turns an insightful and critical eye on society, intersectional feminism, beauty standards, and more. For an enhanced experience, check out her narration of this book on audio.
Almost too remarkable to believe, Stranger in the Woods is the account of one man who lived alone in the woods of Maine for over 27 years. After not speaking to another living soul for almost three decades, Christopher Knight reveals, through interviews with the author, insight into his motivations for leaving modern life and the challenges he faced in doing so.
Silicon Valley is often looked at like a mythical land of opportunity and potential for wealth—unless you're a woman, that is. In this fascinating expose, Chang explores the history of Silicon Valley and how it became a place of sexism and toxicity despite its utopian ideals.
Girl in the Dark is a memoir of inexplicable illness and one woman's search for answers. Anna Lyndsey's life as she knew it was suddenly taken away from her when she developed a rare skin condition that makes her extremely sensitive to both natural and artificial light. This book is the account of her time in darkness, locked in her home with every streak of light blocked out, and the ways in which she tries to find normalcy and meaning. Wildly inspiring, this book will make sure you don't take any source of light for granted again!
Part memoir and part true crime, The Fact of a Body is an account of Marzano-Lesnevich's job as a lawyer defending Ricky Langley, a man accused of murder and facing the death penalty. In researching Langley's past and subsequent crimes, she is forced to reckon with her own past and family secrets. This book is so unique and complex, laying bare the multi-faced nature of humanity. (TW: abuse, sexual trauma)
From the creator of the YouTube series Ask a Mortician, Doughty brings us an eye-opening and thought-provoking look into the industry of death. Smoke Gets in Your Eyes is the story of Doughty's journey along the path of becoming a licensed mortician, and how she came to focus on alternative funeral practices. With candor and humor, this book explores our fear of death and the ways in which it shapes our culture.
Actress and talk show host Leah Remini opens up in this fascinating and infuriating memoir about her 30-year association with the Church of Scientology. Brought into the church as a child, Remini reveals the ways in which Scientology members are indoctrinated and threatened into compliance at every stage of life. From the church's role in her upbringing to her interactions with Tom Cruise and her eventual separation from the church, Remini speaks with bravery, emotion, and brashness. For more, check out her show with the same name.
One Day We'll All Be Dead is a hilarious collection of essays written about growing up as the daughter of Indian immigrants in Canada. This book spans from Indian weddings to unyielding body hair to the ways in which fears are passed down from generations. This is the child-of-Middle-Eastern-parents book I have been waiting for.
Written by the prosecuting attorney in the Manson trials, Vincent Bugliosi gives an inside look into the life of Charles Manson, his murders, the trial, and his eventual sentencing. But more than just an arching history of Manson's terrible impact, this book provides insight into the ways in which Manson was able to create and influence his so-called "family," the cult of mostly girls and women that followed his "teachings" and helped commit the violent murders.
Growing up as the son of a Baptist pastor in Arkansas, Conley was both confused and terrified of his sexuality. He made it to college before being cruelly outed to his parents, forcing him to choose between losing his family or attending church-supported conversion therapy. The program followed 12-steps, focused on Bible study, and was supposed to "cleanse him of his impure urges." Instead, we follow Conley on a journey to find self-acceptance and forgiveness.
Elaborating on the story originally told by the podcast Serial, Adnan's Story dives deeper into the life of Adnan Syed, a high school senior sentenced to life in prison for the murder of his ex-girlfriend. The podcast brought up questions about evidence, the integrity of Adnan's attorney, and the logistics of certain alibis. But this book brings new evidence to light, forcing the reader to question, once again, whether the right person was convicted of this crime.
To find more great nonfiction books, check out our list of the 50 Best Nonfiction Books or 50 Great Narrative Nonfiction Books. What would you add to this list?