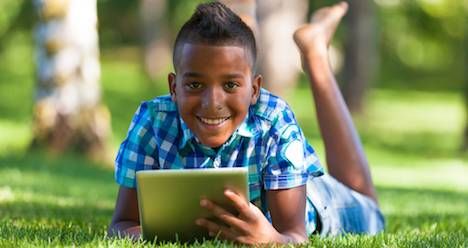 This content contains affiliate links. When you buy through these links, we may earn an affiliate commission.
As a bookseller, I get asked for recommendations a lot—it's the best part of the job. So far, in three years, my favorite customer request has been this: a dad, milling about in the graphic novel section tells me his twelve year-old has recently come out and he's looking for some comics to give her. Not necessarily coming out stories, but books to show her support, to validate who she is and introduce her to characters she can relate to. Is your heart melting? Because I was basically a puddle on the floor. Happy belated father's day to this loving, supportive, super cool dad.
Since giving that recommendation, I've thought of so many more comics I wish I'd handed him. I may not have the opportunity to recommend him and his daughter more books, but I do have a platform on the internet; and I figure there are other parents (or kids or childless adults) out there who are looking for similar recommendations. So I've complied a few of my favorite comics that also happen to have LGBTQ+ characters. Spoiler Alert: some characters aren't explicitly queer in the first issues/trades of these books, but I believe in queer until proven otherwise, so also not really a spoiler?
Lumberjanes by Shannon Watters, Grace Ellis, Noelle Stevenson, and Brooke A. Allen
Is the internet sick of hearing the praises of Lumberjanes sung near and far? I really hope not because this comic rings all my bells and I will never stop recommending it until everyone in the world also feels as if they are best friends with main characters April, Molly, Ripley, Mal, and Jo. If you haven't heard of Lumberjanes my quick pitch is: five friends meet at a girl scout-like camp for hardcore lady-types, go on adventures, fight mythical creatures, and make friendship bracelets. Relationships blossom, and they're not all platonic. It's a book about friendship and embracing your and everyone else's differences. Plus it has a ton of fun feminist references and did I mention TWEENS BATTLING MYTHICAL CREATURES. It just doesn't get better than Lumberjanes.
Goldie Vance by Hope Larson and Brittney Williams
I can't believe this comic has been out a year and I only recently read it. Titular character Goldie Vance is a 16 year-old detective who can hot-wire a car. Parents, if you're worried about teaching your children bad habits—like stealing and hot-wiring cars—she only did it to save very valuable information from falling into the wrong hands. Goldie Vance is a great influence and a true American. Also, she has great taste in ladies—her crush can navigate backroads in the dark during a high-speed car chase like nobody's business.
Princeless by Jeremy Whitley and Mia Goodwin
I don't think I'll ever tire of the-princess-saves-herself stories. In this one, Princess Adrienne and her sisters have been locked in separate towers so they can be rescued by (and wed to) a prince—a tradition Adrienne finds ridiculous. So she breaks out of her tower and decides to rescue her other sisters—with the help of her dragon and newfound friend Bedelia, the blacksmith's daughter (and a badass blacksmith in her own right). Princeless has action, humor, and a diverse cast of characters.
Drama by Raina Telgemeier
Raina Telgemeier is a gateway comics artist for many young readers, and for good reason. Her books are funny—she's awesome at drawing goofy and accurate facial expressions—insightful, and, believe it or not, weirdly controversial. Drama was #2 on the ALA's 2016 Most Challenged Books list. Why? Well, for the same reason I'd recommend Drama to a kid figuring out their sexuality: because it features gay kids and embraces them, even as they struggle to figure out their sexuality. And that's actually just a side plot. Drama is about putting on a play, making new friends, and, yeah, navigating those weird, new, tingly feelings. I'm here for it, in fact I want more of it.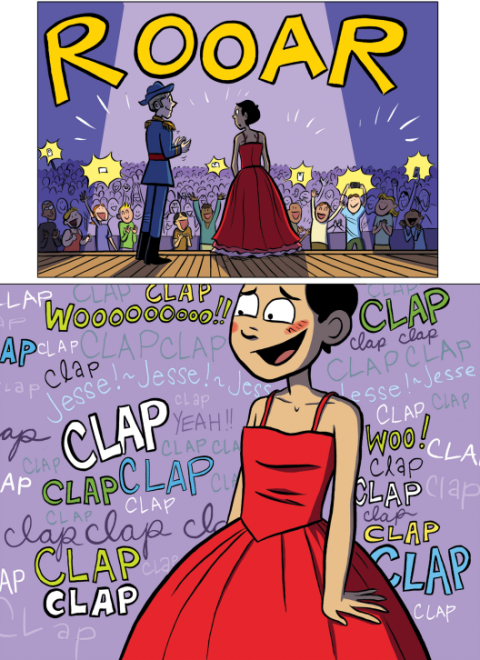 Princess Princess Ever After by Katie O'Neill
Reading this comic is like eating a rainbow cupcake while supporting Planned Parenthood. Did that simile land? It's super cute, super queer, and feminist as all get out. It begins with Princess Amira rescuing Princess Sadie from her tower, and it (spoiler alert) ends in a wedding—as your prototypical love stories are wont to do—but not before the two princesses find personal fulfillment, one as a hero and the other a queen. It began as a web comic and has since been published in hardcover, but you can still read it in full on Katie's website.
Joyride* by Jackson Lanzing, Collin Kelly, and Marcus To
Imagine a near future where Earth is controlled by a fascist government, there is a gun on the moon—large enough to blow up whole cities—pointed at our planet, and the sky has been covered by a metal bubble for our 'protection.' Uma Akkolyte lives in this world—her parents, once part of the resistance, have been killed. All Uma wants is to see the stars. So she risks her life, steals a spaceship, and runs away. But of course that's just the beginning. There are space adventures, an epic bid to save her home, and—obviously—another girl who doesn't quite belong. After Saga, Joyride is currently my favorite si-fi comic.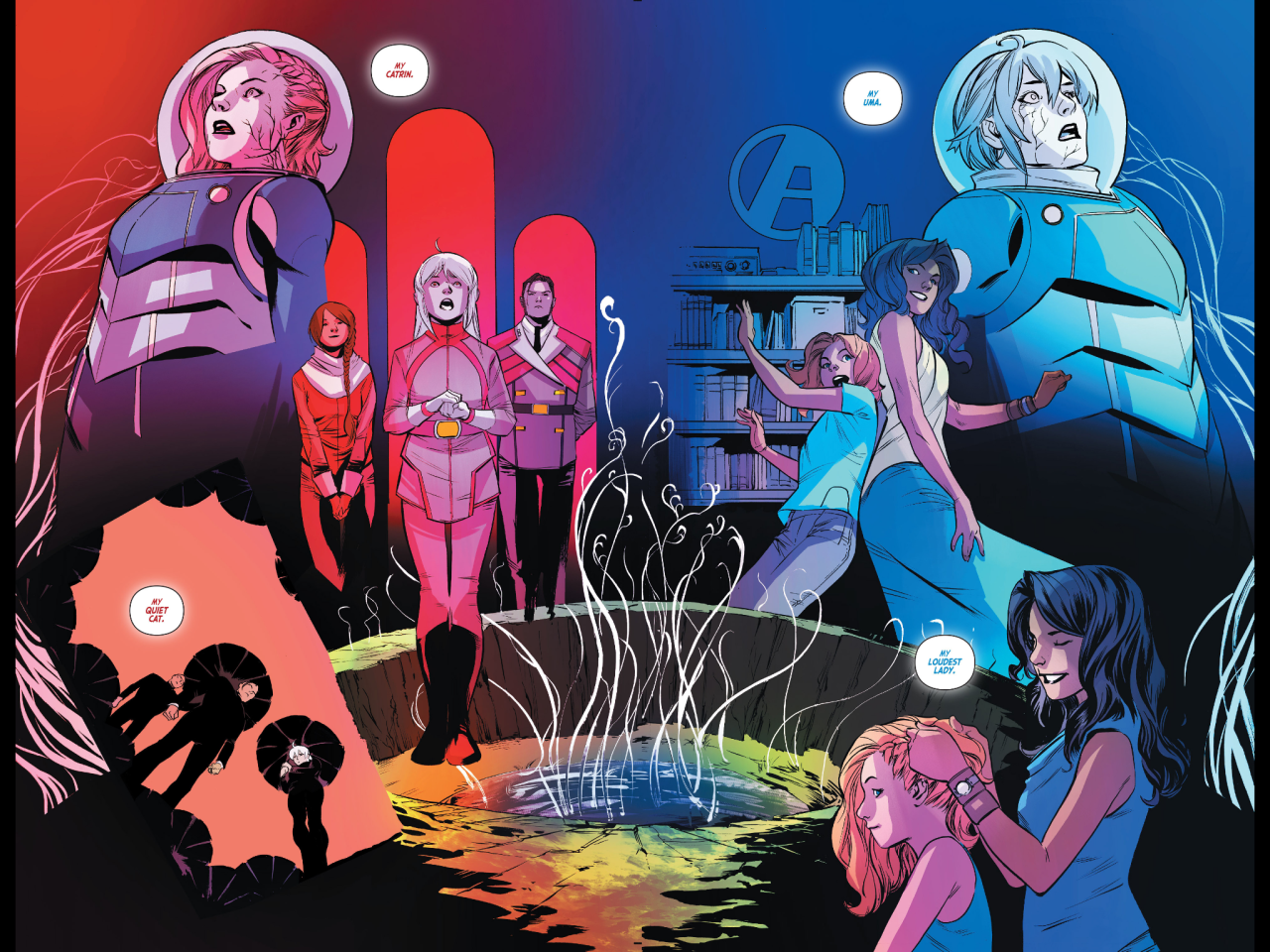 Nimona* by Noelle Stevenson
NIMONA. She was one of my firsts and still one of my favorites. When it comes to fantasy comics, Nimona has it all: knights, dragons, villainy, heroism, and a shapeshifting sidekick. I love Nimona because it focuses on the "villain" and makes you seriously question the good/evil dichotomy. Plus it has magic AND science; I love it when those two can live in harmony. Nimona started off as a webcomic too; you can't read it in its entirety online anymore, but the first three chapters are still available on Noelle's website.
Giant Days* by John Allison, Lissa Treiman, and Whitney Cogar
This is one of my all-time favorite comics, and I will recommend it to anyone/everyone given the opportunity. It's just about three young women who meet and become friends at University, but it's as funny and addictive as your favorite sitcom. I wish Daisy, Esther, and Susan were real so I could befriend them; when the newest trade came out, I literally sat in a corner and whispered "it's like seeing my best friends again" as I flipped through the pages and my co-workers looked on awkwardly. Parental Warning: sex and drugs do make an appearance in this comic—the dad I was recommending it to didn't care, but you may.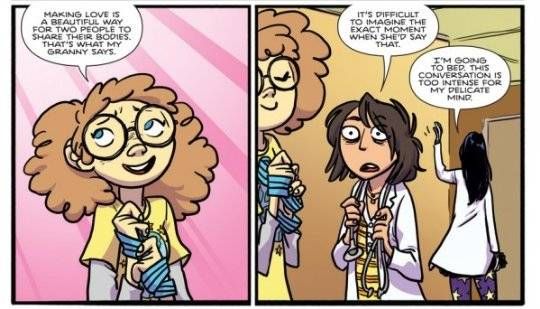 Skim* by Jillian and Mariko Tamaki
Jillian and Mariko Tamaki are among my favorite artist/writer duos; when it comes to illustrating the awkwardness and discomfort of growing up they nail it every time. Skim is sixteen, dealing with a crush on her teacher, the suicide of a classmate, and the usual emotions and fears that come with being an outcast in high school. "Being sixteen is officially the worst thing I've ever been" she writes in her journal. Skim—despite being chock full of 90s nostalgia—is ageless; it will remind adults of adolescence and commiserate with teens working through their own.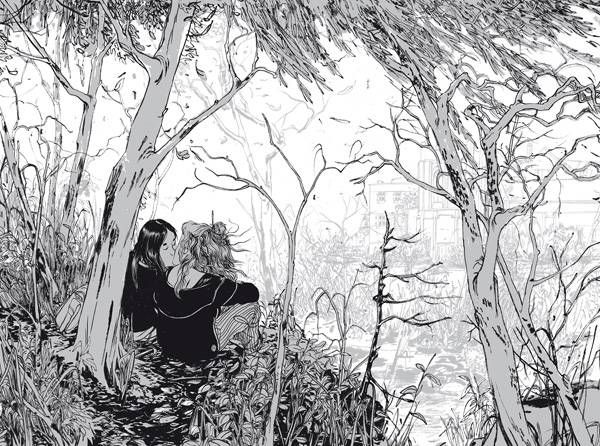 Looking for more recommendations? We've got multiple posts on LGBTQ books for middle grade readers and YA readers with a good mix of comics and fiction.
*Please note that we all have different ideas of what is and is not appropriate for 12+ readers so I've added an asterix to titles that are technically meant for teens and older; if you're concerned, give these books a read first.