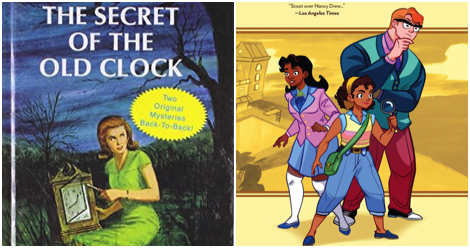 Lists
Calling All Aspiring Teen Sleuths: A Guide to Nancy Drew Readalikes
This content contains affiliate links. When you buy through these links, we may earn an affiliate commission.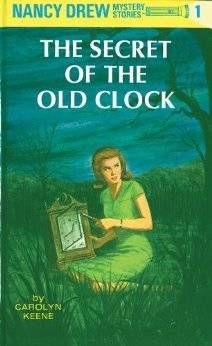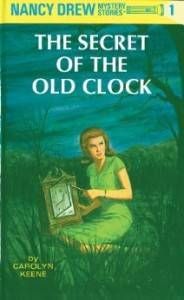 I'm a lifelong fan of Nancy Drew and have spent a lot of time trying to find perfect Nancy Drew readalikes. No one else is quite like Nancy, and here's why. She has a pretty great life. She's white and upper-middle class with hair the colour of a Renaissance painting. She doesn't have to go to school or work. Instead, her lawyer father keeps her outfitted in tasteful sheath dresses and matching kitten heels while she solves mysteries involving jewel heists and ghosts in a variety of attics. She bosses around her friends and her boyfriend (a chipper college student who demands nothing from her except to be included in her latest escapade). She drives a stylish blue roadster and the River Heights Chief of Police seems to answer directly to her.
Nancy's not perfect, of course, even though she has the perfect wardrobe to suit her interests (sleuthing, exploring, going to masked balls). Most of her adventures have unavoidably racist overtones and feature her giving paternalistic advice to people who are poor. And the number of times she's escaped from handcuffs, dungeons, and black widow spiders borders on the fantastic. (How many times can one girl get locked up in the basement of an abandoned country inn???)
For me, Nancy's appeal lies in her firm belief in her rightness and her ability to do whatever it takes to prove it. She has the perfect skills for every mysterious occasion. Skin diving to find some sunken jewels? Nancy's on it. Playing the bagpipes? Oh, she's been taking lessons for just such an occasion. Basically, Nancy knows what's best for everyone and she's always right.
Nancy has spawned a legion of copycats and an entire industry devoted to her, consisting of books, computer games, movies (the less said about that, the better), and TV shows. The girl detective narrative is very appealing, but unfortunately, the original Nancy Drew Mystery Stories series is long over, and the 80s and 90s versions don't really scratch the same itch. So here is one Nancy Drew obsessive's guide to Nancy readalikes, including some modern takes on the genre. No, the Hardy Boys are not included—you already know about them.
JUDY BOLTON
Nancy has many contemporaries, fellow sleuths from around the same time period whose creators hoped to capitalize on the popularity of "precocious teen solves mysteries," but my very favourite is Judy Bolton. Judy is the star of 38 books starting with The Vanishing Shadow. Over the course of the series, she actually ages, eventually even getting married while continuing to investigate mysteries. She's less fashionable and more realistic than Nancy; at the beginning of the series, she worries about fitting in at a new school and being torn between two groups of friends. (Imagine Nancy worrying about fitting in anywhere!) This series is also more aware of class struggles than most of its kind, though it still centers a white, middle-class worldview. Written by one woman, Margaret Sutton, the Judy books feel less formulaic and a little more natural than the outlined-and-ghostwritten Nancy Drew Mysteries.
Other classic Nancy Drew readalikes to check out: The Dana Girls, Cherry Ames, Trixie Belden, Vicki Barr, and Penny Parker.
GOLDIE VANCE
This fun graphic novel series by Hope Larsen and Brittney Williams brings some much-needed diversity to the teen sleuth genre. Goldie lives at the Florida resort her dad manages, which means she encounters strangers and mysteries galore—perfect for an aspiring detective. Issue one finds Goldie investigating a case that the resort's detective can't crack on his own. Plus, look how cute those illustrations are! There are twelve issues in this series, collected in three volumes: Goldie Vance Volume One, Goldie Vance Volume Two, and Goldie Vance Volume Three.
THE DEVIL'S WHISPER
Miyuki Miyabe's stand-alone novel The Devil's Whisper is about a teenage boy who moves in with his aunt and uncle in Tokyo following the death of his mother. When Mamoru's uncle becomes embroiled in a suspicious-seeming taxi accident, Mamoru decides to investigate what's really going on, and soon finds links to some other violent crimes…
(Side note: Why do so many teen sleuths have absent or dead mothers? It seems morbid, to say the least.)
THE AGENCY
Set in the Victorian era at an all-girls boarding school, Y.S. Lee's mystery series follows teenage orphan Mary Quinn as she finds a home at Miss Scrimshaw's Academy. The Academy is actually a top-secret criminal investigation unit known as The Agency, and Mary is soon embroiled in a case involving a rich merchant. Girl detectives investigating crimes in Victorian England? I'm in. There are four books in this series, starting with A Spy in the House (pictured).
THE SINCLAIR'S MYSTERIES
Ever wondered what goes on at a department store after hours? So do Sophie Taylor and Lilian Rose, who investigate mysterious thefts, disappearances, and forgeries at an Edwardian London department store. Sophie is another orphan who takes a job in a glamorous new department store and makes friends with several coworkers, including Lili, a living mannequin and aspiring actress. The Mystery of the Clockwork Sparrow (pictured) is the first book in this series of four.
PRECIOUS RAMOTSWE'S VERY FIRST CASES
Alexander McCall Smith reimagines his popular The No. 1 Ladies' Detective Agency as a middle-grade series exploring how Precious became a detective. There are four books in this series, too, and the second book, Precious and the Mystery of Meerkat Hill, is pictured here.
And if you're craving a take on Nancy that's a little less innocent and lot more snarky, check out Chelsea Cain's parody Confessions of a Teen Sleuth.
Here are some more recommendations from another Rioter. Do you have favourite Nancy Drew readalikes?
Save