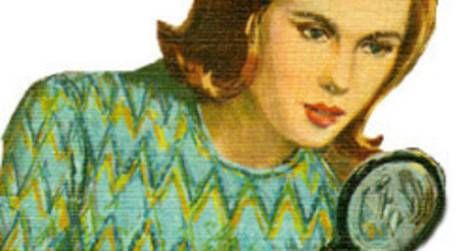 This content contains affiliate links. When you buy through these links, we may earn an affiliate commission.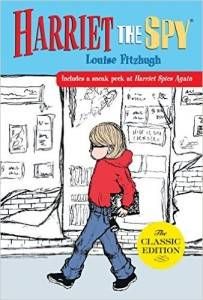 As a young girl, my favorite thing to read about was, rather predictably, girls. The first and second books I read were A Rose For Pinkerton (about a little girl, her big dog, and a kitten) and The Secret Garden. I loved reading about Queen Elizabeth I, and girls with horses, and girls with other animal companions. The first book I was obsessed with, though, was Harriet the Spy.
When I was eight years old, I would approach adults and ask permission to spy on them. If they said yes, I would commence spying, and if they declined, I would inform them, "I guess I will have to spy without permission!" and commence spying anyway. What can I say? I was a precocious child who loved rules, but loved spying more.
For the next ten years of my life, when anyone asked what I wanted to be when I grew up, my answer would be some combination of writer, singer, actor, and spy. (I would have kept saying writer and spy forever, but once you actually are a grownup, people tend to stop asking what you want to be when you grow up. Rude.)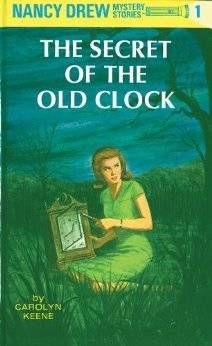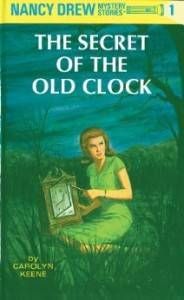 The same year that I was so busy doing so much unauthorized spying, I made my biggest discovery. We were in the local bookstore and I found a used book bin full of yellow and blue hardcover mystery stories about a certain young lady detective named Nancy Drew. I read every single Nancy Drew book I could get my hands on. When I couldn't find a Nancy Drew book to read, I would read Trixie Beldon, or the Dana Girls. Or, most likely, I would re-read a favorite Nancy Drew. I was just never able to find another book series that captured my heart the way she did.
Why are girl detectives so appealing? So many reasons. What child doesn't want to be the one smart enough to solve a mystery? What girl doesn't want to be good at something typically depicted as male? I could go on.
As a young woman, I fell in love with the A&E series Nero Wolfe Mysteries. It ran only two seasons, and each episode was essentially a movie, all based on Rex Stout's Nero Wolfe novels and novellas. Though I'd seen other detective shows (Cagney & Lacey re-runs were a big hit, and of course I enjoyed the X-Files), this was the first one to really grab me. Was it the time period (mostly 1940s)? I went to my local library, which is wonderful, and borrowed just about every single Nero Wolfe book ever written. My husband, who grew up a Sherlockian, reads faster than me and when he'd finished the Nero Wolfe books, he borrowed the Inspector Lestrade series. We enjoyed our little detective novel renaissance, but my interest trailed off, probably due to the lack of girl detectives. (Dol Bonner is a Rex Stout lady detective who stars in one novel my library does not stock, and appears in a handful of Nero Wolfe stories.)
Last year, I discovered Kerry Greenwood's Phryne Fisher novels, thanks to the Miss Fisher's Murder Mysteries series coming to Netflix. Somehow I had never connected with Murder She Wrote, so Miss Fisher was my first TV lady amateur detective (Jessica Fletcher was my second, and I adore Rosemary & Thyme). I'm working on reading the novels, but it makes me angry whenever I discover another brilliant female character who was left out of the show (e.g. MRS. BUTLER IS NOT DEAD IN THE BOOKS).
Earlier this year, I devoured Girl Sleuth: Nancy Drew and the Women Who Created Her by Melanie Rehak. It's a fascinating history/biography of the man who invented her and the women who wrote her, and I highly recommend it. Besides being well-written and informative, it reignited my interest in reading women-written stories about female detectives.
I was able to find some modern novels about lady detectives, but mostly police detectives. (Which is fine!) But it seems that the girl detective genre has stagnated while the cozy mystery has flourished in recent years. I am just starting to read those (I really liked my friend S.J. Pajonas's Daydreamer Detective Braves the Winter). I like reading about smart young ladies almost as much as I like reading about clever young girls, but I still feel like something is missing, and at this stage in my life the confines of early 20th century fiction are too much for me. I need modern girl detectives! But I can't find any.
And another thing that's really bothering me: girl detectives are exciting in part because girls are generally (at least until recently) excluded from the mystery genre; so why can't I find any novels about young girls of color solving mysteries? I put the question to my Twitter followers, and even with a handful of retweets only one person was able to come up with a book suggestion: the middle grade series of Precious Ramotswe mysteries written by Alexander McCall Smith, a white man born in Zimbabwe. Another shared her heartbreaking (but so true I gave myself whiplash nodding along) belief that only white girls get to be girl detectives because only white girls get to be GIRLS.
Writers, publishers, anyone who is listening: we need more girl detectives, and we need them to not all be white. Please and thank you.