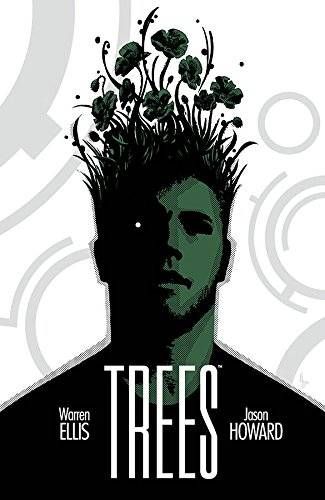 A few months ago, I was reading Annihilation, the first book in Jeff VanderMeer's Southern Reach Trilogy (a book-book, not a comic book — though it would make a good comic), and I suddenly realized:
"Oh, man, I love a Big Weird Mystery!"
VanderMeer's novel is about a mysterious wilderness growing up… somewhere… investigated by five… unnamed explorers… who are trying to figure out why it exists, and… huh. That's hard to talk about.
But, the point is that I totally dug the book, and it's largely because I think I like stories that revolve around some inexplicable, world-altering mystery.
I'm not talking about murder mysteries or the nature of the ghost in the attic. I'm not even talking about global conspiracies. I'm talking about that weird thing that tilts the world on its axis and sends its character scurrying for cover — and for answers.
You all know them: The monolith in 2001: A Space Odyssey. The two-mooned world of Murakami's novel, 1Q84. Or even the island in TV's LOST. The island doesn't really change the whole world, of course, but it changes the whole reality of the survivors.
I don't think there's an official term for this nebulous connection (that I admittedly might just be making up in my own head). Thus, "The Big Weird Mystery."
It's a tweak to the world, something odd, something that changes characters, brings them into focus. And it's the kind of story that often takes a beating when it wraps up, because you can't satisfy everyone with a mystery that's been dangling so long that the reader has already dreamed up their own solution to it all.
However, the practitioners of the Big Weird Mystery who execute the concept well? They usually know it's not about the big weird mysterious thing. It's about how the big weird mysterious affects the characters — changing relationships, seized opportunities, tested limits, broken souls.
The Big Weird Mystery also works amazingly well in the serialized format because the mystery is the hub, it keeps the story focused while creating suspense. It can serve as a slow-churning plot machine, giving characters obstacle after obstacle, driving development or revealing backstory.
I haven't talked about comics yet, but I suspect you're getting the picture. Serialization. Strange machinations that can be perfectly articulated by the limitless imagination of a fantastic comics artist.
Comics are prime landscape for the Big Weird Mystery.
Let's take a look at a few:
The Woods: This creator-owned Boom! Studios series by James Tynion IV and Michael Dialynas is one of my recent comic book reads that helped to form the whole "Big Weird Mystery" label I'm bandying about. The Woods is a little bit Lord of the Flies, a little bit LOST, and a little bit reminiscent of all the strange mysteries you'd go on in those classic "Choose Your Own Adventure" books.
Boom! recently confirmed The Woods will run (at least) 36 issues, so that shows you the publisher's dedication to the slowly unravelling mystery about a school that's been dropped into a strange land with monsters and pyramids and men out of time.
The Woods Volume 1 is available here.
The Drifting Classroom: I'll admit, when I first read The Woods, I immediately felt it must have been influenced by The Drifting Classroom, a manga series by Kazuo Umezu that originally ran back in 1972. A lot of manga series fit onto this list. I'm by no means an expert on manga, but I suspect that the serialization and the lack of a super-hero glut is what makes the Big Weird Mystery work so well in manga. In The Drifting Classroom, an entire school is transported to a strange, horrific wasteland. Where are they? How did they get there? How will they survive?
You can buy the first volume of this intriguing manga series right here.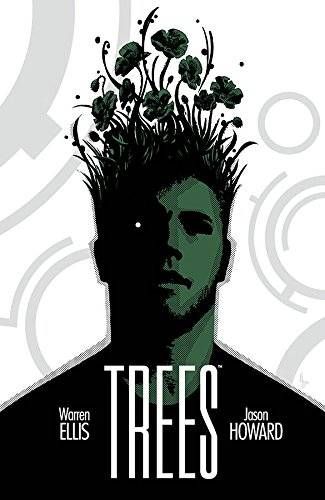 Trees: Woods, Trees… clearly there's a theme going on here, right? OK, maybe not, as Warren Ellis' and Jason Howard's "Trees" are actually some kind of otherwordly artifact that's been dropped into our global ecosystem for reasons yet unknown, but the basic principle applies: everything in the lives of the protagonists has changed due to these enigmatic trees.
Ellis and Howard use a global ensemble to look at the ramifications of the trees in different ways. There are scientists who want to understand why the trees are here. There are artists who use the tree as a catalyst for change in their own lives. And there are governments that use the trees as a literal high ground. Even without action from the trees, we see the impact they have on their surroundings.
The first volume of Trees is available in February.
20th Century Boys: Naomi Urasawa's sci-fi adventure manga series makes the list, even though I've admittedly only read the first volume (which was quite good). In 1969 a group of boys create an imaginary scenario where villains try to take over the world. In 1997, disastrous events begin to unfold in a manner remarkably similar to what they had envisioned. The symbol they created as children has been co-opted by a mysterious man called "Friend." How have these childhood imaginings become a true, global threat? I don't know about you, but just writing this article has me ready to go pick up the next few volumes and resume the mystery I began a few years back when I grabbed this first volume.
Revolver: Matt Kindt (Mind MGMT) wrote and drew this standalone graphic novel for DC's Vertigo line. It's a pretty concise and compelling big weird mystery. Sam is stuck in a dead-end job. He goes to sleep, and he wakes up in a slightly different version of our world — one that has erupted into an apocalypse of terrorist attacks, an avian flu epidemic. Cut loose from his humdrum life, Sam must rise up to navigate this deadly new world… until he goes to sleep and wakes again in his old, ordinary life. Can he choose a reality? Which one will he choose? Kindt pulls out some nice tricks in his graphic novel, like ticker-tape news items running across the bottom of the pages, and a limited color palette that shifts when Sam changes realities. It looks like this book is out of print, but there are sellers who have copies available on Amazon. Plus, you know, you might try your local comic shop.
Memetic: James Tynion IV makes the list again — with another current miniseries (this time drawn by Eryk Donovan) that makes its play with a different kind of mystery: a JPEG of a sloth that drives mad anyone who lays eyes upon the image. Our protagonists appear to be a blind man and a colorblind college student, neither of whom are affected by the strange image. With only one issue to go, there is still the mystery of who is behind the deadly viral campaign.
Memetic issues #1 and #2 are currently available in finer comic book stores and on ComiXology.
"Going viral" has a new, mysterious meaning…