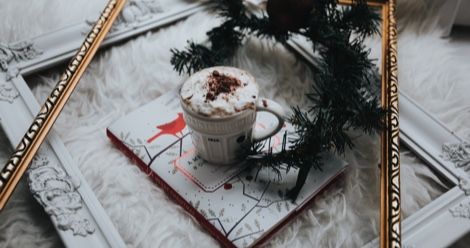 Lists
50 Must Read Books About the Holidays
This content contains affiliate links. When you buy through these links, we may earn an affiliate commission.
This list of must-read books about the holidays is sponsored by Penguin Random House Audio.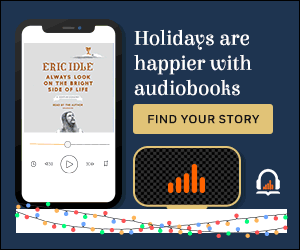 HOLIDAYS ARE HAPPIER WITH AUDIOBOOKS. Make your holiday travels, errands, cooking sessions, and all the rest more enjoyable by listening to an audiobook. From bestsellers, to thrillers, to self-care, you can find the perfect listen for any moment. Give yourself the gift of audio this holiday season.
---
Whether you celebrate Christmas, Kwanzaa, Hanukkah, or just want to skip forward to New Year's Eve, there's a book out there to help you get in the holiday spirit. Here are fifty must-read books about the holidays for adults, young adults, middle grade readers, and children.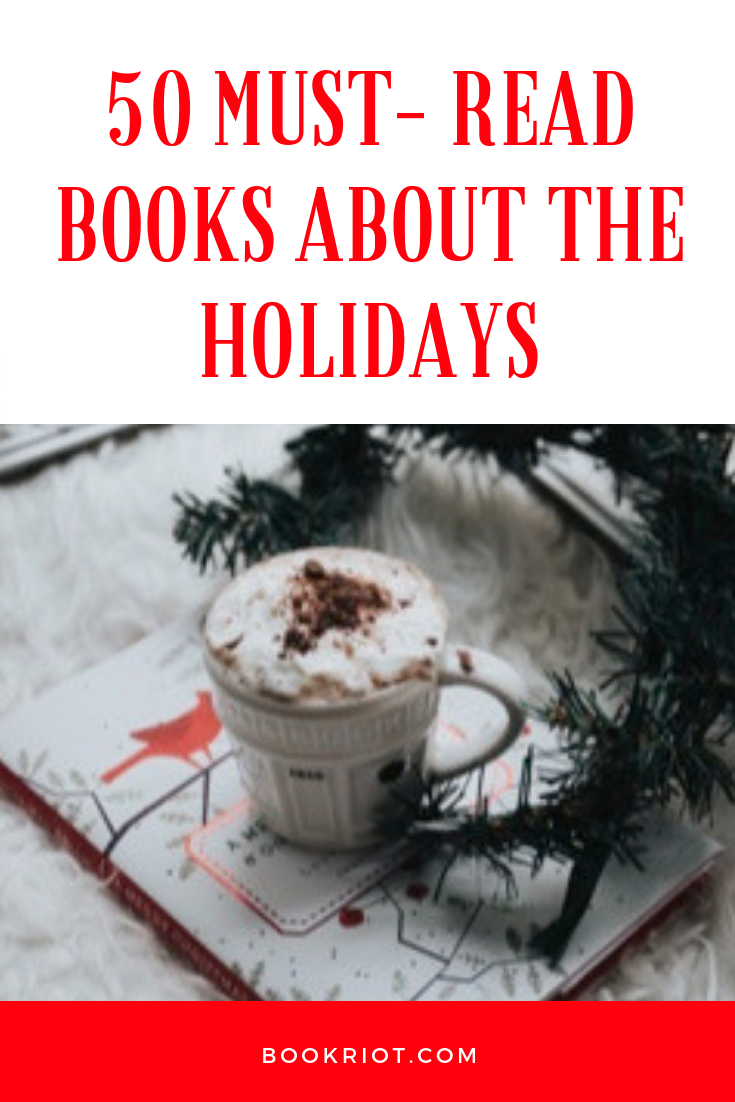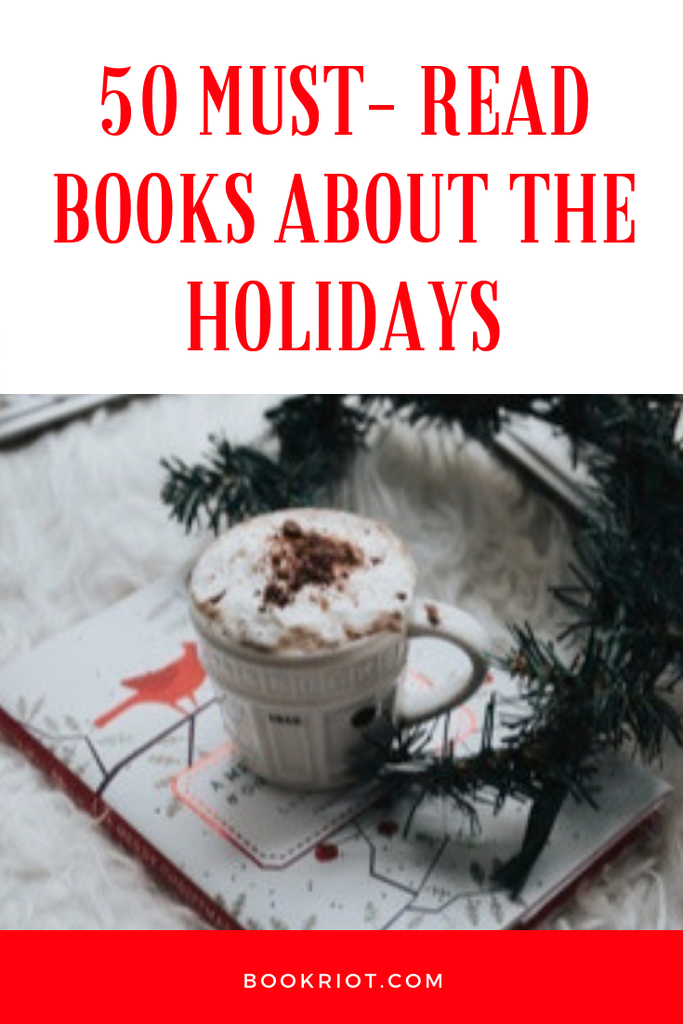 Adults/Young Adults
Charles Dickens's beloved tale of the Christmas spirit is beautifully presented in this deluxe new illustrated edition. Contemporary artist and illustrator Yelena Bryksenkova has created enchanting artwork to accompany Dickens's classic story of Ebenezer Scrooge and the Ghosts of Christmas Past, Present, and Future. Gorgeous watercolors evoke the magic of a Victorian Christmas while simultaneously infusing this timeless text with a touch of modern-day whimsy. With gilded page edges and a satin ribbon marker, this lavish keepsake volume is tomorrow's cherished family heirloom—an essential holiday treasure to read year after year around the fire, under the tree, or with the plum pudding.
Erin Scott withstood the humiliation of being abandoned at a high school prom by the man of her dreams. Channeling her personal feelings into work, Erin opened a department store which now flourishes and is about to expand. Just as her family gathers for the Kwanzaa celebration, her nemesis returns to town, opening old wounds and throwing her life in to passionate chaos.
Raimi Price regretted his decision almost as soon as he made it, but he couldn't undo it. Now sixteen years later he's back, hoping to stay, but reconciling with Erin Scott is a major priority. When he discovers they are both bidding on the same piece of property his romantic plans stall. Then history threatens to repeat itself complicating matters more.
Can these two bridge the gap and find a lasting love?
16-year-old Lily has left a red notebook full of challenges on her favorite bookstore shelf, waiting for just the right guy to come along and accept its dares. Dash, in a bad mood during the holidays, happens to be the first guy to pick up the notebook and rise to its challenges.
What follows is a whirlwind romance as Dash and Lily trade dares, dreams, and desires in the notebook they pass back and forth at locations all across New York City. But can their in-person selves possibly connect as well as their notebook versions, or will their scavenger hunt end in a comic mismatch of disastrous proportions?
Lucy Stone is thrilled to be cast as an extra in a festive period film—until the set becomes a murder scene decorated in blood and buttercream icing. Returning to her role as sleuth, Lucy dashes to restore peace to Tinker's Cove, unwrap a cold-hearted criminal's MO, and reveal how one ornate Yule log cake could possibly cause so much drama.
Laurie is pretty sure love at first sight doesn't exist anywhere but the movies. But then, through a misted-up bus window one snowy December day, she sees a man who she knows instantly is the one. Their eyes meet, there's a moment of pure magic…and then her bus drives away.
Certain they're fated to find each other again, Laurie spends a year scanning every bus stop and cafe in London for him. But she doesn't find him, not when it matters anyway. Instead they "reunite" at a Christmas party, when her best friend Sarah giddily introduces her new boyfriend to Laurie. It's Jack, the man from the bus. It would be.
What follows for Laurie, Sarah and Jack is ten years of friendship, heartbreak, missed opportunities, roads not taken, and destinies reconsidered. One Day in December is a joyous, heartwarming and immensely moving love story to escape into and a reminder that fate takes inexplicable turns along the route to happiness.
Every December an envelope bearing a stamp from the North Pole would arrive for J.R.R. Tolkien's children. Inside would be a letter in a strange, spidery handwriting and a beautiful colored drawing or painting. The letters were from Father Christmas.
They told wonderful tales of life at the North Pole: how the reindeer got loose and scattered presents all over the place; how the accident-prone North Polar Bear climbed the North Pole and fell through the roof of Father Christmas's house into the dining room; how he broke the Moon into four pieces and made the Man in it fall into the back garden; how there were wars with the troublesome horde of goblins who lived in the caves beneath the house, and many more.
No reader, young or old, can fail to be charmed by Tolkien's inventiveness in this classic holiday treat.
First published in 1956, this much sought-after autobiographical recollection of Truman Capote's rural Alabama boyhood has become a modern-day classic. We are proud to be reprinting this warm and delicately illustrated edition of A Christmas Memory—"a tiny gem of a holiday story" (School Library Journal, starred review). Seven-year-old Buddy inaugurates the Christmas season by crying out to his cousin, Miss Sook Falk: "It's fruitcake weather!" Thus begins an unforgettable portrait of an odd but enduring friendship between two innocent souls–one young and one old–and the memories they share of beloved holiday rituals.
On the last night of 1937, twenty-five-year-old Katey Kontent is in a second-rate Greenwich Village jazz bar with her boardinghouse roommate stretching three dollars as far as it will go when Tinker Grey, a handsome banker with royal blue eyes and a tempered smile, happens to sit at the neighboring table. This chance encounter and its startling consequences propel Katey on a yearlong journey from a Wall Street secretarial pool toward the upper echelons of New York society and the executive suites of Condé Nast—rarefied environs where she will have little to rely upon other than a bracing wit and her own brand of cool nerve.
Wooed in turn by a shy, principled multi-millionaire and an irrepressible Upper East Side ne'er-do-well, befriended by a single-minded widow who is ahead of her time, and challenged by an imperious mentor, Katey experiences firsthand the poise secured by wealth and station and the failed aspirations that reside just below the surface. Even as she waits for circumstances to bring Tinker back into her life, she begins to realize how our most promising choices inevitably lay the groundwork for our regrets.
Imagine a year without Christmas. No crowded shops, no corny office parties, no fruitcakes, no unwanted presents. That's just what Luther and Nora Krank have in mind when they decide that, just this once, they'll skip the holiday altogether. Theirs will be the only house on the street without a rooftop Frosty the snowman; they won't be hosting their annual Christmas Eve bash; they aren't even going to have a tree. They won't need one, because come December 25 they're setting sail on a Caribbean cruise. But, as this weary couple is about to discover, skipping Christmas brings enormous consequences – and isn't half as easy as they'd imagined.
A classic tale for modern times, Skipping Christmas offers a hilarious look at the chaos and frenzy that has become part of our holiday tradition.
Agatha Christie, the acknowledged mistress of suspense–creator of indomitable sleuth Miss Marple, meticulous Belgian detective Hercule Poirot, and so many other unforgettable characters–brings her entire oeuvre of ingenious whodunits, locked room mysteries, and perplexing puzzles to audio. In Hercule Poirot's Christmas, the holidays are anything but merry when a family reunion is marred by murder–and the notoriously fastidious investigator is quickly on the case. The wealthy Simeon Lee has demanded that all four of his sons–one faithful, one prodigal, one impecunious, one sensitive–and their wives return home for Christmas. But a heartwarming family holiday is not exactly what he has in mind. He bedevils each of his sons with barbed insults and finally announces that he is cutting off their allowances and changing his will. Poirot is called in the aftermath of Simeon Lee's announcement.
August 1914. England is at war. As Evie Elliott watches her brother, Will, and his best friend, Thomas Harding, depart for the front, she believes—as everyone does—that it will be over by Christmas, when the trio plan to celebrate the holiday among the romantic cafes of Paris.
But as history tells us, it all happened so differently…
Evie and Thomas experience a very different war. Frustrated by life as a privileged young lady, Evie longs to play a greater part in the conflict—but how?—and as Thomas struggles with the unimaginable realities of war he also faces personal battles back home where War Office regulations on press reporting cause trouble at his father's newspaper business. Through their letters, Evie and Thomas share their greatest hopes and fears—and grow ever fonder from afar. Can love flourish amid the horror of the First World War, or will fate intervene?
Christmas 1968. With failing health, Thomas returns to Paris—a cherished packet of letters in hand—determined to lay to rest the ghosts of his past. But one final letter is waiting for him…
Nick Hornby mines the hearts and psyches of four lost souls who connect just when they've reached the end of the line.
In four distinct and riveting first-person voices, Hornby tells a story of four individuals confronting the limits of choice, circumstance, and their own mortality. This is a tale of connections made and missed, punishing regrets, and the grace of second chances.
Pride and Prejudice and Mistletoe from New York Times bestselling author, Melissa de la Cruz, is a sweet, sexy and hilarious gender-swapping, genre-satisfying re-telling, set in contemporary America and featuring one snooty Miss Darcy.
Darcy Fitzwilliam is 29, beautiful, successful, and brilliant. She dates hedge funders and basketball stars and is never without her three cellphones―one for work, one for play, and one to throw at her assistant (just kidding). Darcy's never fallen in love, never has time for anyone else's drama, and never goes home for Christmas if she can help it. But when her mother falls ill, she comes home to Pemberley, Ohio, to spend the season with her family.
Her parents throw their annual Christmas bash, where she meets one Luke Bennet, the smart, sardonic slacker son of their neighbor. Luke is 32-years-old and has never left home. He's a carpenter and makes beautiful furniture, and is content with his simple life. He comes from a family of five brothers, each one less ambitious than the other. When Darcy and Luke fall into bed after too many eggnogs, Darcy thinks it's just another one night stand. But why can't she stop thinking of Luke? What is it about him? And can she fall in love, or will her pride and his prejudice against big-city girls stand in their way?
Former beauty queen Waverly Leverve can barely show her face in public after an embarrassing meme goes viral. But now fate and a misdelivered pizza have brought her dreams back to life. Gorgeous bad boy turned business mogul Dominic Crowne wants to sponsor Waverly in a pageant scheduled for Christmas Eve. Waverly vows to keep their arrangement purely professional—but soon their arrangement quickly takes a sensual turn…
Dominic knows that his golden touch can fix almost anything—including Waverly's tilted tiara. Against his own will, Dominic is mesmerized with his stunning new client. He's falling for the pageant princess and the vulnerable yet sexy woman within. But when Waverly's ultimate goal finally comes within reach, can he help her achieve professional redemption and find his Princess Charming under the mistletoe?
Kenna McMillan would do anything for her grandchildren. She would even accompany one of them hundreds of years into the future for a week of Christmas celebrations with the old witch, Morna, just to make him smile. But unexpected guests at the inn upend all of their holiday plans. As she learns more about her new acquaintance, she starts to wonder if her week away might take a romantic turn…
When a trip to Conall Castle with his granddaughter results in Malcolm Warren bumping into old friends, their quick trip out of Edinburgh quickly turns into days away from the city. While there, Malcolm meets the first woman in years to stir something long neglected inside his heart. When it comes time to return to the city, his granddaughter wants to remain behind with her new friends. He invites Kenna to come with him, promising her a tour of all of the best Christmas sights in the city.
Time together ignites their passion for one another, but the undeniable truth that they live worlds apart threatens their bond.
Kenna also holds a secret—can she trust Malcolm with the truth of Morna's magic? If she does, will their new love for one another be enough to convince him to leave the life he's always known?
If you love holiday stories, holiday movies, made-for-TV-holiday specials, holiday episodes of your favorite sitcoms and, especially, if you love holiday anthologies, you're going to fall in love with My True Love Gave To Me: Twelve Holiday Stories by twelve bestselling young adult writers, edited by international bestselling author Stephanie Perkins. Whether you enjoy celebrating Christmas or Hanukkah, Winter Solstice or New Year's there's something here for everyone. So curl up by the fireplace and get cozy. You have twelve reasons this season to stay indoors and fall in love.
It's Christmas, and for the first time in years the entire Birch family will be under one roof. Even Emma and Andrew's elder daughter—who is usually off saving the world—will be joining them at Weyfield Hall, their aging country estate. But Olivia, a doctor, is only coming home because she has to. Having just returned from treating an epidemic abroad, she's been told she must stay in quarantine for a week…and so too should her family.
For the next seven days, the Birches are locked down, cut off from the rest of humanity—and even decent Wi-Fi—and forced into each other's orbits. Younger, unabashedly frivolous daughter Phoebe is fixated on her upcoming wedding, while Olivia deals with the culture shock of being immersed in first-world problems.
As Andrew sequesters himself in his study writing scathing restaurant reviews and remembering his glory days as a war correspondent, Emma hides a secret that will turn the whole family upside down.
In close proximity, not much can stay hidden for long, and as revelations and long-held tensions come to light, nothing is more shocking than the unexpected guest who's about to arrive…
Charles Dickens is not feeling the Christmas spirit. His newest book is an utter flop, the critics have turned against him, relatives near and far hound him for money. While his wife plans a lavish holiday party for their ever-expanding family and circle of friends, Dickens has visions of the poor house. But when his publishers try to blackmail him into writing a Christmas book to save them all from financial ruin, he refuses. And a serious bout of writer's block sets in.
Frazzled and filled with self-doubt, Dickens seeks solace in his great palace of thinking, the city of London itself. On one of his long night walks, in a once-beloved square, he meets the mysterious Eleanor Lovejoy, who might be just the muse he needs. As Dickens' deadlines close in, Eleanor propels him on a Scrooge-like journey that tests everything he believes about generosity, friendship, ambition, and love. The story he writes will change Christmas forever.
Almost Midnight by Rainbow Rowell is a beautiful gift edition containing two wintery short stories, decorated throughout for the first time with gorgeous black and white illustrations by Simini Blocker. Midnights is the story of Noel and Mags, who meet at the same New Year's Eve party every year and fall a little more in love each time . . . Kindred Spirits is about Elena, who decides to queue to see the new Star Wars movie and meets Gabe, a fellow fan. Midnights was previously published as part of the My True Love Gave to Me anthology, edited by Stephanie Perkins and Kindred Spirits was previously published as a World Book Day title.
On Christmas Eve five years ago, seventeen-year-old Holly Chase was visited by three Ghosts who showed her how selfish and spoiled she'd become. They tried to convince her to mend her ways. She didn't. And then she died.
Now she's stuck working for the top-secret company Project Scrooge—as their latest Ghost of Christmas Past. So far, Holly's afterlife has been miserable. But this year's Scrooge is different. This year's Scrooge might change everything…
The Afterlife of Holly Chase is a witty, poignant, and insightful novel about life, love, and seizing second (or third) chances, perfect for readers who loved Before I Fall or Dash & Lily's Book of Dares.
Do you remember when you believed in magic?
It is 1917, and while war wages across Europe, in the heart of London, there is a place of hope and enchantment.
The Emporium sells toys that capture the imagination of children and adults alike: patchwork dogs that seem alive, toy boxes that are bigger on the inside, soldiers that can fight battles of their own. Into this family business comes young Cathy Wray, running away from a shameful past. The Emporium takes her in, makes her one of its own.
But Cathy is about to discover that the Emporium has secrets of its own.
A dark enchanting, spectacularly imaginative novel perfect for fans of Jessie Burton's The Miniaturist and Erin Morgenstern's The Night Circus.
Claire and Matt are no longer together but decide that it would be best for their daughter, Scarlett, to have a "normal" family Christmas. They can't agree on whose idea it was to go to the Happy Forest holiday park, or who said they should bring their new partners. But someone did—and it's too late to pull the plug. Claire brings her new boyfriend, Patrick (never Pat), a seemingly sensible, eligible from a distance Ironman in Waiting. Matt brings the new love of his life, Alex, funny, smart, and extremely patient. Scarlett, who is seven, brings her imaginary friend Posey. He's a giant rabbit. Together the five (or six?) of them grit their teeth over Forced Fun Activities, drink a little too much after Scarlett's bedtime, overshare classified secrets about their pasts . . . and before you know it, their holiday is a powder keg that ends where this novel begins—with a tearful, frightened call to the police.
What happened? They said they'd all be adults about this. . . .
David Sedaris's beloved holiday collection is new again with six more pieces, including a never before published story. Along with such favorites as the diaries of a Macy's elf and the annals of two very competitive families, are Sedaris's tales of tardy trick-or-treaters (Us and Them); the difficulties of explaining the Easter Bunny to the French (Jesus Shaves); what to do when you've been locked out in a snowstorm (Let It Snow); the puzzling Christmas traditions of other nations (Six to Eight Black Men); what Halloween at the medical examiner's looks like (The Monster Mash); and a barnyard secret Santa scheme gone awry (Cow and Turkey)
Since 1966, Kwanzaa has been celebrated as a black holiday tradition – an annual recognition of cultural pride in the African American community. But how did this holiday originate, and what is its broader cultural significance?
Kwanzaa: Black Power and the Making of the African-American Holiday Tradition explores the political beginning and later expansion of Kwanzaa, from its start as a Black Power holiday, to its current place as one of the most mainstream of the black holiday traditions. For those wanting to learn more about this alternative observance practiced by countless African Americans and how Kwanzaa fits into the larger black holiday tradition, Keith A. Mayes gives an accessible and definitive account of the movements and individuals that pushed to make this annual celebration a reality, and shows how African-Americans brought the black freedom struggle to the American calendar.
Clear and thoughtful, Kwanzaa is the perfect introduction to what is now the quintessential African American holiday.
Beloved writer and speaker William Bennett brings the legendary Saint Nicholas to life in this fascinating and faith-affirming book that will change the way you think about Santa Claus and the meaning of Christmas. Bennett reflects on Saint Nicholas's storied life, which has spanned seventeen centuries across Europe, Asia, and Africa, and reveals an inspiring tale of devotion to God and an example of eternal goodness.
The True Saint Nicholas: Why He Matters to Christmas focuses on three aspects of Saint Nicholas—historical facts from his life, his legacy in the centuries following his death, and the legendary status that transformed his likeness into the present-day jolly, toy-bearing Santa Claus. The book vividly captures the heart and life of someone who lived long ago—and yet whose life remains an inspiration for everyone to aspire to a higher order of generosity, giving, and devotion to others.
An instant classic by one of America's most respected thinkers, The True Saint Nicholas is a memorable keepsake to be shared with family and friends every year to evoke the true spirit of Christmas.
It's been too long since the entire Quinn family has been able to celebrate the holidays under the same roof, but that's about to change. With Bart back safe and sound from Afghanistan, the Quinns are preparing for a holiday more joyous than any they've experienced in years. And Bart's safe return isn't the family's only good news: Kevin is enjoying married life with Isabelle; Patrick is getting back on his feet after paying his debt to society; Ava thinks she's finally found the love of her life; and Kelly is thrilled to see his family reunited at last. But it just wouldn't be a Quinn family gathering if things went smoothly. A celebration of everything we love–and some of the things we endure–about the holidays, Winter Solstice is Elin Hilderbrand at her festive best.
In the Cornish coastal village of Mount Polbearne, the Christmas season has arrived. It's a joyous time for family, friends, and feasting, as decorations sparkle along the town's winding streets and shop windows glow with festive displays. And in Polly's Little Beach Street Bakery, the aroma of gingerbread cookies and other treats tempts people in from the cold.
Though Polly is busy keeping up with the demands of the season, she still makes time for her beekeeper boyfriend, Huckle. She's especially happy to be celebrating the holiday this year with him, and can't wait to cuddle up in front of the fireplace with a cup of eggnog on Christmas Eve.
But holiday bliss soon gives way to panic when a storm cuts the village off from the mainland. Now it will take all of the villagers to work together in order to ensure everyone has a happy holiday.
In the early months of World War I, on Christmas Eve, men on both sides of the trenches laid down their arms and joined in a spontaneous celebration. Despite orders to continue shooting, the unofficial truce spread across the front lines. Even the participants found what they were doing incredible: Germans placed candlelit Christmas trees on trench parapets, warring soldiers sang carols, and men on both sides shared food parcels from home. They climbed from the trenches to meet in "No Man's Land" where they buried the dead, exchanged gifts, ate and drank together, and even played soccer.
Throughout his narrative, Stanley Weintraub uses the stories of the men who were there, as well as their letters and diaries, to illuminate the fragile truce and bring to life this extraordinary moment in time.
Angelou's beautiful, moving, and beloved poem, which she first read at the 2005 White House tree-lighting ceremony, now comes alive as a fully illustrated children's book, celebrating the promise of peace in the holiday season. In this simple story, a family joins with their community—rich and poor, black and white, Christian, Muslim, and Jew—to celebrate the holidays.
In the snowy Highlands of Scotland, Suzanne McBride is dreaming of the perfect cozy Christmas. Her three adopted daughters are coming home for the holidays and she can't wait to see them. But tensions are running high…
Workaholic Hannah knows she can't avoid spending the holidays with her family two years in a row. But it's not the weight of their expectations that's panicking her—it's the life-changing secret she's hiding. Stay-at-home mom Beth is having a personal crisis. All she wants for Christmas is time to decide if she's ready to return to work—seeing everyone was supposed to help her stress levels, not increase them! Posy isn't sure she's living her best life, but with her parents depending on her, making a change seems risky. But not as risky as falling for gorgeous new neighbor Luke…
As Suzanne's dreams of the perfect McBride Christmas unravel, she must rely on the magic of the season to bring her daughters together. But will this new togetherness teach the sisters that their close-knit bond is strong enough to withstand anything—including a family Christmas?
Middle Grade/Children
"Every Who down in Who-ville liked Christmas a lot . . . but the Grinch, who lived just north of Who-ville, did NOT!" Not since "'Twas the night before Christmas" has the beginning of a Christmas tale been so instantly recognizable. This heartwarming story about the effects of the Christmas spirit will grow even the coldest and smallest of hearts. Like mistletoe, candy canes, and caroling, the Grinch is a mainstay of the holidays, and his story is the perfect gift for young and old.
And don't forget to celebrate Grinch-mas this Christmas season, the annual holiday tradition inspired by How the Grinch Stole Christmas that encourages readers to grow their hearts three sizes by doing good deeds!
As a young Japanese boy recovers from a bad chill, his mother busily folds origami paper into delicate silver cranes in preparation for the boy's very first Christmas.
Newbery Honor–winning author McKissack and Caldecott Medal–winning illustrator Pinkney have outdone themselves in this heart-warming story infused with humor and the true spirit of Christmas.
Christmas always comes to Nella's house, but Santa Claus brings gifts only once in a while. That's because it's the Depression and Nella's family is poor. Even so, Nella's hoping that this year she and her two sisters will get a beautiful Baby Betty doll.
On Christmas morning, the girls are beside themselves with excitement! There is Baby Betty, in all her eyelash-fluttering magnificence. "Mine!" Nella shouts, and claims the doll for herself. But soon she discovers that Baby Betty isn't nearly as much fun as her sisters. Would it be more fun to share this very best gift with them after all?
A young boy, lying awake one Christmas Eve, is welcomed aboard a magical trip to the North Pole. Through dark forests, over tall mountains, and across a desert of ice, the Polar Express makes its way to the city atop the world, where the boy will make his Christmas wish. For millions of readers worldwide, this mysterious journey to the North Pole has become a beloved classic. In this 30th anniversary edition, the inimitable artistry of Chris Van Allsburg is revealed in a never-before-seen fashion, with a new jacket design and expanded interior layout. Includes author's note, downloadable audio read by Liam Neeson, and golden "All Aboard" ornament.
With bold and colorful paintings and simple, straightforward text, the author explains the Kwanzaa holiday.
Describes the origins and practices of Kwanzaa, the seven-day festival during which people of African descent rejoice in their ancestral values.
Set in England in the nineteenth century, two orphaned sisters face an uncertain future after escaping the harsh environment of the workhouse, yet after an encounter with a generous young girl, the sisters are suddenly led down a path that will forever alter their lives in a positive way.
N is for Navidad by Susan Middleton Elya, Merry Banks
Bienvenidos! to a celebration of Christmas, Latino-style! From the ngel (angel) hung above the door to the zapatos (shoes) filled with grass for the wise men s camels, each letter in this festive alphabet introduces children to a Spanish word, and each colorful page takes them through another joyous aspect of the 22 days of the traditional holiday. Vibrant art from acclaimed illustrator Joe Cepeda beautifully complements the lively, rhythmic text to bring the reader a wealth of heritage and a season of light! Feliz Navidad!
Laughs abound in this bestselling Christmas classic by Barbara Robinson! The Best Christmas Pageant Ever follows the outrageous shenanigans of the Herdman siblings, or "the worst kids in the history of the world." The siblings take over the annual Christmas pageant in a hilarious yet heartwarming tale involving the Three Wise Men, a ham, scared shepherds, and six rowdy kids.
Ralph, Imogene, Leroy, Claude, Ollie, and Gladys Herdman are an awful bunch. They set fire to Fred Shoemaker's toolshed, blackmailed Wanda Pierce to get her charm bracelet, and smacked Alice Wendelken across the head. And that's just the start! When the Herdmans show up at church for the free snacks and suddenly take over the Christmas pageant, the other kids are shocked. It's obvious that they're up to no good. But Christmas magic is all around and the Herdmans, who have never heard the Christmas story before, start to reimagine it in their own way.
This year's pageant is definitely like no other, but maybe that's exactly what makes it so special.
Eleven-year-old Nikolas—nicknamed "Christmas"—has received only one toy in his life: a doll carved out of a turnip. But he's happy with his turnip doll, because it came from his parents, who love him. Then one day his father goes missing, and Nikolas must travel to the North Pole to save him.
Along the way, Nikolas befriends a surly reindeer, bests a troublesome troll, and discovers a hidden world of enchantment in the frozen village of Elfhelm. But the elves of Elfhelm have troubles of their own: Christmas spirit and goodwill are at an all-time low, and Nikolas may be the only person who can fix things—if only he can reach his father before it's too late. . . .
Sparkling with wit and warmth, A Boy Called Christmas is a cheeky new Christmas classic-in-the-making from acclaimed author Matt Haig and illustrator Chris Mould.
A wordless story. The pictures have "the hazy softness of air in snow. A little boy rushes out into the wintry day to build a snowman, which comes alive in his dreams that night. The experience is one that neither he nor young 'readers' will ever regret or forget.
Li'l Rabbit is not having a very good Kwanzaa. Granna Rabbit is sick, and so his family won't celebrate his favorite part of Kwanzaa this year: a big feast called Karamu.
Li'l Rabbit knows what to do! He'll find Granna Rabbit a special treat for Karamu so she can celebrate anyway.
He looks under a pile of logs, in the field, and in the pond and along the way meets Groundhog, Momma Field Mouse, and the frogs—but he doesn't find anything for Granna Rabbit.
Maybe I'm just too little to help Granna Rabbit celebrate Kwanzaa, Li'l Rabbit thinks. Or maybe he just needs a little help from his family and friends.
Inspired by Brer Rabbit, a trickster character from the African-American folklore tradition, the story of Li'l Rabbit captures the true meaning of Kwanzaa—coming together to help others.
This gorgeously illustrated, full-color classic celebrates a time before email with an interactive picture book full of real letters to read aloud. The Jolly Postman brings a batch of wonderful letters for Christmas, including notes from the Big Bad Wolf and all the King's men. Open this book, take out the letters, and discover what favorite characters would write to each other–and reimagine best-loved tales together.
Santa Claus is the King of Forever, Land of the Immortals. When one special boy writes to Santa asking what no other child has ever asked — what he wants for Christmas — a miracle occurs: Santa and his wife are blessed with a daughter. But the birth of Holly Claus also brings about a terrible curse — from an evil soul named Herrikhan. Holly's heart is frozen, and the gates to Forever are locked, barring exit or entry.
Now grown into a beautiful and selfless young woman, Holly becomes consumed with the desire to break the spell that holds her people hostage. Accompanied by four faithful and magical animal friends, she escapes to the wondrous world of Victorian New York and embarks on a series of dangerous and life-changing adventures.
With fanciful characters, rich language, and evocative imagery, The Legend of Holly Claus pays tribute to the great fairy tales and myths of our time. This epic novel filled with mystery, magic, and wonder is destined to take its place as a Christmas classic.
Trailing behind the caravan that is following the eastern star, in search of the newborn king, Ameer and his dog Ra try to find a tribute that will compare to those of the merchants and kings, and, while in Bethlehem, discover the best gift of all.
When her grandmother takes in a stranded family at Christmas, Grace is reluctant to share her favorite holiday with strangers, even though the visiting family includes a "real live ballerina."
An award-winning author and a rising star artist have put a festive Latino twist on "The Twelve Days of Christmas," populating it with piñatas in place of partridges, plus burritos bailando (dancing donkeys), lunitas cantando (singing moons), and much more, all displayed in the most vivid colors imaginable. In this version a little girl receives gifts from a secret amiga, whose identity is a sweet surprise at the book's conclusion. There are things to find and count in Spanish on every page, with pronunciations provided right in the pictures and a glossary and music following the story. This joyous fiesta will warm even the coldest of hearts.
Holiday time at Sadie's house means golden gelt sparkling under the Christmas tree, candy canes hanging on eight menorah branches, voices uniting to sing carols about Macabees and the manger, and latkes on the mantel awaiting Santa's arrival.
Selina Alko's joyous celebration of blended families will make the perfect holiday gift for the many Americans who celebrate both Christmas and Hanukkah.
This jazz-inspired reinvention of The Nutcracker is a worthy tribute to the dreamlike wonder and magic of the Christmas season.
In this original retelling, set in New York City during the height of the Harlem Renaissance, one little girl finds her voice as a musician thanks to her enchanting adventures with a magical toy.
This quintessential holiday tale is brought to vivid life by debut picture book author T. E. McMorrow and Coretta Scott King Award-winning illustrator James Ransome. An author's note at the end provides additional information about the history of the Harlem Renaissance, and about the author's inspiration for this musical retelling.
In 1897, a young girl wrote to The New York Sun asking whether Santa Claus truly existed. The paper's response, written by reporter Francis P. Church, has become a beloved holiday literary tradition. An original approach to a children's classic, this captivating book creatively reinterprets that heartwarming letter about the truth behind Santa Claus and Christmas. It is accompanied by charming Victorian artwork. Joel Spector is an artist and illustrator known for his elegant pastel images. His work appears regularly in magazines and newspapers including Business Week, Newsweek, Good Housekeeping, and The New York Times.
What's your favorite holiday book? Let us know in the comments!