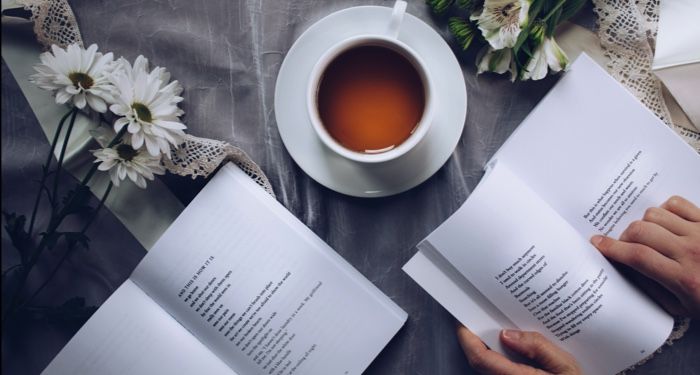 Poetry
What Are The Most Cited Poems?
There is a vast body of work in the world of poetry, as there are talented poets across the world penning lines of verse that can grab you by the throat, gently take your hand, and resonate through your heart like the sweetest notes of a violin.
It's no surprise, then, that certain poems rise above the rest and stay with people throughout their lives. Or that the subject matter of certain poems pertain to a life event that many of us experience, whether that's falling in love, losing a loved one, or going through a personal transformation.
We wanted to do a little research to find out what those poems are: What selected favorites are plucked from the world's book of poetry and find themselves in wedding vows, eulogies, or sneak their way into popular culture. We found, however, that the most cited/favored poems skew heavily toward white poets, and starkly lacks the diversity we would hope to see. This is in large part the result of the racial, gender, and class bias at play when works are selected for the western literary canon.
A literary canon is a collection works that are considered essential and were incredibly important and influential for a certain time period or place. The canon tends to dictate what authors are taught in classrooms, since teachers have historically selected their readings from it; in short, this is where the "classics" live. The Great Gatsbys and the Gulliver's Travels and the Beowulfs of literature. Just based on that small sample, you can already see the problem: the western canon is incredibly white and European-focused. For a short history lesson, the American literary canon didn't become a thing until American literature classes became a thing in the 1890s. The educators who chose what to teach essentially shaped the early canon—and they were educated, privileged white men. A "canon of literature" gained traction in the 1920s, and its roster reflected its selectors. Those who did not have access to literacy, education, and higher socioeconomic status, namely everyone else except for white men (and some white women), were excluded from the canon.
Nothing changed for decades. The canon did not include Black American authors until the Civil Rights era. Harold Bloom's 1995 book defining the western canon listed 21 white male writers, three white female writers, and two South American male writers (Pablo Neruda and Jorge Luis Borges). The canon has been expanding and reforming to include literature from all over the world, but the expansion has been slow going, which brings us back to poetry. The average person's exposure to poetry is relatively limited unless poetry is really, really their thing, and their exposure tends to come from what they're taught in school or what shows up in popular culture, which perpetuates this limited, white Euro-centric view of the poetry out there. Hopefully with increased exposure and literary canon reform, the most cited poems will grow far more diverse to reflect the true body of work in the poetry world.
This is by no means an exhaustive list; only one poem per author was selected for the sake of brevity, since a number of the below poets had multiple poems show up numerous times. If the title contains a link, then there's only an excerpt of its more famous lines displayed instead of the entire poem.