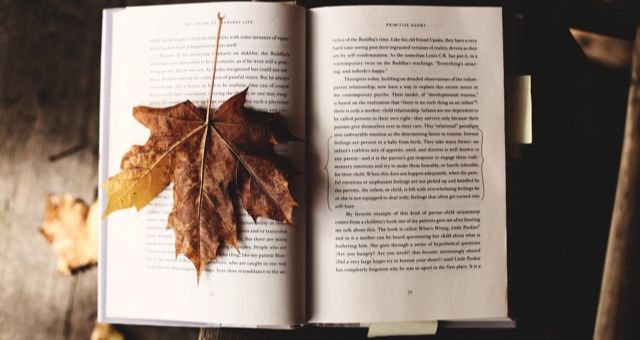 Lists
Fall YA Books To Add To Your TBR
This content contains affiliate links. When you buy through these links, we may earn an affiliate commission.
Ready to kick off your fall TBR with some great new books? There's nothing better on a chilly autumn day than to curl up with a great new read. Slip on your coziest socks and grab a mug, because these fall 2019 YA books are sure to keep you reading nonstop.
American Royals by Katharine McGee (September 3, 2019, from Random House Books for Young Readers)
What if George Washington hadn't turned down the monarchy? What if the United States of America had a royal family of its own? Meet the Washingtons, America's royals. There's Princess Beatrice, the heir apparent, and her wild twin siblings, Samantha and Jefferson, always at the heart of some scandal. But with a stringent social hierarchy, strict royal expectations, and tangled love lives, the three siblings—along with Sam's best friend and Jeff's ex—have to ask themselves what they're willing to do—and what they're willing to sacrifice—to be American royals.
Butterfly Yellow by Thanhhá Lai (September 3, 2019, from HarperCollins)
Hoping to escape to a better life in America in the final days of the Việt Nam War, Hằng takes her little brother Linh to the airport. But instead of a happy life together in a new country, Linh is ripped from her arms, and Hằng is left behind. Six years later, she finally journeys to America as a refugee to reunite her brother. But she has to find him first. She finds help in the most surprising of places: a Texas boy with big rodeo dreams. But when they track down Linh, he has no memory of Hằng or the life they shared in Việt Nam. Even so, Hằng has come much too far to give up now.
Dear Haiti, Love Alaine by Maika Moulite and Maritza Moulite (September 3, 2019, from Inkyard Press)
Seventeen-year-old Alaine, a Haitian American from Miami, finds herself shipped off to Haiti after a school report gone disastrously awry. Now she has to write a report in what her school is calling a "spring volunteer immersion project," working for her Tati Estelle's new nonprofit. But between flirting with Estelle's cute new intern, actually getting to spend some time with her mother, and learning more about her family's history, maybe a trip to Haiti is exactly what she needs.
The Lady Rogue by Jenn Bennett (September 3, 2019, from Simon Pulse)
Theodora has spent her life longing to become a treasure hunter like her father. She's read every book in his library, is full of ambition, and has the knowledge to back it up. But instead of her, he's chosen Theodora's ex, Huck Gallagher, to be his protégé. But when her father goes missing, Huck come to Theodora for help in finding him. Their search takes them to the Carpathian Mountains in Romania as they uncover her father's secret research into a magical ring that supposedly belonged to Vlad the Impaler—the inspiration for Dracula—himself. But with a dangerous occult society also searching for the ring, Huck and Theodora will have to work harder and faster than ever before if the want to escape with not only the treasure but also their lives.
Frankly in Love by David Yoon (September 10, 2019, from G.P. Putnam's Sons Books for Young Readers)
As far as Frank Li's parents are concerned, there's only one rule when it comes to romance: "Date Korean." Which makes things complicated when he falls for Britt Means, who just so happens to be white. Fortunately, his classmate Joy Song is in a similar predicament so they come to an agreement: pretend to date each other to keep their parents happy. The only problem is, the more Frank and Joy spend time together, the more he begins to wonder if he's ever really understood love at all.
How to Be Remy Cameron by Julian Winters (September 10, 2019, from Duet)
Everybody knows Remy Cameron. He's the out-and-proud gay guy everyone loves for his confidence and charm. In fact, the only person who doesn't really know Remy might be Remy himself. Until a class essay starts him down a journey of self-discovery. After all, who is the real Remy Cameron behind all those labels he's been stuck with? Maybe now, Remy can finally get to know himself for who he is.
Kingdom of Souls by Rena Barron (September 10, 2019, from HarperVoyager)
Arrah may come from a family of witchdoctors, but year after year her powers have failed to appear. There is one last thing she could try, but it would cost her—literally. Years of her life in exchange for scraps of magic, that's the price to pay. It's high. But when the long-imprisoned Demon King shows signs of stirring again, Arrah will have to consider what she is willing to give up to stop him.
Pet by Akwaeke Emezi (September 10, 2019, from Make Me a World)
The author of Freshwater is back with their young adult debut. There are no more monsters in Lucille. That's what Jam and her best friend Redemption have always been taught. But when a monstrous looking creature comes to life out of a painting claiming to be a monster hunter, she's forced to confront a terrifying reality: the monsters aren't gone. Not entirely. And this new monster is apparently living in her best friend's house. How can Jam fight back against something she's been told doesn't exist? And, even more importantly, how can she find out who's hurting her friends when the adults around her refuse to believe anything is wrong?
The Deathless Girls by Kiran Millwood Hargrave (September 19, 2019, from Orion Children's Books)
In this imagining of the untold story of the brides of Dracula, twin sisters Lil and Kizzy are taken captive by the Boyar Valcar on the eve of their divining day. Lil is forced to work in the harsh castle kitchens where she meets fellow slave, Mira, and learns about the dragon, a mysterious and terrifying figure from legend who takes girls as gifts. They may have been robbed of their divining day, but Lil and Kizzy's fates are beginning to unfold nonetheless.
The Bone Houses by Emily Lloyd-Jones (September 24, 2019, from Little, Brown Books for Young Readers)
Ryn and her siblings have been trying to eke out a living as gravediggers in their family's graveyard ever since the death of their parents. The only problem is, in Ryn's hometown under the shadow of a mountain once ruled by the fae, the dead don't always stay dead. When a new mapmaker's apprentice arrives, the undead attack with an unparalleled vengeance. What is it about this boy that draws the dead to him? And, more importantly, can they finally find a way to keep the dead buried once and for all?
Six Goodbyes We Never Said by Candace Ganger (September 24, 2019, from Wednesday Books)
The last thing Naima Rodriguez wants is your sympathy as she grieves for her father, a fallen Marine. Everyone wants her to try to remember him "as he was" to help manage her OCD and Generalized Anxiety Disorder, but Naima just wants to be left alone. Then she meets Dew, a boy struggling with a surge of new anxieties after the loss of both his parents. He could really use a friend. And even if Naima won't admit it, she could too. It's not a love story—maybe not even a like story—but between the two of them maybe Naima and Dew can figure out some way to cope with unimaginable loss.
SLAY by Brittney Morris (September 24, 2019, from Simon Pulse)
SLAY is the hit new MMORPG celebrating black excellence. It's also stirring up a whole lot of controversy, with white people claiming it's promoting reverse racism and gatekeeping and, after a shocking murder, maybe even extreme violence. It seems like everyone in 17-year-old Kiera Johnson's life has an opinion. But what would they think if they knew she was the one who created it? In the world of SLAY Kiera is a queen—and she'll have to fight online and in real life to keep this safe space she created for herself and others like her from being corrupted from the inside out.
Crier's War by Nina Varela (October 1, 2019, from HarperTeen)
The war ravaged kingdom of Rabu has been taken over by the Automae who now control the human race. Ayla is a human servant in the House of the Sovereign with one goal: avenge her family's death by killing Lady Crier, the daughter of the Sovereign. But Crier has become conflicted, no longer sure of the father who she once saw as a benevolent king. As Ayla and Crier grow closer, they realize they may be only one path forward: all out war.
The Never Tilting World by Rin Chupeco (October 15, 2019, from HarperTeen)
When an ancient prophecy was broken, the world of Aeon stopped spinning, turning into a planet divided: one half frozen in unending night, and the other scorched by the unrelenting sun. Now the twin rulers of the realms have each had a daughter of their own, Odessa and Haidee, called to return to the site of the Breaking and restore their suffering world—no matter the cost.
Tarnished Are the Stars by Rosiee Thor (October 15, 2019, from Scholastic Press)
An illegal clockwork heart is the only thing keeping Anna alive. In turn, she helps supply black market medical technology to those who need it in blatant disregard of the Commissioner's tyrannical laws. The Commissioner's son, meanwhile, sets out on a mission to catch the elusive Technician, distributing illegal medical tech, to earn his father's respect. But the more he learns about her, the more he begins to question the very laws he set out to uphold. And when a deadly secret forces them into an uneasy alliance, they have to work together to stop an epidemic before it—and the Commissioner—ends them all.
War Girls by Tochi Onyebuchi (October 15, 2019, from Razorbill)
In a futuristic Black Panther–inspired Nigeria, two sisters, Onyii and Ify, dream of a better life. Climate change and nuclear disasters have left most of the world unlivable and their home country ravaged by mech wars. The sisters dream of a future no longer marked by violence, and they're willing to fight an entire war to make it happen.
Lifestyles of Gods and Monsters by Emily Roberson (October 20, 2019, from Farrar, Straus and Giroux)
Ariadne's whole life isn't just preordained by the gods—it's televised and beloved by everyone who watches the Labyrinth Contest. She leads 14 teens into a maze to kill the monster. Losing means death, but winning would mean ultimate glory. Of course, someone would have to actually win for that, and in ten years of competition, no one ever has. When a new competitor, Theseus, asks Ariadne for help in becoming the first ever victor, it means putting everything on the line. And then there's the ultimate question: is the monster whose life would be forfeit by the competition really deserving of death? Or might he be the only one worth saving?
Leyla McQueen is a submersible racer in the drowned streets of London. And if she can win the annual marathon, she might just have a chance of saving her father, who was imprisoned on false charges. But when the race takes a turn and Layla has to face not only the depths but a corrupt government determined to keep its secrets, she has to uncover the truth at the heart of her world in order to free her father and save herself.
A River of Royal Blood by Amanda Joy (October 29, 2019, from Putnam)
In the Queendom of Myre only the most ruthless survive—which is why 16-year-old Eva must face her sister Isa in a battle to the death if she ever wishes to ascend the Ivory Throne. But when an attempt on her life just weeks before the battle reveals other enemies who wish to see her dead, Eva must hone the dangerous magic rushing through her veins and choose between her love for her sister and her desire to win the throne.
---
Want even more great new books? You might want to check out these 15 YA books to add to your summer TBR, the best books of 2019 so far, and these 18 buzzy books to read right now.