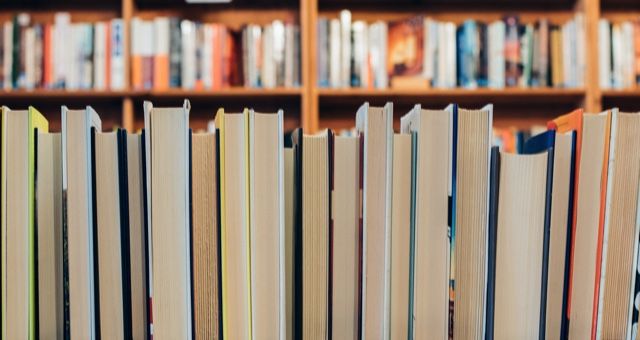 Lists
The 18 Best Buzzy Books to Read Right Now
This content contains affiliate links. When you buy through these links, we may earn an affiliate commission.
What does it mean to be a buzzy book? It's pretty simple; these are the books that people read, love, and can't wait to share with others right here, right now. The best books to read right now are ones you not only want to read, but also talk about, making reading them a social experience. This list of recent great reads include ones that have lived up to their hype, came out of nowhere to be a smash success, won awards, and/or are the kind of book you want others to read so you can gush about it. As a Bibliologist for Book Riot's Tailored Book Recommendations service, TBR, I suggest a lot of books for readers. These 15 buzzy books are the ones I endorse most often and find that a lot of readers tell me they've enjoyed them. Let's jump in!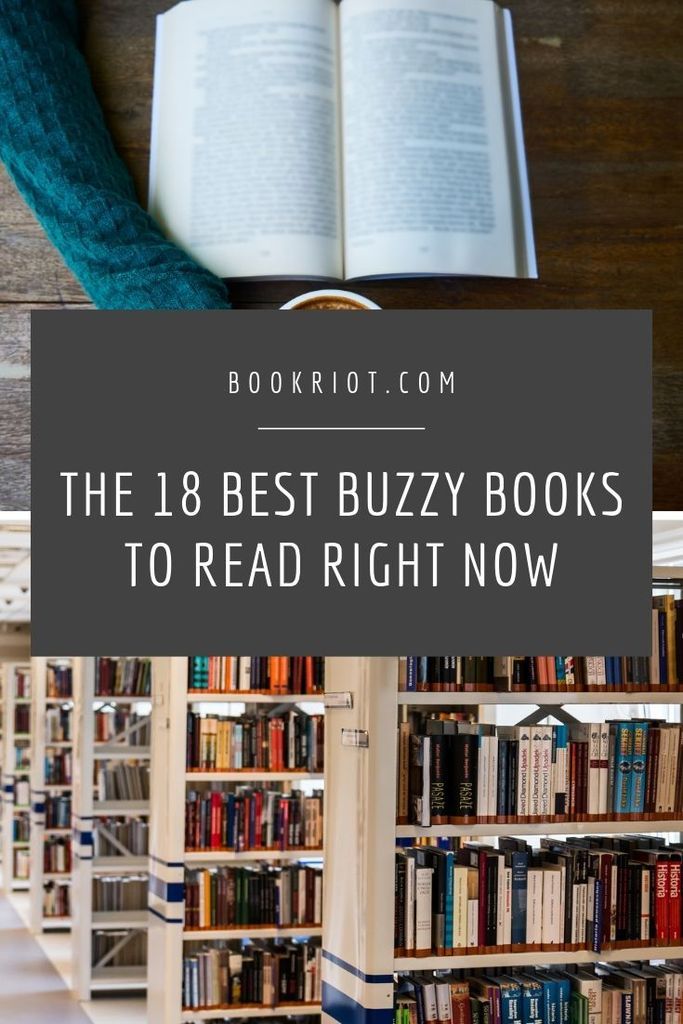 Bad Blood is so fun to read with a friend. This shocking expose about Theranos, the med-tech billion-dollar startup that committed fraud, is packed with unbelievable, jaw-dropping moments. Carreyrou's book helped bring more attention to Theranos, which has already been the feature of an HBO documentary, with Bad Blood being adapted for a film starring Jennifer Lawrence. The unbelievable lengths that the company would go to cover up their faked technology is a ruthless and on-point critique of Silicon Valley's dark side.
Becoming by Michelle Obama
We all knew that the former First Lady would pen an amazing book. But when Michelle Obama's memoir Becoming hit the shelves, it turned out to be even better than expected—impossible, I know. Michelle Obama has an incredible story to tell, and to do it so well speaks to her ability to invite you deep into her heart and soul. Even though she's been arguably one of the most visible people for more than a decade, Michelle Obama lets you into the side of her you haven't seen before. It's no surprise that this must-read book could become the bestselling memoir of all time.
Marlon James brings it hard in this dark fantasy inspired by African myths and legends. Black Leopard, Red Wolf takes you inside the mind of Tracker, an expert hunter who accepts a mission to retrieve a boy who's been missing for years. But the further Tracker goes on his quest, the more he begins to doubt the mission itself…and his own reality. This gritty fantasy read, the first in the planned Dark Star Trilogy, is distinguished by James's dense-yet-lush lyrical style. You'll definitely want to add it to your TBR.
This dystopian novel reads more like the present than some distant, doomed future—and that's precisely why it gets under your skin. Women who are selected to live on The Farm, an ultra-exclusive resort in upstate New York, become "Hosts" to the babies of the rich and elite struggling with fertility. An immigrant from the Philippines, Jane wants more than anything to get accepted to the Host program; she could really use the lucrative pay. Once there, Jane begins to have doubts, but it might be too late, unless her courage and resolve can overcome The Farm's menacing power of control. This riveting novel sparks debate about medical ethics, raising questions we don't often want to ask because we fear the answers.
This National Book Award winner fits so well in our #MeToo era. In The Friend, our narrator is an unnamed female writer who's recently lost her close friend, a once-prominent white male author facing his growing irrelevance. Even more surprising than his death by suicide is the man's request that his friend adopt his massive Great Dane. At first she resists, not least because she's a cat person who can't keep a dog in her tiny New York apartment, but soon she relents and forms a bond with the dog, bound by shared grief and companionship. It's hard not to close this book with tears in your eyes, but Nunesz's fierce and on-point sendup of misogyny in the literary world is an unmissable read.
Mira Jacob's graphic memoir documents the ongoing conversations she has with her young son about the nature of the world we live in today. Everyone knows and expects kids to ask a bunch of questions when they're young, but how do you respond to the ones that you don't have a satisfying answer to for yourself? Jacob takes us through these "good talks" about identity, race, power, gender, and politics, finding that searching for the right words to console yet educate the children who will become our world's future and best hope.
If there's one recent romance you need to read, it's Helen Hoang's The Kiss Quotient. This Goodreads Choice winner for Best Romance is a charming, neurodiverse love story. Stella is in her early 30s and finding dating mystifying, and her Asperger's makes it all the more challenging to understand the nuances of courtship. So what does scientist Stella do? She hires a male escort, Michael Phan, to teach her the secrets of passion…and when they fall in love, things get, well, complicated. Readers love Hoang's novel for Stella's spirit and vulnerability, plus the swoonworthy romance.
In this lyrical, timely novel, a family on a road trip through the American Sun Belt becomes a story about migration to the United States. With an almost painful poignancy, Valeria Luiselli's book gives voice to the undocumented children who have become human bargaining chips in the current political climate and debates about immigration. Lost Children Archive packs a searing punch with its urgent message and thoughtful pathos for the extraordinary courage of kids caught in the middle.
In Maybe You Should Talk to Someone, therapist and writer Lori Gottlieb reveals the at times grueling, at times uplifting experience of guiding people through emotional suffering and helping them reach their potential—at least, when all goes according to plan. Gottlieb's candid, bittersweet, and often quite funny memoir about her own experiences in therapy is a revealing look at the toll it takes to heal others of some of the worst bouts of pain from the other side of the room. You don't have to have been in countless hours of therapy to enjoy this great read.
Angie Kim's debut legal thriller Miracle Creek opens with a terrible tragedy. An autistic boy and a woman have been killed in an explosion in a pressurized oxygen chamber. The so-called "Miracle Submarine" is an experimental therapeutic treatment for children with special needs and people seeking healing, run by the Korean immigrant couple Pak and Young Yoo. Now, months later, the mother of the boy lost in the horrific event is on trial for murder, but there are secrets still yet to be revealed in this nail-biter of a courtroom drama.
In this literary mystery from Pulitzer Prize finalist Laila Lalami, a Moroccan immigrant is killed in a hit and run. The murder sparks a crisis among the residents of the man's supposedly woke California community. Told through alternating voices, Lalami's novel creates an emotionally engrossing panorama that encapsulates the complex tangle of beliefs about race, identity, and hatred in America.
Richard Powers's massive novel The Overstory recently won the Pulitzer Prize, and it totally makes sense. This is a towering achievement of storytelling. Powers weaves together several perspectives across history, including the voices of trees as characters, to tell an environmentalist tale of our interactions with nature. It's the kind of book you want to savor over several months, a novel rich in language and meaning and truly one of a kind.
This feminist-forward epic fantasy has readers flying through its 800+ pages. In The Priory of the Orange Tree, Samantha Shannon has crafted an intricate world where a matriarchal society anxiously awaits its next female heir. A cast of fierce characters, from those in the royal court to dragon riders, provide a panoramic view of the political struggle. Definitely a must-read for fans of Game of Thrones.
Irish writer Sally Rooney's won praise as a voice of her Millennial generation. In Normal People, her follow up to the breakout hit Conversations with Friends, Rooney proves herself worthy of the acclaim. Normal People follows the on-again, off-again not-quite-relationship between a man and woman who always end up back in each other's paths before too long. Rooney's novel is true to the zeitgeisty experience of being young and figuring your life out, along with the complicated question about who we let into our hearts.
Queenie by Candace Carty-Williams
Readers have fallen in love with perfectly imperfect Queenie, a Jamaican British Millennial living in London. As we follow Queenie's life in London, Carty-Williams pulls us into Queenie's world and the challenges she faces as a young person straddling two different cultures. This relatable zeitgeisty read captures life as a twentysomething: the good, the bad, and the awkward.
This unputdownable thriller is laced with devastating twists and turns, including the final reveal that had my jaw dropping. Alex Michaelides's suspense debut has taken the world by storm. A chilling story about a woman who has turned mute after being discovered at the scene of her husband's murder and the forensic psychologist who obsesses over helping her in prison will have you guessing until the very end.
One of the New York Times Book Review's five best fiction books of 2018, Tommy Orange's There There deserves its praise and more. Readers who enjoy interlocking stories and themes of American identity will be swept away by this lyrical novel. There There centers on the Big Oakland Powwow and members of the Native community connected to it. Orange's searing novel celebrates resilience while challenging America's complicated relationship to its Native and Indigenous peoples.
If you can block out spoilers, Susan Choi's Trust Exercise will be a fun twisty treat. Choi does a few clever things with your reader expectations in this novel. When the book opens, a group of teens at an elite art high school are studying theatre under the guidance of an eccentric director. The action focuses on a boy and girl who become romantically involved. Later in the book, you'll learn something that radically changes the story you just read. This is another must-read novel you'll definitely want to read with a friend to trade reactions and hot takes.
---
Want to stay up to date with the latest buzzy books? Tune into the Book Riot podcasts, like "All the Books," and subscribe to our many newsletters for the newest book action in your inbox.
For individualized, custom book recommendations, be sure to sign up with our Tailored Book Recommendations (TBR) service.