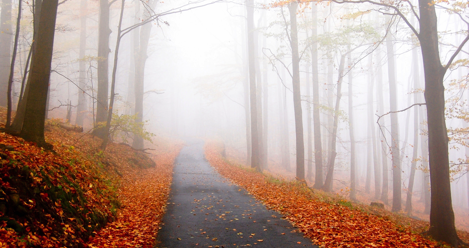 Fiction
More Moody Reads for Your October TBR
This content contains affiliate links. When you buy through these links, we may earn an affiliate commission.
In Rainbow Rowell's Attachments, one of the characters passionately declares, "I was born in February, but I come alive in October." When I first read that line a few years, I thought, Swap out February for May and that's me. There's just something about October and all of its glorious, cozy, pumpkin-flavored moodiness that makes me want to carefully match my reading to the month. Last year I came up with 8 moody, non-horror reads for October, and I've been brainstorming all year for more!
Les and Evy play a game: every boy they encounter is either a werewolf or vampire, and it's up to them to decide which. It's all harmless fun until the Marsh brothers move to town, and Les observes some disturbing changes in her best friend. Wilson takes on the trope of monster boyfriends in YA in a really interesting way, and her story simmers with tension and possibility. The story is available as a 99 cent download on all e-reading platforms, and will complement your pumpkin spice latte perfectly.
Moira Fowley-Doyle's debut The Accident Season made last year's list, and is one of my favorite books. Her second novel is set in a small Irish town where three girls who cast a spell to find their lost diary pages set off a devastating chain of events. Told in alternating viewpoints, the story explores loss and friendship and family, and what exactly is worth holding on to. Fowley-Doyle has several romantic threads—one straight and one queer—that had me swooning. This book has romance and magic and friendship in perfect doses.
Jess is secretly in love with her best friend, Angie. When Angie begins dating Margot, a boarding school girl with a dark streak, Jess is wary. But nothing she can say will get Angie to see Margot and her friends as dangerous, until one night the tension between the girls builds to a violent act that can't be covered up. Lo manages to make the internal stakes just as compelling as the external stakes, and I raced through an early copy of this dark exploration of friendship, relationships, and loyalty.
If you want to go classic with a twist, look no further than the first book in Sherry Thomas's delightfully clever Lady Sherlock series! Sherlock Holmes is the alias for Charlotte Holmes, a disgraced society lady in Victorian London whose quick mind and lack of interest in pleasing polite society forces her to strike out on her own. Her first case involves solving multiple murders in order to exonerate her sister and father, and leads her to team up with an unlikely Watson. A Study in Scarlet Women is an impressive beginning to what sure to be a very exciting series.
This story collection has something strange and exciting for all of your supernatural, autumnal cravings. Faeries, vampires, strange settings, odd magic, and—sometimes—love fill these pages. This collection contains the short story "The Coldest Girl in Coldtown," which was the springboard for the novel of the same title, and "Paper Cuts Scissors," one of my favorite short stories of all time, about a library student who takes on a very weird part-time job.
This recommendation is probably the closest I'll get to the horror genre, although I maintain that Final Girls is a thriller and not a horror novel—despite how it plays with horror tropes. Quincey is the sole survivor of a horror movie style massacre in the woods. The media dubs her and other women who are survivors of similar situations "final girls," but they never meet…until ten years later when the first final girl is found dead and the second one, Sam, ends up on Quincey's doorstep. Sam's arrival poses questions that force Quincey to re-examine the past and try to reclaim her memories of the night of the massacre. It's very psychological in its execution, and only a bit scary at the very ending. I am not a horror movie fan, but I found this book really engrossing.
This comic is about three best friends and housemates, all witches, who are burgled one day by someone close to them using powerful magic to conceal himself. Mystified and more than a little bit pissed, the three friends embark on a road trip to reclaim their valuables—and find danger, magic, and maybe romance on the way to tracking down the thief…and the dark force guiding him. Spell on Wheels is humorous and inclusive, and I really hope that more issues are in the works!
Peter, Andy, Kerry, Nate, and their dog Sean are the Blyton Hills Summer Detective Club, and the last case they ever together solved involved unmasking a so-called lake monster at the Deboen Mansion. Fast forward thirteen years and Peter is dead and the others have never gotten over what really happened that night. It's up to Andy to get the gang back together and head back to the Deboen Mansion to confront the real monsters once and for all. This book is hilarious, a little profane, clever, queer, and subversive. If you ever watched Scooby Doo as a kid, you need this book in your life ASAP.
What's on your October reading list?
Save