This content contains affiliate links. When you buy through these links, we may earn an affiliate commission.
Science fiction and fantasy are two genres well-poised to allow us a way to explore our own world. This usually happens in a through-the-looking-glass sort of way. We see ourselves and our world, but not as we might immediately recognize it. SFF layers in different "races" of people, allowing orcs, elves, and dwarves to represent social roles and stereotypes of people of color. People of color themselves are often nowhere to be found.
For a long time the conversations science fiction and fantasy had about race happened only through the looking glass.
Now, though, publishing trends are moving towards seeing racial difference, including biracial main characters. These stories explore being a person in-between worlds, on many different levels.
As the U.S. becomes more consciously mixed-race, stories about mixed characters become even more important. The heroines here are mixed race and have to deal with the consequences of looking mixed in worlds that want them easily categorized. The heroines struggle to connect with multiple heritages and to make their own path forward. Ultimately, they show us new ways forward.
Mixed-Race YA Fantasy Heroines
Callie LaRoux is a mixed race girl living in the Dust Bowl with her mother in the 1930s. Callie's lungs are filling with dust as her mother waits for Callie's father to return. As all of the secrets come to a head when Callie finds out that her father is a prince of the Seelie Court, making her half-fairy. Adventure ensues as Callie tries to find her mother, find her father, and escape the Seelie and Unseelie Courts who want her for their political ends.
Also, can I just say that this is the first time I've ever seen African Americans as Fey Folk. As someone who avoids fey stories I found it refreshing!
Jes and her sisters are the daughters of a light-skinned soldier and a dark-skinned woman who are barred from marrying. The girls are caught between races, classes, cultures, and respectability. Jes is her father's daughter, taciturn and athletic. She feels more at ease with him than her mother and sisters. But she is a daughter and not a son. Political machinations turn the family's life upside down as Jes tries to make her own place by making a new world.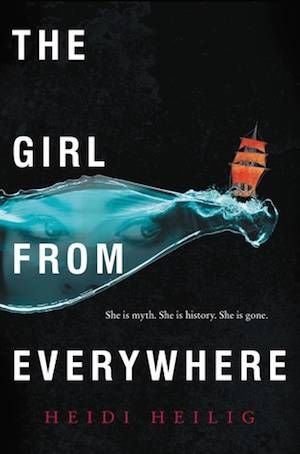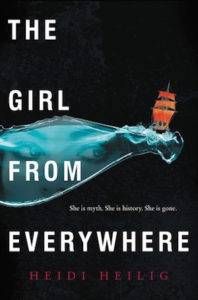 Nix has grown up on The Temptation, a ship traveling through time, across oceans, and even into myth, with her broken father at the helm. Her father, from 2016 New York, wants desperately to return to Honolulu of 1868 to save Nix's mother from death in childbirth. Nix finds her loyalties divided as she fears this may negate her own existence. She finds support in her father's crew, as well as new friends she makes on land, well-needed as the crew of the Temptation find themselves caught up in plots and conspiracies. Nix's story is about separating one's own path from that of beloved—if destructive—family, and taking control of your own life. As an #ownvoices biracial author, Heilig really gets to the heart of being disconnected from one parent's culture and of not having the same social privileges as one's white parent.
Part of Bray's Diviners series, Lair of Dreams (with the pretty Australian cover here!) introduces us to Ling Chan, a disable mixed-race girl living in New York's Chinatown in the 1920s. Notable for her representation of multiple identities, Ling is smart with a dry sense of humor and a logical mind. She also is able to "dream walk," exploring and interacting with ghosts and spirits in her dreams. While she may walk in her dreams, Ling's waking life disability is never cured. Ling helps out at her parents restaurant, allowing Bray and readers to explore the prejudices that Chinese Americans faced in the last century. Audiobook narrator January LaVoy (who won an Audie Award for her narration of Lair of Dreams) always lilts Mrs. Chan's speech, reminding us that Ling is treated as a Chinese girl, but that she is mixed race to modern readers. I can't wait for the final book in the series to see how Ling's story ends (possibly with a girlfriend?)
Historical YA Bonus:
Mary Quinn is Chinese Irish young woman with no family. She is taken in by The Agency, a woman-run spy network. Mary is quick and thorough, making her a great spy and placing her in the middle of adventure and mystery. Eventually, Mary finds that her own struggles with identity turn up in her work and that she must make peace with her Chinese self in a racist society.