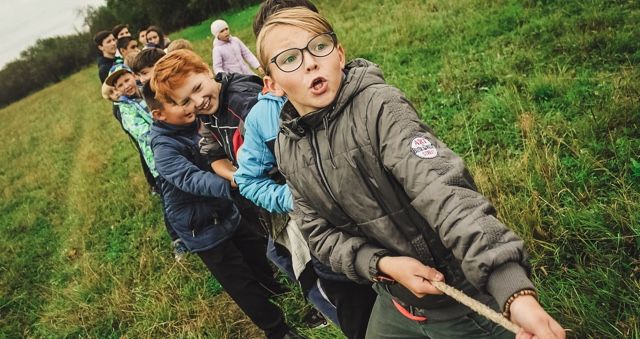 Children's
Be Brave: 4 Middle Grade Novels About Standing Up for Yourself
This content contains affiliate links. When you buy through these links, we may earn an affiliate commission.
It's important for kids to see positive representations of characters standing up for what they believe in. These four middle grade novels are about kids standing up for themselves, and each one is so good at capturing the ways that kids fight through challenging hurdles.
When I was a tween (though we weren't called that at the time), it was hard to vocalize what you needed from people. Adults didn't listen to us kids much, and we didn't have social media to sneakily connect behind adult's backs. I read a lot and watched tons of movies, finding it easier to lose myself in stories than to be stuck in my own sulky head. Even friends can be thoughtless and dismissive as kids don't always understand each other. There is so much to work through and, thankfully, I believe that we now have a bit more appreciation of the fact that children can have very complicated inner lives.
As most of us have probably experienced at some point, standing up for what you believe in can often leave you othered. In these cases, the characters even come across as misfits in their social circles. Nevertheless, they are bright and thoughtful kids who don't give up and their stories will be aspirational to kids looking for a book to read that takes them seriously.
The best part of this book is the friendship between Anya and Ivan, and the funny family dynamics that surround them. I appreciated how the two of them strove to support one another. Set in the 10th century, the story weaves Jewish and Russian folklore into a magical, historical setting. Anya is the feisty, fearless daughter of the only Jewish family in her small Russian village; she discovers that her family is going to be uprooted by the cruel, antisemitic local Magistrate Bobrov. This is a solid, well-written magic realism novel with delightful characters and engaging stakes.
It's no secret that I love Pérez's The First Rule of Punk, I've recommended it before. She has a way of imbuing her characters with distinct personalities and great energy. In her latest, four girls (Ofelia, Aster, Cat, and Lane), meet one summer but initially they don't click. That is, until they bond through shared beliefs and activism. Set in Miami, Strange Birds features a diverse multicultural group of characters. Readers will be charmed by the uniqueness and wit of the girls as lessons are learned and rebellions are formed.
This is a beautiful, affecting novel that hits on a number of realistic issues like guns, bullying, and police brutality. Lolly Rachpaul lives with his mom in Harlem, and they've both been struggling since the death of his brother. Eventually, when his mom's partner gifts him with LEGOs from the toy store where she works, he finds a fun distraction. Lolly even begins working on a large project with Big Rose, an autistic girl he meets at the local rec center. Eventually though, some older boys begin harassing Lolly and his best friend, Vega, and the boys need to figure out what they can do to defend themselves.
Thirteen-year-old Genesis struggles to love herself. Filled to the brim with anxiety, self-consciousness and judgement, Genesis is unhappy with her dark skin and unstable home life. This book is raw and beautiful, with Williams writing honestly about school issues, internalized racism, living in a broken home, and making friends. Powerful and poignant, this brilliant book deals with society's unrealistic beauty standards and how they can affect kids.
---
Give a copy of these to the smart, quiet kids you know—the ones still figuring out how to stand up for themselves. Having an echo of your experience is always rewarding, and I'm certain that they'll appreciate the read.