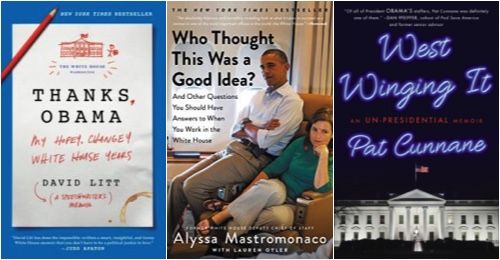 This content contains affiliate links. When you buy through these links, we may earn an affiliate commission.
These days it seems like every White House staff member and their pet rabbit can get their own book deal. Oh wait.
And because this current administration has had more turnover than Amazon, there have been more memoirs from inside the Trump White House than we ever A) wanted and B) needed. So let's return to happier days where our Prez wore tan suits and ate burgers with Dijon. *cries*
It's all in the title. Two former White House social secretaries (Berman worked for George and Laura Bush, Bernard for Barack and Michelle Obama) outline the life-altering idea of the importance of treating people well in American politics. Berman and Bernard share stories of their social interactions with those of different walks of life and points of view and advice on how to connect with people across the aisle.
Cunnane was a senior writer and the former Deputy Director of Messaging for the Obama Administration. In his memoir, he outlines his journey from warehouse worker to White House insider. Think of it as a The Office version of the White House. It's nice to have funny stories from inside the White House that don't make us want to cry, right?
When twenty-something Beck responded to a Craigslist posting back in 2012, she had no idea she'd end up in the Oval Office as a stenographer to President Obama. Today, serving as the person who is responsible for documenting every meeting, speech, and word uttered by the President sounds like a nightmare, but it used to be privilege. And Dorey-Stein's book is the perfect example of that.
Mastromonaco's relationship with Obama dates back to 2004, where she was the Director of Scheduling for his run for the Senate. She would later become his Deputy Chief of Staff for Operations from 2011 to 2014. Mastromonaco's memoir not only chronicles her experience with Obama, but the challenges of being a woman in an environment long dominated by men.
Litt served as a special assistant and senior presidential speechwriter—often referred to as the "comic muse" of Obama. If you miss the witty repertoire that used to live at 1600 Pennsylvania Avenue, Litt's book will provide the presidential humor you need back in your life.
Rhodes spent nearly ten years with the former President—from being a speechwriter to the deputy national security advisor. Rhodes touches on his most vivid memories from Obama White House, both positive and consequential. But maybe most importantly, Rhodes talks about the resurgence of nationalism that appeared toward the end of Obama's term that ultimately led to the election of Trump. In July, it was reported that Likely Story had acquired the film rights to the book.
Palmieri served as both the Director of Communications for Obama and for Hillary Clinton's campaign. In a time where a memoir like this could be depressing, Palmieri's book is a personal letter to the woman who will one day become the first female president and the countless others who will help her get there.
Along with fellow former Obama'ers Jon Favreau, Jon Lvett, and Tommy Vietor, Pfeiffer now co-hosts the podcast, Pod Save America, but he is also one of Barack Obama's longest serving advisors. Pfeiffer started writing his book on November 9, 2016, after waking up to the most WTF news of our lifetime. The book is unflinchingly honest, funny, and tackles the monumental question of "Where the hell do we go from here?"
Want more? Check out our favorite Obama memoirs here.